Currently, sitting at a $6,000 bid and inching closer to the $7,500 BIN price is this first year GSX-R 1100.
The pictures tell the tale of this 35 year old machine. While it's not a museum piece or a garage queen I'd definitely call it a "rider". Is it perfect? No, but neither are you or I 🙂
Much like Cartman and this GSX-R 1100, I consider myself to be "festively plump"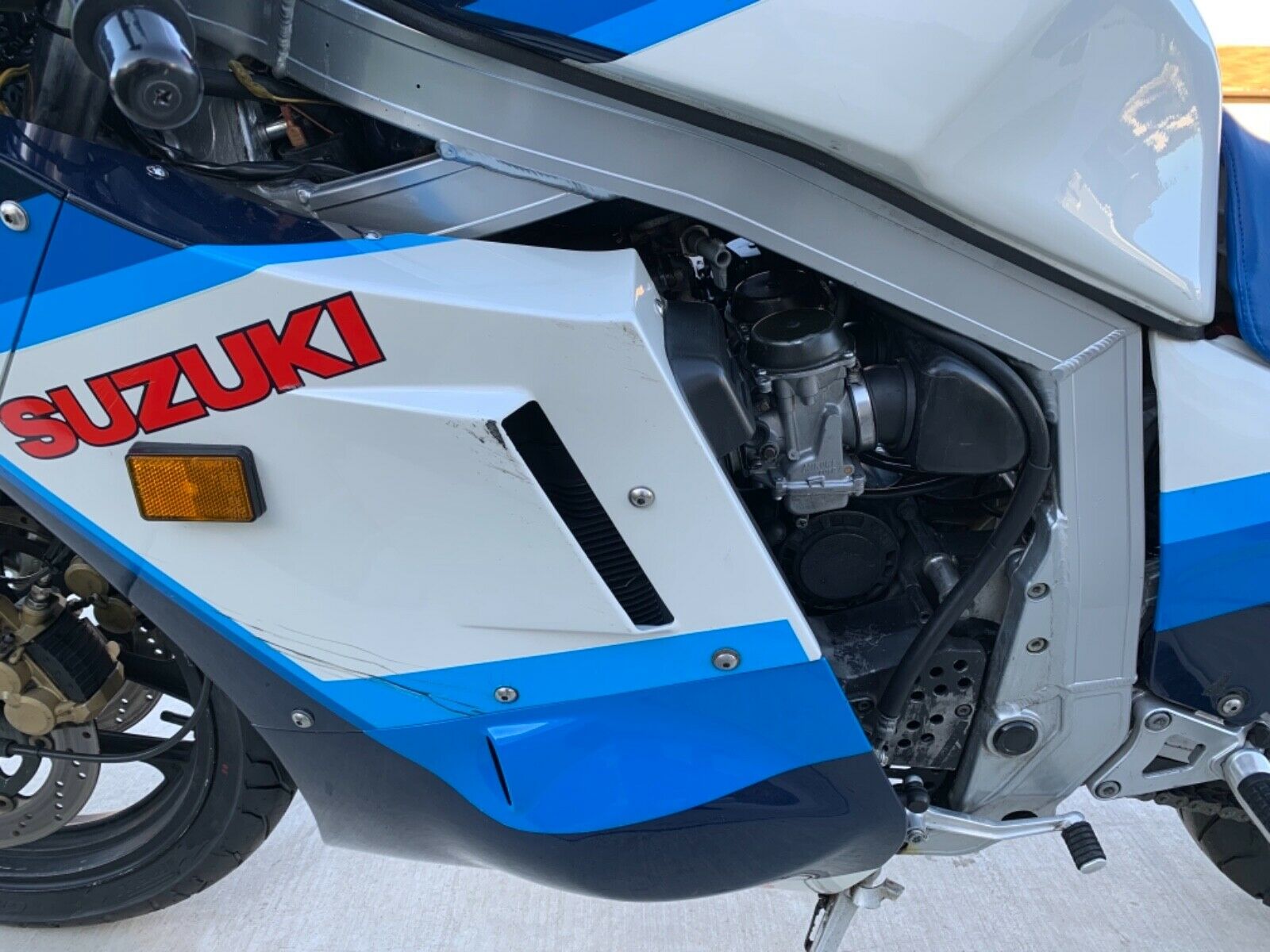 There! I ripped off the band-aid for you and all of the world to see. Okay, so it has a few bumps and bruises or shall we say it has some history? Whatever you want to call it, it's not bad for a 35 year old machine that you can hop on, ride and grin like Alfred E. Neuman on the cover of Mad Magazine.
A little from the seller:
1986 Suzuki GSX-R 1100 with 24,278 original miles. This is the first year of the iconic GSX-R 1100 and is highly collectible. Has the original bodywork, forks, brakes, shock, wheels, carbs, air box, etc. The windshield is a new as is the seat cover and solo seat pad. There are some minor scratches and cracks noted on the bodywork consistent with a very well cared for 35 year old sport bike. No dents or dings in the tank, frame, swing arm, etc. It also has the coveted rear solo seat cowl. Best of all, it recently had the front forks, rear shock, and carbs rebuilt. All fluids where changed (oil and brake fluid), carbs were synced and new Pirelli Angel GT tires installed. All work professionally done by former Suzuki factory race mechanic and receipts included. Will include a very rare factory Suzuki badge that was included when the bike was originally sold in 1986. Bike starts, runs, and handles like new. All lights, gauges and controls work as they should. Needs nothing. Ready to ride.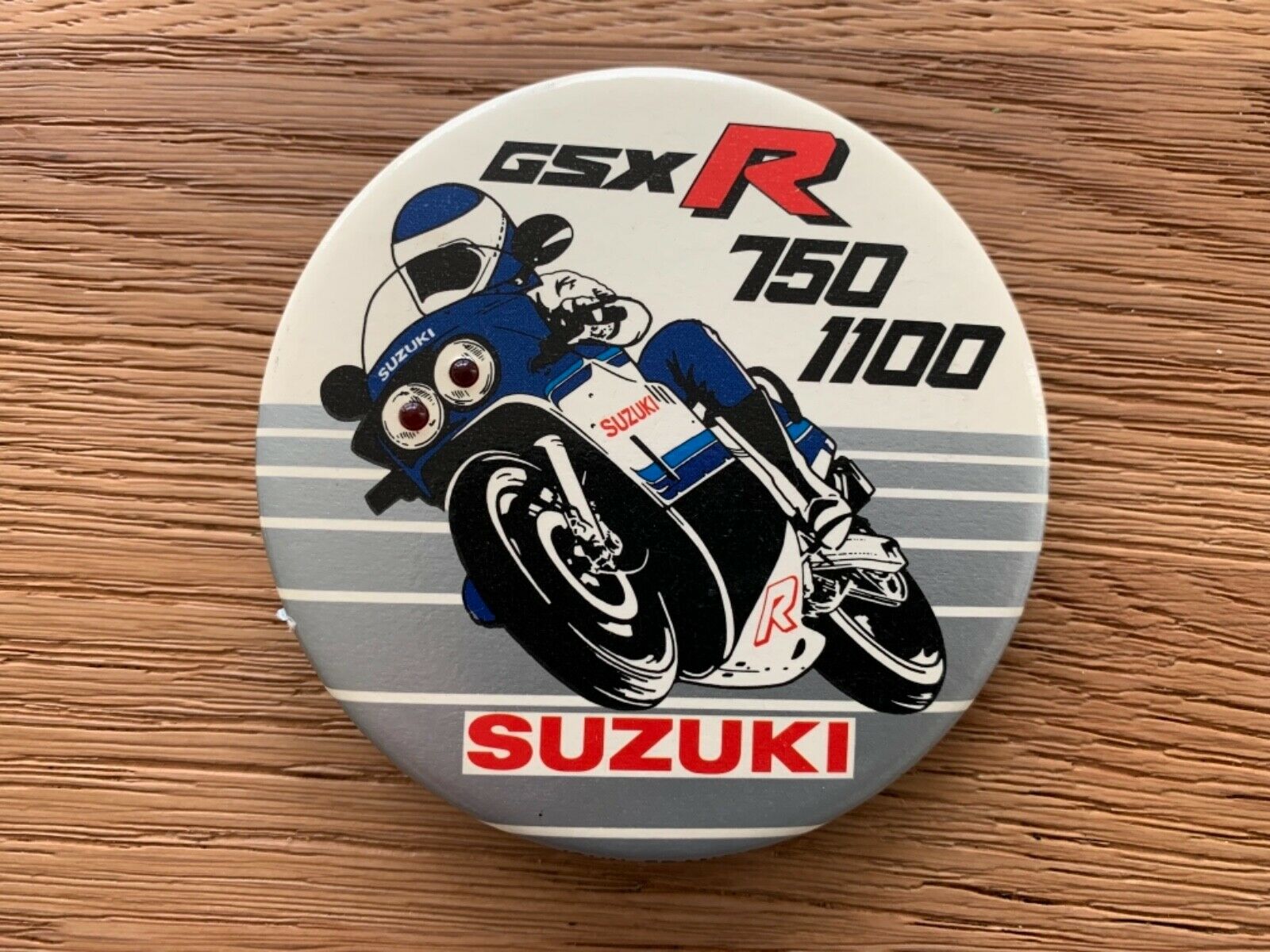 Isn't that a spiffy little trinket? You can put that on your Levi's blue jean jacket, cruise your local strip and "bark" with the period correct Vance and Hines Supersport header that comes on this one.
If my memory serves me correctly- these have 130hp and weigh around 450# dry. I can say I've never thrown a leg over one of these, but I can only imagine that these are a handful! 130hp coupled with 18″ wheels wrapped in bologna rinds for tires has to be a lot to tame- Just a guess!?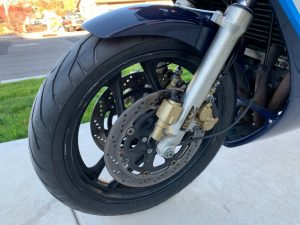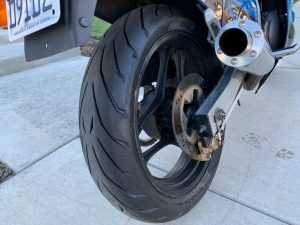 Still have your Levi's blue jean jacket, Oakley's and a pair of black Reebok hi-tops? Then step right up because the answer to your mid-life crises has arrrived.
Cheers!
Doug