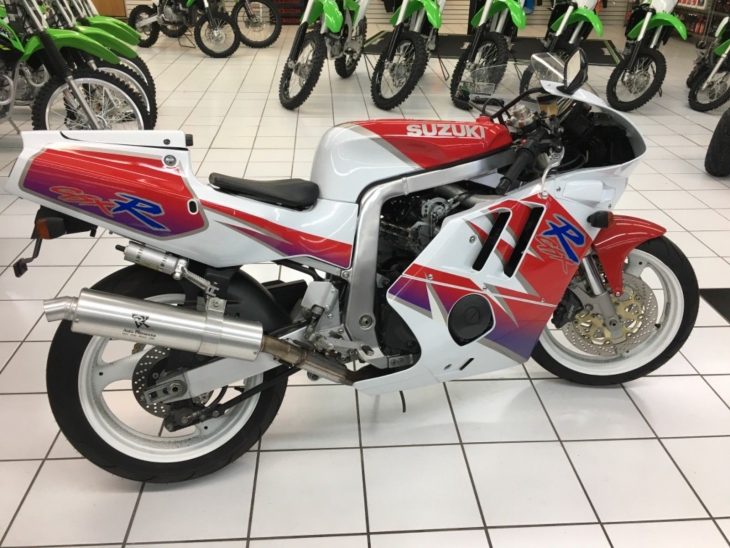 The smallest Gixxer led a long and fruitful life of bringing young riders into the motorcycling fray, riding the wave of 400cc popularity that swelled, crested and broke in the 1990s. Like most Japanese four-stroke 400s, it had an aluminum frame, a screaming inline four that made around 60 horsepower and aped the looks of its bigger stablemate.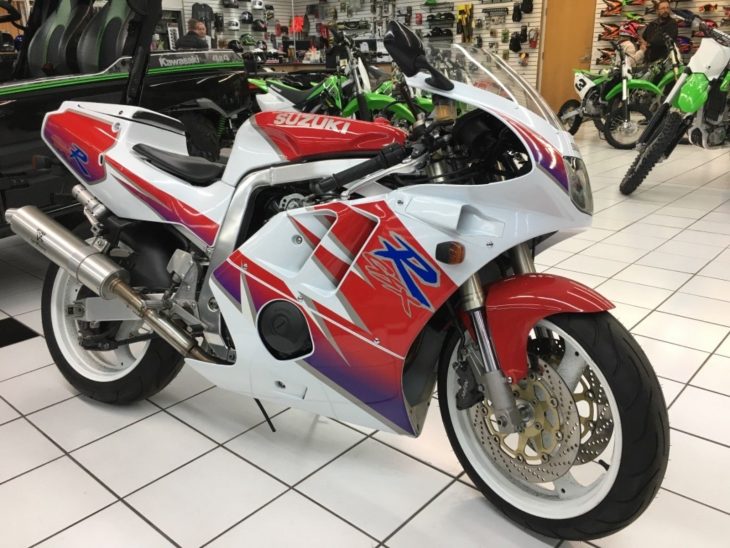 Despite all that, the little Gixxers were never as popular as their competitors, with reviewers bemoaning somewhat primitive chassis and a peaky engine, even by 400 standards.
But today, they are as eagerly sought after by collectors as any of the 400 sport bikes, in part because they are quite rare. The 1993 Suzuki GSXR400 here is a well cared-for, low-mile example that spent much of its life in the hands of a collector in Japan, before coming into the collection of our buddy Gary.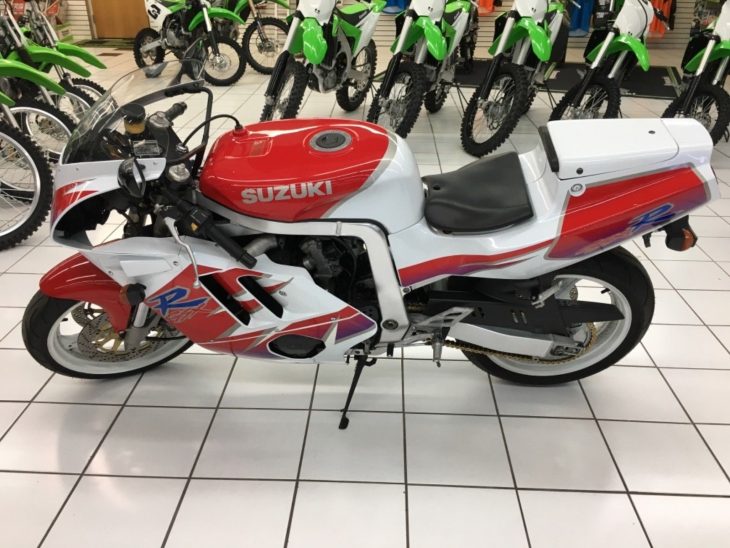 With the exception of some spots on the wheels and a little pitting here and there, this one looks much newer than even its scant 8,000 miles would suggest. The fairings show no cracks or blemishes, and it is titled and ready to ride.
From the eBay listing:
Up for auction is a premium example of a 1993 Suzuki GSXR400 with only 12,903 kilometers (8,018 miles). This GSXR is almost museum quality. This is a bike you want in your collection. Bike is perfect in every way. The only issue is a tiny rock chip in the paint on the left upper side of the fuel tank and some tiny light scratches on the left rear cowling. Bike is solid and looks very well cared for. Bike appears to have never been crashed or dropped. Super low miles. Purchased from a collector in Japan. Bike has aftermarket exhaust and full flow carb intakes. Runs very smooth and revs like a raped ape. Full service just performed with a new battery, new fluids and new Michelin Pilot's front and rear. This bike won't disappoint.

$200 deposit due immeadiatly after auctions end thru PayPal. Balance due within 5 business days by check, bank wire or cash in person. Auction may end anytime as bike is for sale locally. Please text 801-358-6537 for more pictures and questions.
There is no buy-it-now set for this beast, but the auction does have a reserve. The bidding won't end before Christmas, but keep an eye on the auction and you could snag yourself a sweet Boxing Day present.