Applying technology from the bigger bikes in their line-up for the Japanese domestic market, the big four started a friendly competition among smaller bikes that spread back across the oceans where the big bikes ruled.  The Yamaha FZR-400 did well in roundups of the racey smaller bikes, lightweight but not twitchy, suspension compliant but in control, the EXUP-equipped 400 with a 14,000 rpm redline but wider torque band.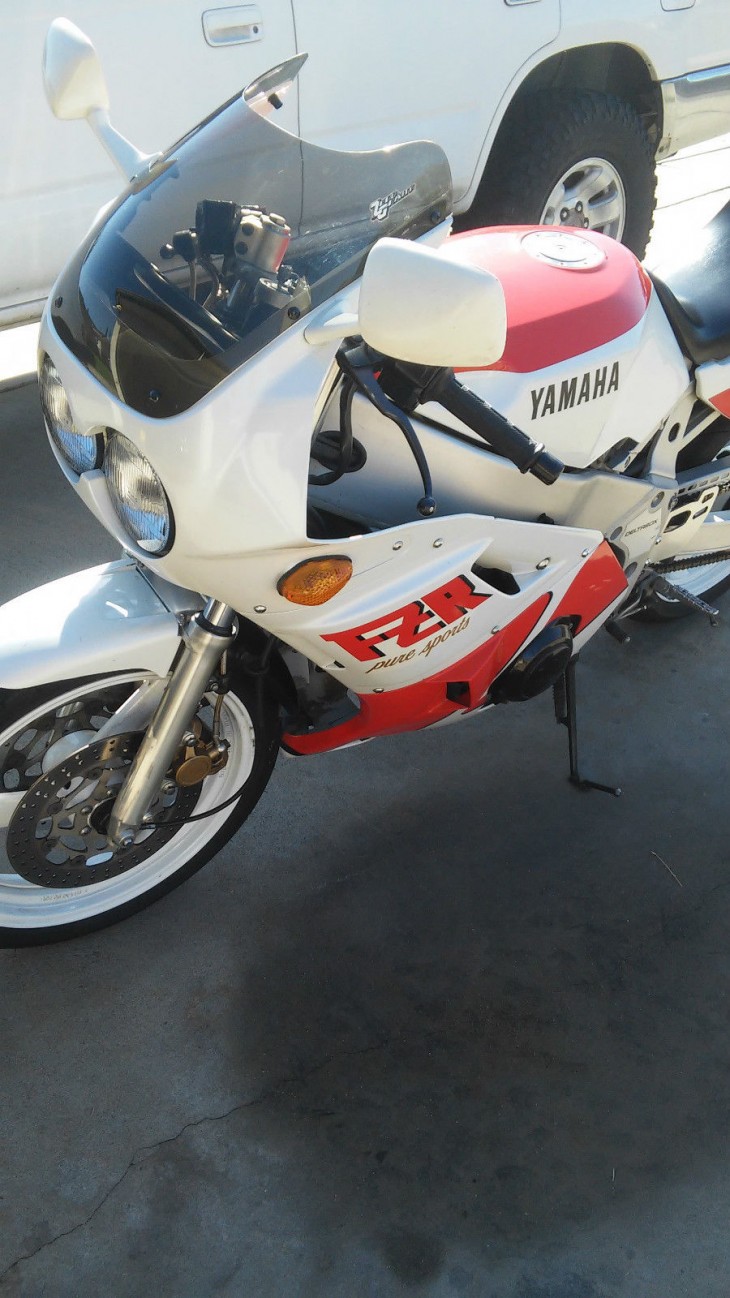 Introduced in 1986, the FZR-400 received the electric EXhaust Ultimate Power valve in late 1988, electrically changing the collector volume to enhance flow and stretch the midrange power.  The 16-valve inline four was good for 60 hp and 29 ft-lbs of torque, great numbers per liter.  Two aluminum DeltaBox girders support the engine, with 41mm  forks and aluminum swingarm with monoshock at the rear.  Brakes are oversized 298mm front and 210mm rear.  Endurance-racing styled full fairing has monoposto hard cover for the pillion seat.
Looking nicely cared-for with its nearly 16,000 miles, this FZR boasts new chain, sprockets, tires, and battery.  Byline of the auction says the fairing are not perfect but the imperfections are not apparent.  Just a few modifications, low-profile front signals, and it looks like pillion footpegs have been excessed.  Period Yoshimura muffler.  From the eBay auction:
I have owned this bike for 15yrs and have ridden it very little,  It has always been garaged.  New parts: new tires,   Battalax 090 150x60x18 & S 20 110x70x71,  new Progressive fork springs with new seals.  I have changed to steel braids on front brakes, pads are at 50%.  Zero Gravity dark windscreen.  Chain and sprocket upgrade to 520. brand new battery.  Oil and filter and air filter serviced. changed coolant.  Yosh slip-on,EXUP model.
The FZR-400 was beautifully executed, and buyers paid a 20% price premium over the competition.  That penalty has evaporated over time, but the Yamaha is still the class of the smaller sportbikes.  Sized to that almost any rider can get on, and performing so that experts and novices can appreciate it, the FZR-400 is a great starter or keeper.  This one appears to have been well loved and maintained.  The reserve has already been met with several bids and 5 days to go…
-donn