Only sold for two years in the US, the Yamaha GTS1000 was available from 1993-94. Styling is conservative 90's Japanese, but without the garish graphics that often distinguish sportbikes of the era and the look is handsome, but so relatively unremarkable that it's easy to miss the bike's true standout feature: the forkless front end.
Almost missed that, didn't you?
Conventional telescopic forks have well-known limitations: under braking, they compress and throw a motorcycle's weight forward, upsetting weight-distribution, and this shift disturbs suspension geometry as well. In addition, the forces being channeled through and being amplified by the tubes means that triple-trees and  headstocks need to be very beefy, increasing weight.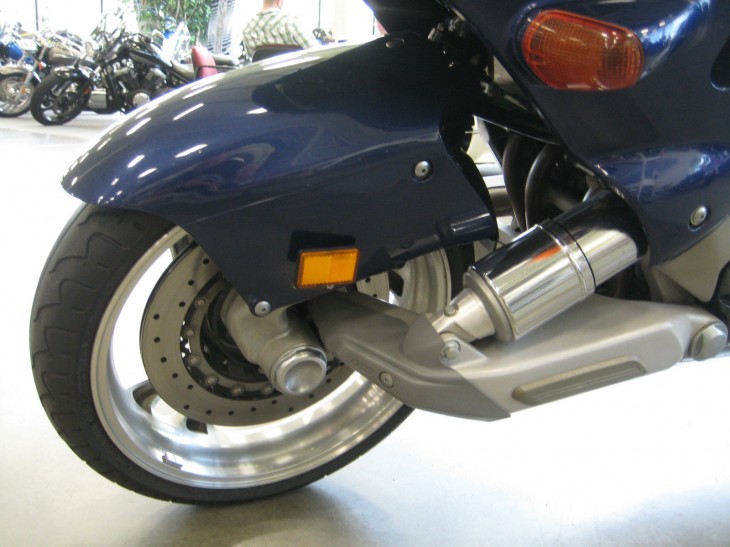 Plenty of alternatives have been tried since the dawn of motorcycle suspensions, but most have fallen by the wayside: they may improve in some areas, but usually at the cost of increased complexity or reduced steering feel, exactly the kind of things engineers were looking to avoid. They exchanging simple for complicated with no real upside, except as an exotic calling-card for owners of bikes like the Vyrus or Bimota Tesi who don't mind the additional maintenance expense.
Interestingly, the suspension on this machine provides the best of both worlds: suspension compliance and braking stability as well as relative simplicity and reliability.
Yamaha's "Omega-Framed" GTS1000 was an innovative, ambitious attempt to bring exotic swingarm front suspension technology to the masses. Alternative suspension maverick James Parker, who is still hard at work developing this concept today, licensed his technology to Yamaha and the engine was from Yamaha's FZR1000, a 1000cc five-valve four cylinder that was detuned for touring duty, although that's likely easily changed to something approaching the donor bike's 145hp without too much trouble. The bike also included a great deal of exotic technology like electronic fuel injection, anti-lock brakes, and a catalytic converter.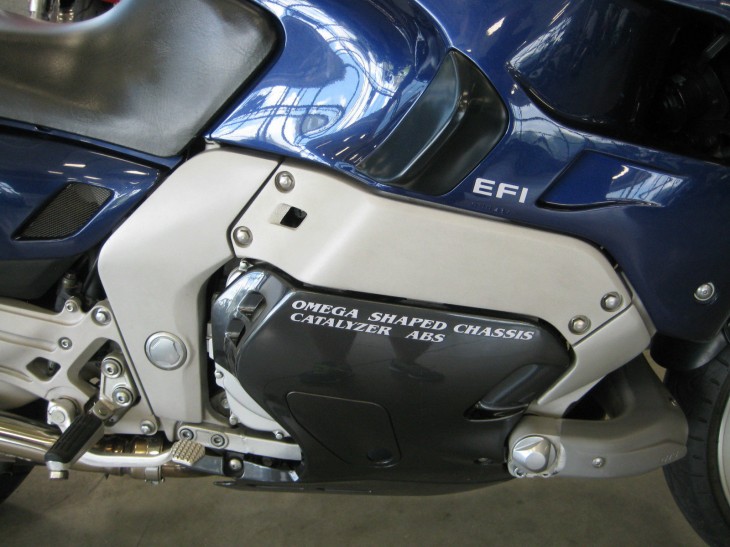 From the original eBay listing: 1994 Yamaha GTS1000 for Sale
Two words. RARE, Collector! This GTS1000 is in fantastic condition and yes, it's a pretty difficult find. The GTS was only available in the states from 1993 to 1994. It was still available in Europe until 1999. The previous owner took exceptional care of this. If you're a collector or an enthusiast, this would be a great bike. Not to mention, it's still a great bike to ride. For those of you who looked at this listing earlier, I did get the bags and the brakes. Please see pics. The only thing that is any concern is that the ABS is disconnected. I do have a box of all the parts for the ABS (see pics). The previous owner disconnected them as he didn't like ABS. Overall, this bike is in great condition and would be a wonderful motorcycle to have in any collection.
Reviews at the time suggest that the suspension performed as advertised. Unfortunately, while the bike was innovative, it was very expensive and the de-fanged powerplant combined with a surprisingly limited range to muddy the waters: exactly what was this bike for? The main advantages of this design were really wasted on a heavy sport-touring bike like this, and it seems odd to combine relatively primitive ABS with a suspension designed to provide increased braking ability at the limit.
Poor sales killed the bike after just two years, although it sold until 1999 in other markets. I'm not sure these are really any sort of huge investment opportunity, but they have a strong cult following and parts for the engine should be readily available, although bodywork and suspension bits could be a problem. As an affordable sport-touring mount, it'd be hard to beat, so if you're looking for a weird bike with reliability and subtlety, this interestingly technical machine could represent an opportunity you never knew existed.
-tad