2008 Benelli Tornado TRE 1130 0 Miles on Ebay
Another 0 mile Tornado has appeared on Ebay.  This is another 2008, like the Tornado Carbon we had posted here a couple of weeks ago.  I for one think that Benelli green rivals Ducati red for just shear good looks.  I think Benelli was a little ahead of the curve styling wise.  This bike is already a couple of years old but has that hard angle design style that has become popular now.  Heck, I've sold myself, I want one!  I wonder if there are any performance goodies for these?
Here is a little salesmanship by the dealer:

A beautiful motorcycle of which only a handful have arrived in the States, this triple cylinder machine puts out some massive power. With a factory claimed 160 horse power and 91.5 foot-pounds of torque, this elite Italian bike has the muscle to keep your adrenaline pumping. Direct from the factory with Brembo brakes, Marzochi forks, and a 2-year warranty as well, this speed demon will be a blast on either the track or the street.
Now a feast for the eyes: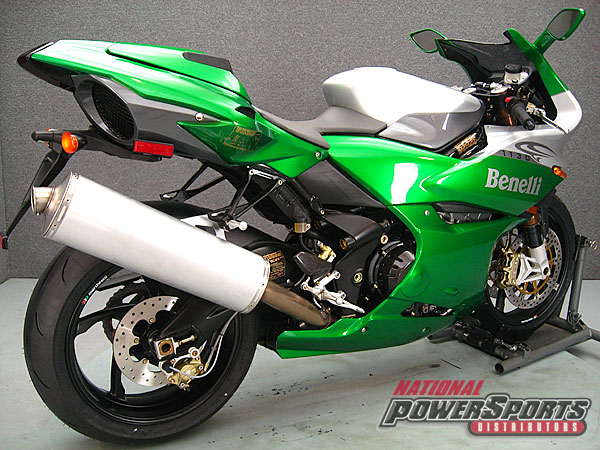 Anyone have a guess what the reserve is on ?  I don't think I'd have a good guess.  On one hand you have a rare Italian sport bike with quality components and on the other you have a bike/brand that I think was hurt by impressions of factory financial problems/sporadic production.  What do you guys think, where does a Tornado fit it in Italian bike pricing?
IK