For Sale: 1976 Benelli SEI in Australia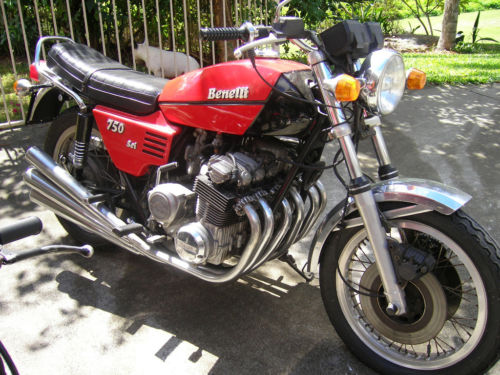 Some of you might be looking at this fantastic Benelli SEI and think that "SEI" is Italian for "CBX." You would be close, if not a bit backwards. Before the onslaught of the Japanese, and many years before Honda brought forth the mighty CBX, this Benelli six cylinder machine was the techno wonder to behold. Offering 2 more cylinders than Honda's flagship CB750 model, the Benelli SEI created an instant sensation in the marketplace. It also spawned some imitation. In addition to the CBX, Kawasaki introduced the KZ1300, a similar cylindered beast with liquid cooling).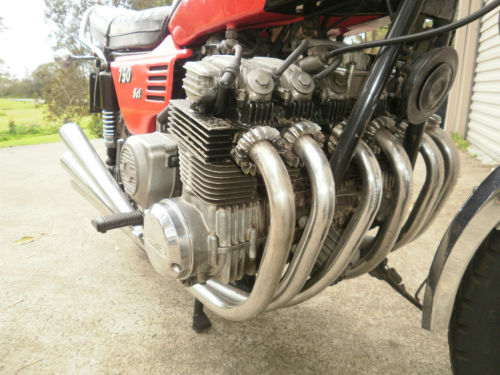 With more pipes than your local church organ, the SEI certainly makes a statement. It also makes for a very wide motorcycle. However this Italian "copy + improvement" on Honda's CB-class of 4 cylinder bikes cleverly placed the alternator behind the cylinders rather than at the end of the crank – which helped reduce the width somewhat. Still there is no doubt that this bike makes a very significant statement.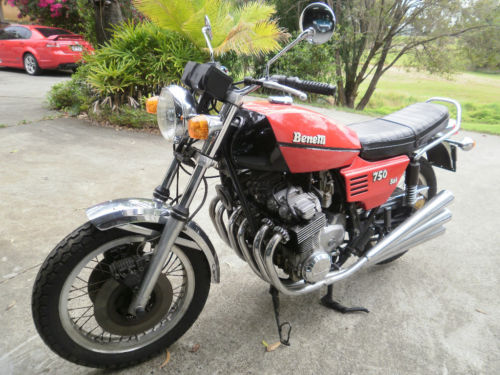 From the seller:
BENELLI 750 SEI 1976, 100% ORIGINAL IN EXCELLENT CONDITION, OWNED BY MY LATE FATHER AND NOW ONLY RIDEN ON RARE OCCASSIONS. NEVER BEEN DROPPED. BIKE SOUNDS GREAT AND RIDES WELL, NEW K81 TYRES. THIS IS AN UNMOLESTED ITALIAN SUPERBIKE FROM THE 70'S WITH GENUINE 30,000 ODD KLMS. BIKE IS LOCATED ON THE GOLD COAST, AUSTRALIA.
With a reported 3,200 of these machines built (spread between 1972 and 1978), this definitely classifies as a rare bike. Performance is adequate at 76 hp – but not spectacular by today's numbers. Still the sound of that 6-into-6 exhaust as this 750 shrieks to redline is something I wouldn't mind hearing inside my helmet.
This bike is located in Queensland, Australia – and as such might be a bit of a distance away from most of our readers. However given all of the rare Ducatis and Bimotas that have been shipped Down Under recently, it would be great to get one back!
This particular bike has a opening ask of $10,000 – which is a big initial ask, but probably not out of line with the value of this rare machine. For more details and pictures, click on the link and jump over to the auction. Good Luck!
MI