Take classic Italian styling and design, and merge it with Chinese money and manufacturing efficiency. Throw in a slightly odd 3-cylinder powerplant, a rear-mounted radiator, and the best possible components across vendor shelves. Replace aluminum with magnesium. Toss in a dry clutch. Drape in carbon fiber. Build it by hand, plan to make very few, and number each one. What you end up with is the very handsome, very rare, Benelli Tornado Tre Limited Edition. How rare are these silver/green beasts? RSBFS has only ever posted one.
An interesting cross between a Ducati Superbike and a Japanese four, the Benelli three cylinder concept allows for a good rev range and very tidy packaging. The rear mounted radiator (and somewhat goofy twin "turbo" fans in the tail) have a very real purpose: to allow the motor to be pushed further forward in the chassis for a better front weight bias. They also tend to allow the bike to run a tad hot in traffic – keep the revs and the speed up and you'll never have an issue.
From the seller:
***VERY RARE Benelli Limited Edition-(NOT A 900 Tornado Tre-not same)***
First Reasonable Offer Bike IS SOLD
DO NOT WAIT-SELLING NOW!!!!!!

********Exclusive 1of18 in USA 1of131 Worlwide*********
< New MSRP in 2003 was $39990.+ < Thousands in Factory extras(keeping forever).....was ----Factory kit includes: --Race kit --Sprockets --Special Tools --Cover Street and Race Exhaust System --Carbon Fiber Gas Tank as well as aluminum ---Purchased by me from Benelli --Multiple Full Service Packs --Grips/Levers/Bar Ends -- The last available Titanium body mount matching machined fasteners etc --NEW tires (flat spots from crate? crack inside? you never know....old from crate even properly stored-I take NO chances --TWO Factory Service and Prep CDs including race tuning with kit -- Starter Recall Kit(mine was Benelli serviced and checked and does not/will not need but you never know BOUGHT ALL THE STUFF POSSIBLE DUE TO THOUGHTS OF OCCASIONAL RIDES MAYBE-AND WAS KEEPING FOREVER -BUT I COULDNT.... Have all documents and IS FL TITLED. 1 of only 3 of the 18 in USA to qualify to be US titled. The other 15 remain on MSO for UK or Italy. All are in high end collections and few know of this bike.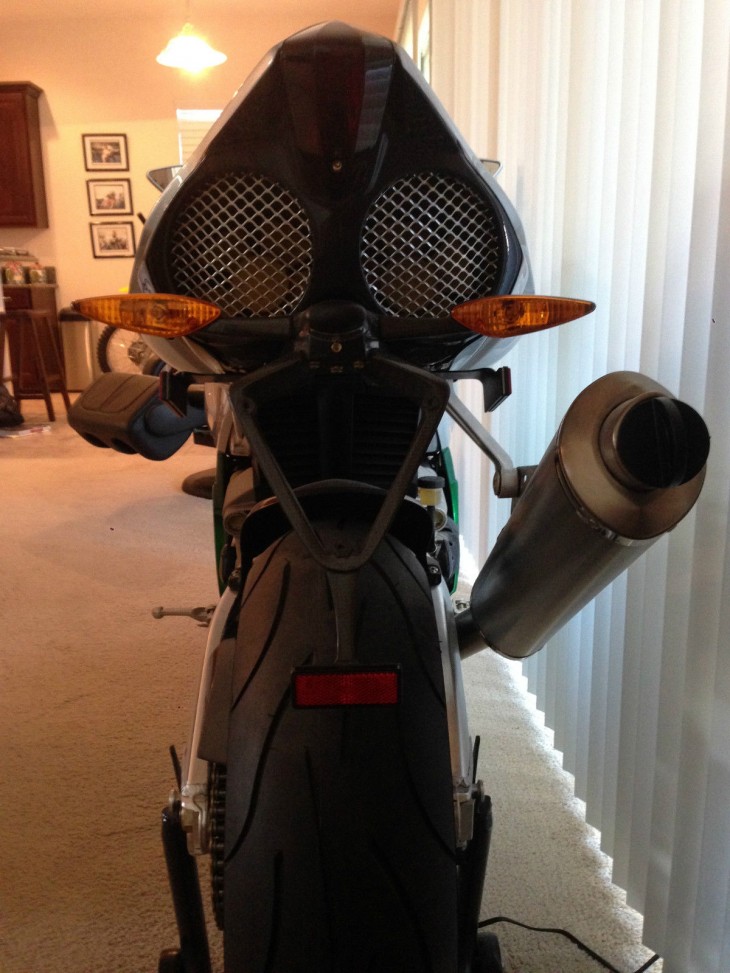 Benelli conceived the Tornado Tre and the LE model while undergoing a glorious Italian renaissance of the brand. Started in 1911 and surviving as one of the oldest motorcycle manufacturers in Europe, Benelli failed to make a go of it and was sold into receivership. Purchased by a Chinese corporation (the motor Group Qianjiang), Benelli continues to exist – seemingly without the former glory. Parts can be difficult to source, although I understand that they are still available if you look hard (and far) enough.
This Tornado Tre LE has an opening bid of $9,999 – with no bidders yet. This would be a screaming deal for a low mile (reported as 13!), very rare machine. The BIN price is set at $25,900, which is probably fair when compared to the rarity and original MSRP, but likely high for the interest in one of these Chinese-Italian steeds. That is a shame given the quality and design of this very capable and unique motorcycle. But that is also how free enterprise works. Check out all of the details here, including LOTS of pictures and more details/text by the seller. Good luck!!
MI