Featured Listing – 1995 Triumph Speed Triple
Today, showroom floors, Facebook marketplace, bike shows, and twisty roads are all littered with 3 cylinders. It's arguably the most desirable engine layout available today for your everyday rider but this wasn't the case until the mid-2010s. For many years enthusiasts were drawn to big horsepower numbers and while the Japanese were spoon feeding them dumbed down supersport engines, Triumph was perfecting what has become the most balanced engine layout out there today. Today at RSBFS, we're taking you all the way back to the beginning stages of Triumph's 3 cylinder lineage with a 1995 Triumph Speed Triple.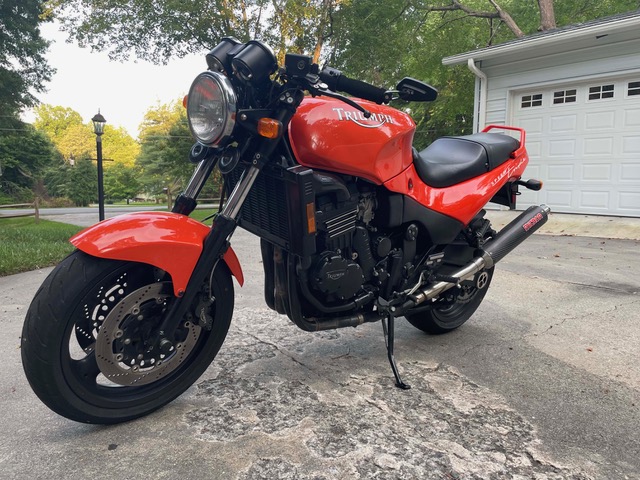 After the 750 triple bolted to the Trident ran it's course, the Hinckley-based outfit decided that stroking out the motor another 10mm is the kick in the ass that would take their streetfighter to the next level. However, when it comes to classic motorcycles, it's never made sense to focus on technical specs. They're all heavier and slower than the metal you can go out and buy today. What this engine improvement brought was more torque which ultimately made the bike a lot more streetable and punchy. Riders have loved triples because they pull smoothly to redline but still have a sporty feel. That is exactly the formula Triumph was dialing in but how can we be sure they were on the right path? If you have any doubt, I'm not sure this post or this bike can convince of you anything so head down to your Triumph dealer for the answer.
When people say naked bikes are a bit more streetable, they aren't only referring to the engines but also the ergonomics. One of the intriguing aspects of the Speed Triple is that notion was completely ignored. The designers wanted this to literally be a naked version of their Daytona but with a cafe twist. You can see the pegs are relatively close to the seat but the clip-ons have been removed in pursuit of comfort by the seller. Fortunately, the clip-ons are included in the sale if you wish to experience this bike in it's original form. The seller has also fitted a set of Micron slip-ons which are absolutely necessary for triples to deliver the Grammy-winning soundtracks they are known for.
From the seller:
36mm flat slide CV carbs. 5 speed gearbox. This bike is fast and sure-footed. And then there is the sound…. The bellow of this triple at speed through the Micron carbon fiber exhaust canisters is incredible! To make the overall riding experience a bit more comfortable, a set of Woodcraft clip-on risers was installed. Creates approximately 3″ of rise without detracting from the bike's appearance. The original clip-ons are included in the sale. Also provided is the optional, color matching, rear seat cowl. Optional center stand is mounted on the bike.  All bodywork mounting pegs are intact and unbroken. This machine has received considerable attention on maintenance work. The carbs have been removed and rebuilt with all new seals, fuel lines, cables and intake boots. New air box and air filter. New battery, Dunlop tires, drive chain, speedo cable, etc. Rebuilt front forks with new seals. Fresh engine oil and a new oil filter. Shouldn't need anything else except a very twisty road in front of it….  Comes with a comprehensive collection of factory literature including an owners manual, service manual, parts catalog, small and large sales brochures and a quite rare 1995 Triumph advertising campaign launch kit capturing the return of the Triumph brand back into the US that year.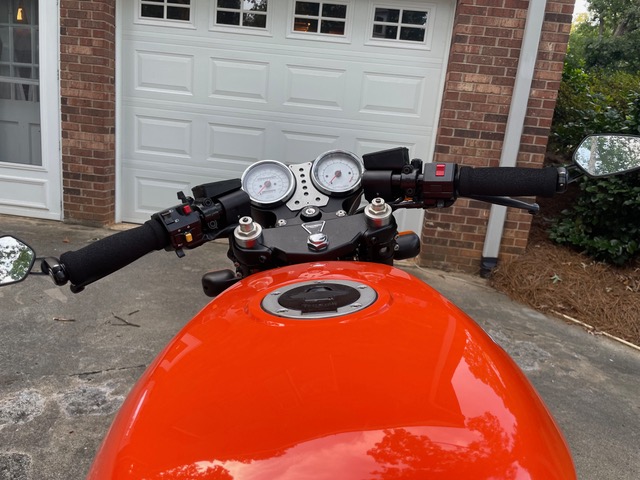 A lot of enthusiasts complain that the Triumphs of this era were heavy. While that may be true, tip toeing around a track was never main the use case for the Speed Triple. However, Triumph didn't shy away from the challenge that the track posed to their bikes. They hosted a single-make series around the UK where competitors would sling the Speed Triple through some of Britain's most famous circuits such as Donnington and Caldwell. After watching these riders hustle the Triumph around Donnington you'll realize that whole weight thing…well that's only an issue if you haven't got any muscle.
The Triumph Speed Triple is essentially the rookie card for many of the modern triples today. It was the blueprint for manufacturers who were looking to go put a street-oriented offering that can float around the city or carve up a b road. Our seller today has that rookie card and it's great condition. Many of the items one would expect to address in an older bike have been sorted leaving you with no to-do list prior to startup. Nothing to complain about cosmetically as well. A true turnkey example with paint that will pop in any garage or on any road.
The seller is asking $5,900. Reach out at 336-408-9451 with any questions!
-Norm