1990's 900 SuperSports were already more than the sum of their parts, but this SP has been carefully farkled and looks to be ready to go across the valley or even the state.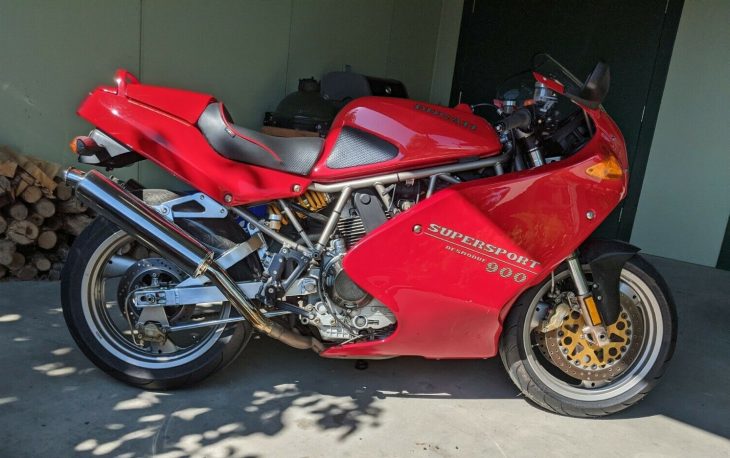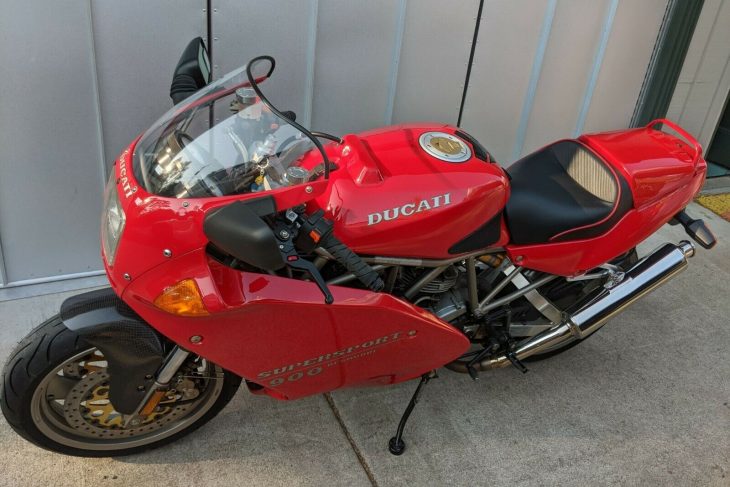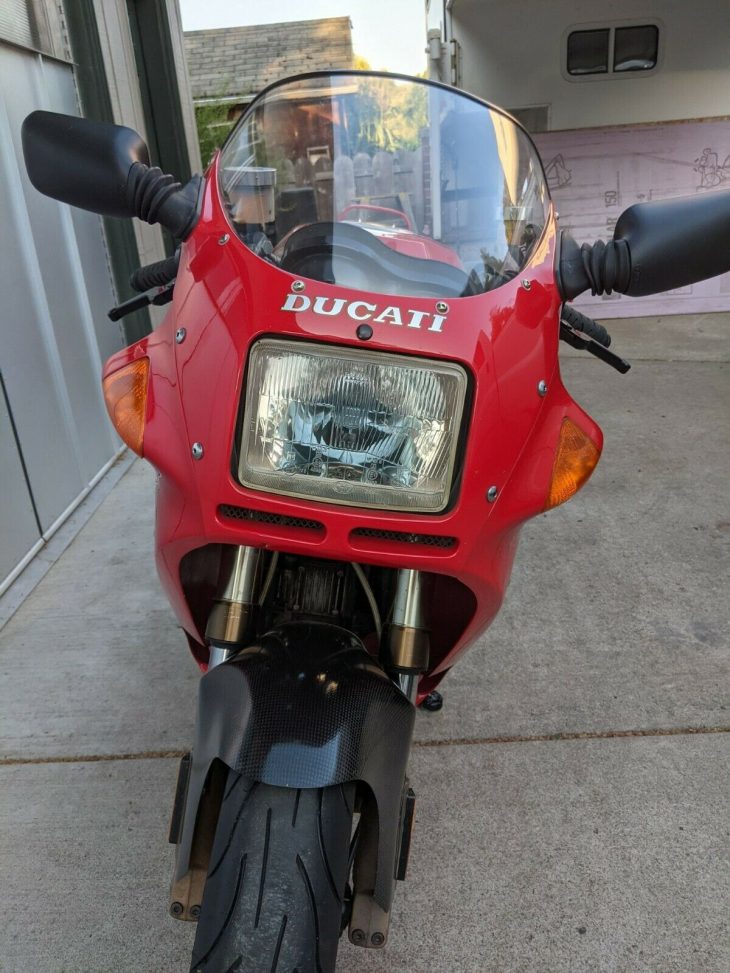 Updating their 80's multi-purpose machines, the 900SS made all the right moves toward a more modern Ducati sportbike – almost a liter in displacement, dry clutch, 6-speed transmission, 320mm brakes, and 17-inch wheels.  Easy desmodue valve train, Mikuni carburetors, adjustable suspension, and fairly relaxed ergonomics were icing on the cake.  The SP was a U.S. only model, and had the usual 80 hp but extra carbon accents, and the better Showa dampers.  Even fully-faired it was trim if not exactly lithe, and rated well in the handling department.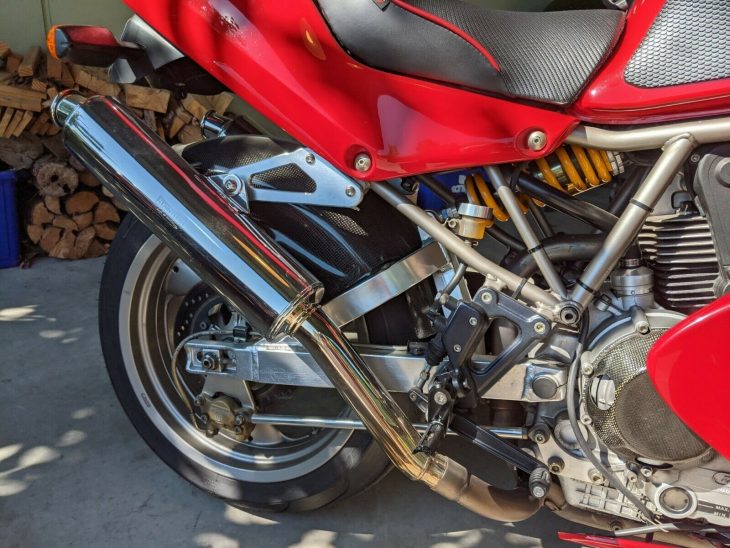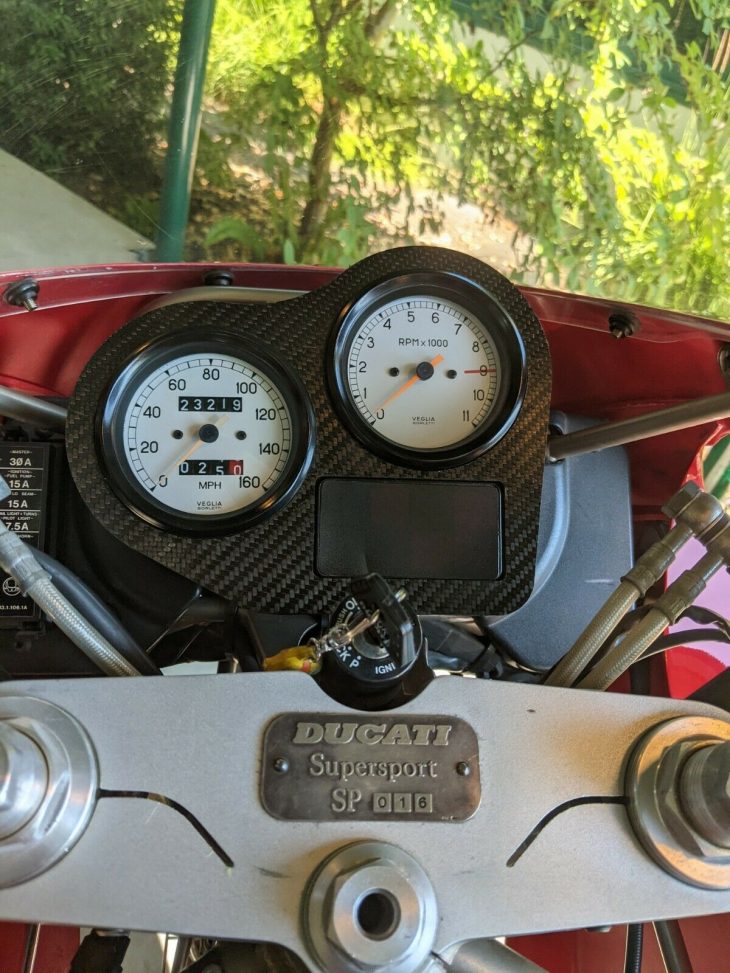 Not sure where this southwest Oregon owner fits in the parade of custodians almost every 1990's bike has, but this one has some period upgrades, like flat-slide carbs and NLA Staintune mufflers, along with more readily available Öhlins, lower pegs and year-old Pilot Power 2's.  Even with the right side scrape it presents very well, and props to the seller for detailing the heck out of it before taking pictures.  Notes from the eBay auction:
WELL TAKEN CARE OF, LOTS OF UPGRADES, STAINTUNE SLIP-ONS WITH DB KILLERS, OHLINS REAR SHOCK, OHLINS INTERNALS IN FORKS, RACE TECH SPRINGS SET UP FOR 200 LB RIDER, NEW MICHELIN PILOT POWER 2 CTS LAST SUMMER, SARGENT SEAT, OHLINS STEERING DAMPENER, LIGHTENED FLYWHEEL, FLAT SLIDE CARBS AND MOTION PRO THROTTLE KIT, NEWER MRA SCREEN, NEWER DUCATI MIRRORS, LOWER PEGS STOCK INCLUDED,RKA PERIOD SEAT BAG, TANK BAG FROM A MONSTER, LESS THAN A THOUSAND MILES SINCE LAST FULL SERVICE, BRAKE FLUSH LAST SUMMER, ONLY NON ETHANOL, STORED IN A WARM GARAGE WITH SMART CHARGER, SMALL ROW OF SCRATCHES LOWER RIGHT FAIRING, INSULATION HAS BEEN REMOVED FROM THE INSIDES OF THE FAIRING.
A regular subject of "best used bikes" reviews, the 900SS/SP is the bike that got away, from many early owners.  More the better for subsequent riders, who have the benefit of the air-cooled desmodue, in a Swiss Army Knife package that even ( well almost ) looks good with luggage.
-donn