Warning!
This post is in our archives. Links in this post have been updated to point to similar bikes available to bid on eBay.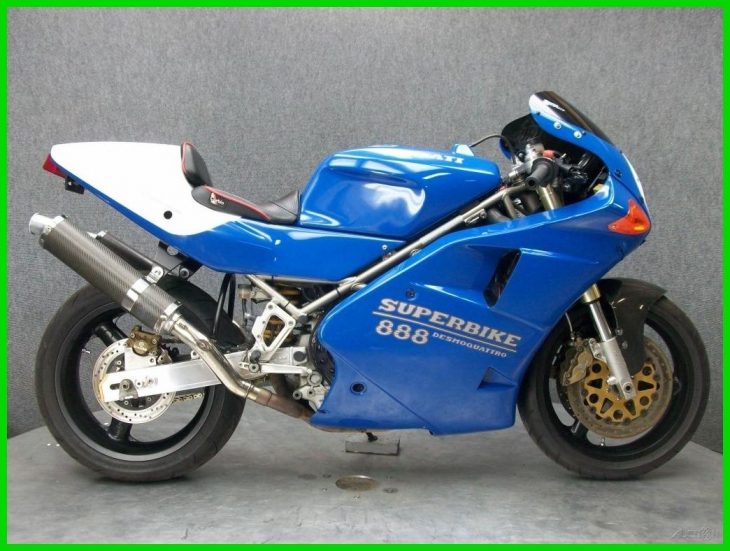 I know what you're thinking: Ducati Triple Eights never came from the factory in blue. In fact, they never came in any color other than "check me out, I'm hot and I'm Italian" red. Therefore, we are obviously looking at a repaint. And repaints tend to scare me simply because you don't know what caused the respray in the first place. So shields up, my friends; where we go there may be dragons.
Despite the potential warning signs, I can't help but like the way this bike looks. It has a striking, vivid appeal to it – from a distance. Closer in, I question the quick-release fasteners in place of the traditional cap head screws. And is that a zip tie holding down the lower-most right side bodywork? The pictures don't seem to do the spray job any favors either, with some pretty apparent orange peel. And why go through all the work of a repaint and not address some of the damage that may have instigated the project in the first place (such as on the cans)? Still, I'm intrigued. After all, 888s don't come around every day.
From the seller:
Available for sale is this 1993 Ducati 888 which is damaged as shown in the attached pictures. Please review the pictures and feel free to ask questions. New bodywork and paint, runs great.
In the end, this is a bit of a pound puppy – great DNA and ready for anything, but may take a bit of work. Then again, it may be fully sorted with only minor cosmetics to deal with. Given the mileage, it has clearly been ridden. The asking price for this one is a cool $9k USD, which may be a bit high for its non-standard appearance. What do you think? Is this one something you can work with, or would you let it pass in favor of a more stock machine? Share your thoughts here. You've got to admit it catches the eye! Check it out here and good luck!
MI