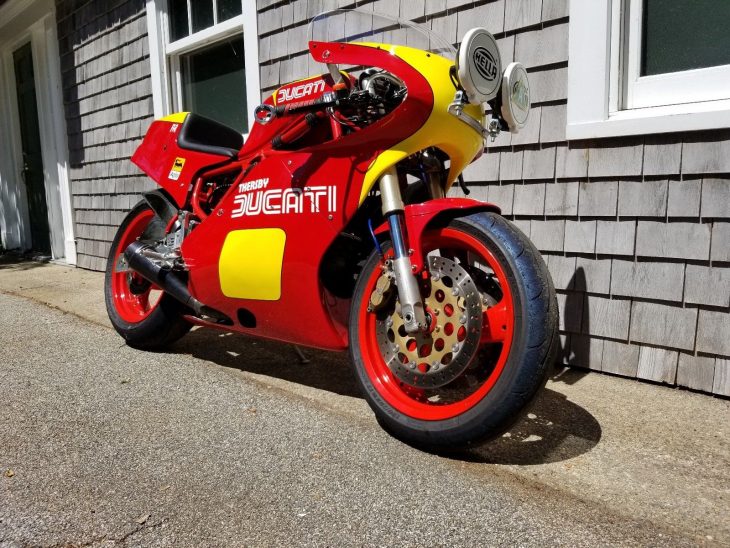 The original listing for this 1995 Ducati TT2 Replica includes some good general information, but I'd love more specific details about the components. The seller mentions the frame was supplied by Roy Thersby, but did he build the frame, modify the frame, or just paint it? At a glance, it appears to be from a 90s SuperSport, which makes sense, considering the rest of the running gear. So it appears that what we're dealing with here is a fully-built 90s 750SS with brilliant retro-bodywork and paint. And headlamps. Those massive, retina-burning headlamps.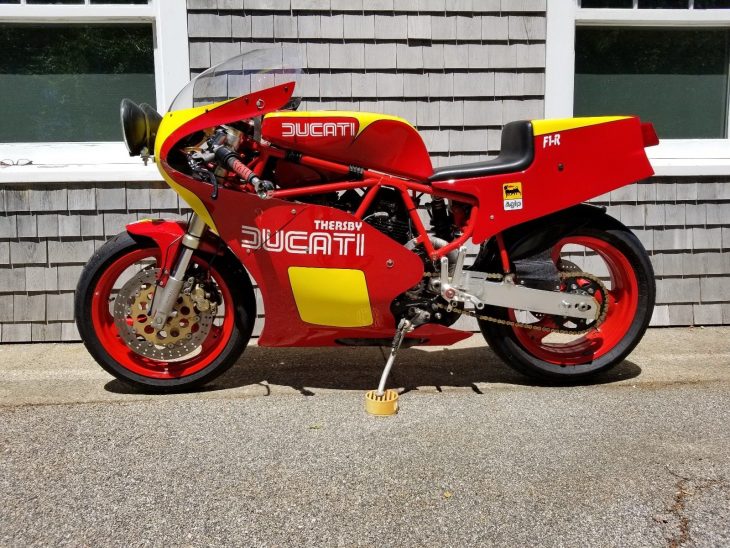 The original TT2 that inspired this build was a lightweight, Pantah-powered racebike displacing 597cc with a Verlicchi frame and Marzocchi suspension. Built between 1980 and 1984 the bike was very successful in competition and ultimately spawned the Ducati F1 road bike.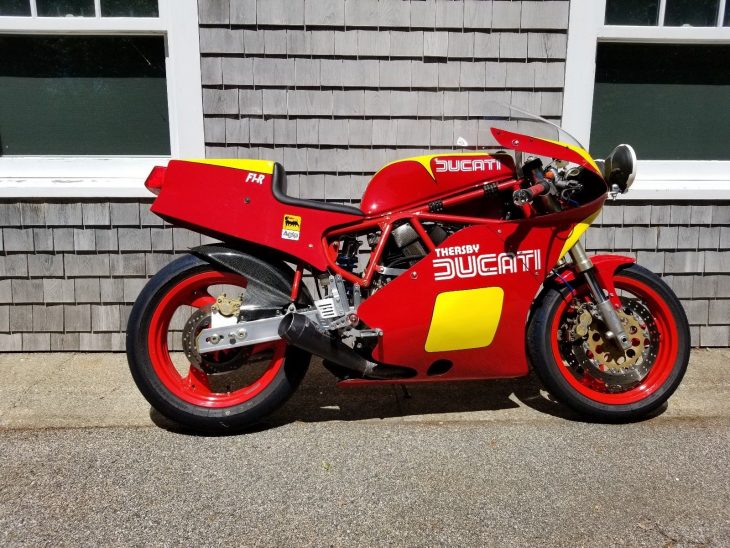 The engine in this replica is a 750, but it's looks to be the 90s version, since both carburetors live in the engine's vee: the 80s Pantah-engined bikes had both facing rearward, with the vertical cylinder's jutting out awkwardly towards the rider's knee. And the wheels are clearly 17″ parts, in keeping with the 90s theme. Great for finding modern, sticky rubber, but not the most authentic-looking, if that's the goal, since the original used 18″ hoops. And why choose non-adjustable front forks on this bike? Even set up properly, I'm surprised the builder didn't at least use the adjustable units available on certain 900SS models, since the upside-down forks give the game away anyway that this isn't really an 80s race bike.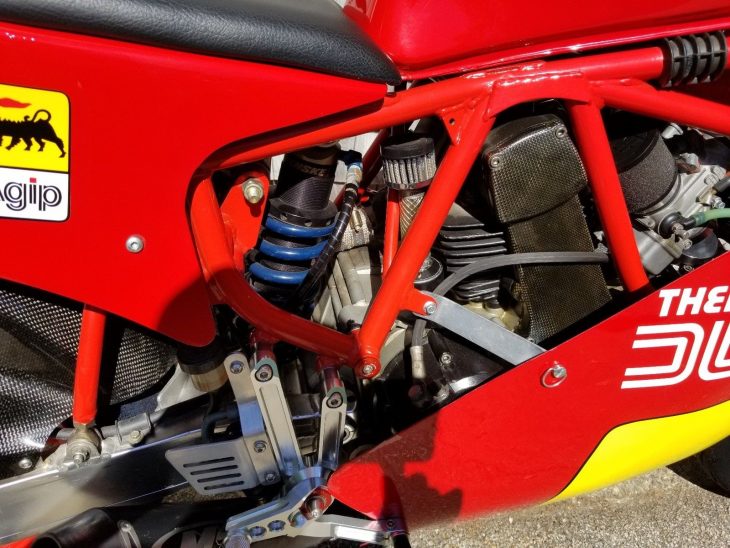 Not doubting the craftsmanship, but there are some other choices I'm not big on, starting with the Koso instruments. I'm sure they're reliable and legible, but I don't really like them on recent Bimotas and I really don't like them on a retro-looking special. Something classic from MotoGadget would have given similar function with a much more appropriate look. The bar-end signals are a cool touch, but a bit too shiny for my taste and the grips and Union Jack tank pad are way too modern. And the M4 exhaust is perfectly fine on a GSX-R750 but a "classic" Ducati? But all that is relatively easy to change to suit the new owner's preferences anyway.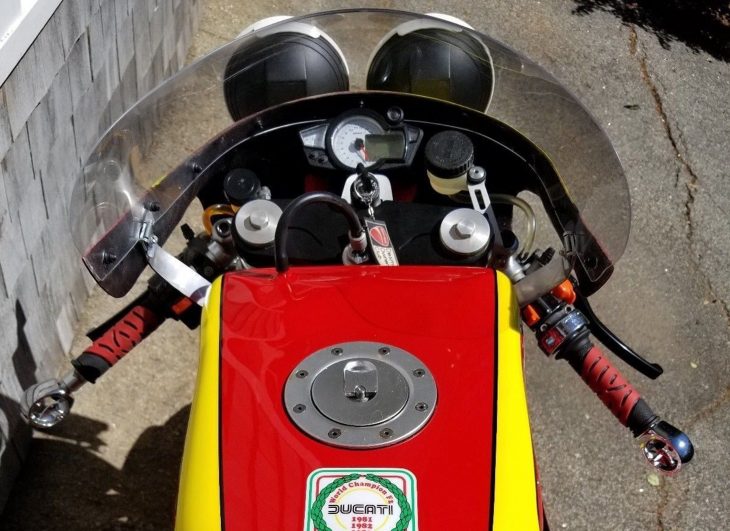 If it sounds like I don't like this bike, you'd be wrong: I'm really just picking nits and all of these minor issues are easily forgotten, looking at the red-and-yellow bodywork and those awesome endurance-racing headlamps. And although the listing doesn't go into too much detail regarding the engine, the Pantah engine can be tuned to make good power and, in a lightweight package, should make for a very entertaining bike.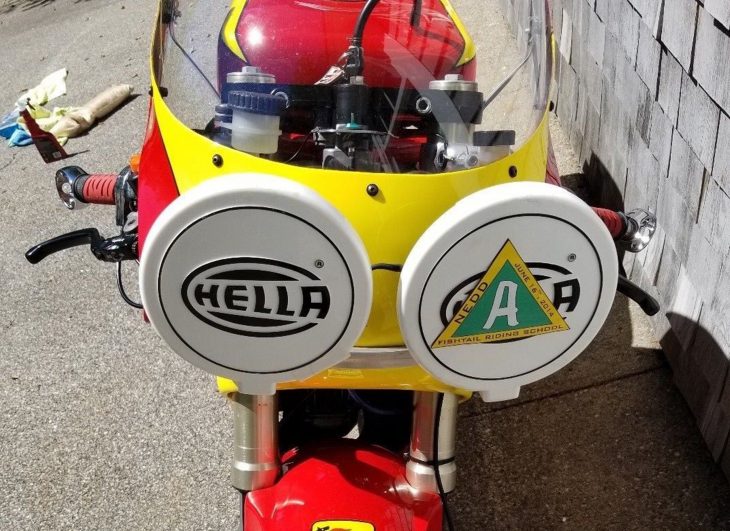 From the original eBay listing: 1995 Ducati TT2 Replica for Sale
For the Ducati connoisseur, this beauty will enhance any collection. Frame came from British Ducati legend Roy Thersby. The bike was built by vintage Ducati guru Scot Wilson as his personal ride. Scot is the owner of Italian Iron Classics in Tucson, AZ. I've had the pleasure of owning a couple of Scot Wilson's builds and they are very carefully planned and meticulously executed.

The 750 engine was built by Tom Hull of Phoenix to "Pro-Thunder" standards with Carrillo rods, dual spark, lightened internals and all the special bits you'd expect. The engine was moth-balled after a rule change, acquired for this build and has about 1,000 miles on it. 40mm Del Ortos, fork set by Computrack. GP shift but could be changed. The bike was just serviced, all fluids changed, fuel tank cleaned, carbs cleaned and carefully checked over. It's ready to go.

The bike is street legal, has a clear Massachusetts title and goes like crazy. Headlights are Hella style as used for endurance racing. Bar-end turn signals are installed so the bike will pass my state registration inspection. The paint is as good as it gets and looks as fresh as the day it came from the painter's shop. If you are looking at this bike I don't have to tell you about Ducati F1-R's or TT2's. I've had the opportunity to do a (very careful) track day at a Ducati event and the bikes gets lots of attention. If the track's not your thing you could proudly show it at any event and it would draw a crowd.
While undeniably cool, bikes like this are always tricky when it comes to determining value. They're not collectible in the conventional sense, in that they're not real race bikes or limited-production factory machines: they've been built using high-quality components, but they're basically really nice lash-ups, "bitsas" made from the very best bits. Of course, a real TT2 would likely sell for far more than the $22,500 the seller is asking, and considering the quality and names attached, I'm thinking this is a pretty damn good deal as long as the lack of originality doesn't bother you, and you're ready for the snobs to give you static when they ask you "is it real?" But honestly, if anyone gives you a problem, you should just blind them with those massive Hella lamps.
-tad