Warning!
This post is in our archives. Links in this post have been updated to point to similar bikes available to bid on eBay.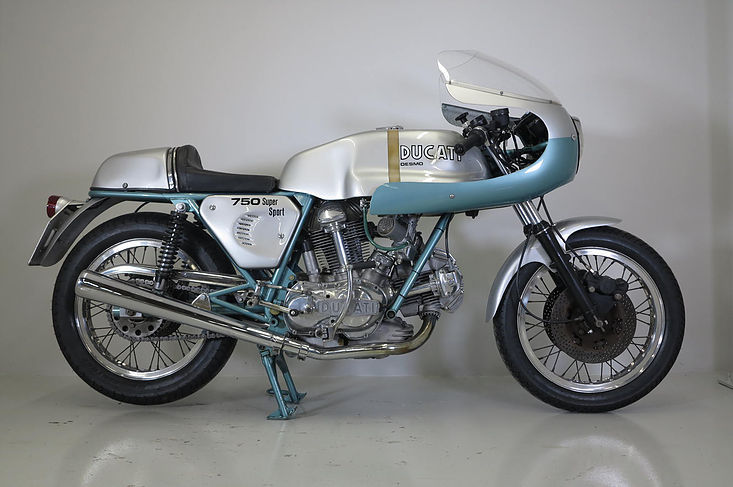 When it comes to really famous, really collectable Ducatis, it is hard not to imagine the image of a green frame 750ss. Created by Ducati to celebrate the dominance of the 750cc race bikes, the Supersport has become THE streetable icon of a bygone era of brute mechanical setup and rider bravery. Devoid of electronics, slipper clutches, big brakes, sophisticated suspension or even modern tire technology, bikes of this time relied upon the skill of the rider to adjust to conditions – exactly what Paul Smart did to triumph at the 1972 Imola 200. The green frame 750 Supersport was intended as a tribute, but grew to be a tremendous success on its own. Today more people know about the street 750ss than the Italian race (and racer) that inspired it's creation.
In the early 1970s, Ducati really wanted to win – which is what the likes of Norton and MV Agusta were doing. In what is now familiar Ducati fashion, they did what any manufacturer would do: they threw piles of money at it (although much of this was sweat equity and ingenuity, as Ducati was still a small manufacturer). The 500cc racer's frame was developed by UK frame maker and famed GP racer designer Colin Seeley. Ducati developled the engines in-house, and shipped Seeley early prototype cases to help finalize the bike design. By 1971 – with test rider Mike Hailwood – it was determined that the Seeley frame was too light for the 750cc class. Fabio Taglioni, chief designer and technical director of Ducati, had already incorporated some of Seeley's design elements into a heavier, street bike frame. That was modified to become the legendary racer; yet victory was initially elusive. With mechanical failures having been sorted out in 1971 season (best finish was Phil Read's second to yet another Agostini win), Ducati pulled out all the stops. They fielded a total of EIGHT bikes for the 1972 Imola 200 race, and managed to pull off first and second against the likes of MV Agusta, Norton and Honda factory efforts. It was this victory that cemented Ducati's racing reputation – and the foundation for the street machine.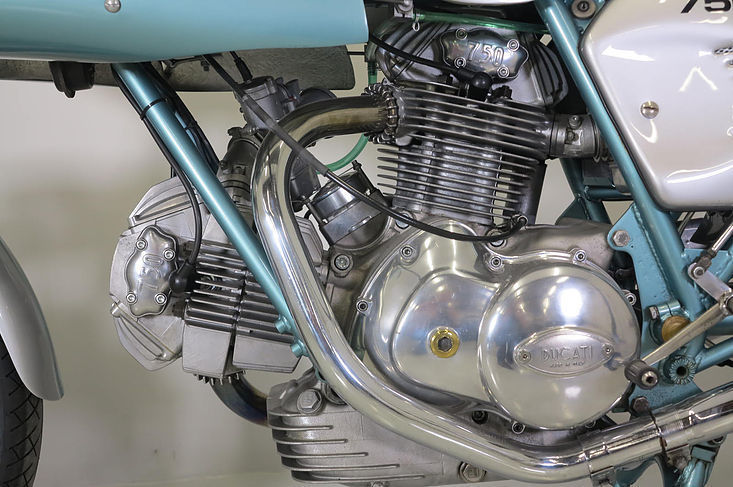 From the seller:
Genuine Greenframe . Exceptional condition . Currently in Great Britain . I will airfreight to Australia for the successful bidder . Prices are going nuts on these . Buy now or be priced out of the market forever .
Engine number 075318 DM750.1
Frame number DM750SS 075061

Note : Bike is for sale in Great Britain . Will sell to however meets my price .

It's the real thing and 99% correct, sold new in Germany and been there all its life until now, restored some years back and in a private collection for the past 20 years.
It's very original with a few small details that aren't correct but all the major components are in very good shape and correct like the rims, cases, frame and yes I think the glasswork is original but its difficult to be 100% sure on this as it could also be 30 year old repro stuff, but whatever it is it's certainly not new or fresh.

It's been re painted in the past. The parts that are non- original as far as I can tell are:
Later Tomaselli Daytona throttle.
Lefthand hi/lo/horn switch
Malossi inlet manifolds and later PHM 40mm Dell'Ortos
> I have bought one original carb so far .
Alloy mesh on original bellmouths
Drilled front brake discs
Later Marzocchi rear shock absorbers < I have a set of original shocks . Headlamp bracket painted green instead of satin black Both front fairing brackets cut down to take one bolt instead of two There is also a broken fin on the rear cylinder. Easy to repair . A front Brembo master cylinder fitted but the original Scarab comes with it. Mechanically its excellent and runs and rides superbly, the condition is very nice but you can see it's not a fresh restoration.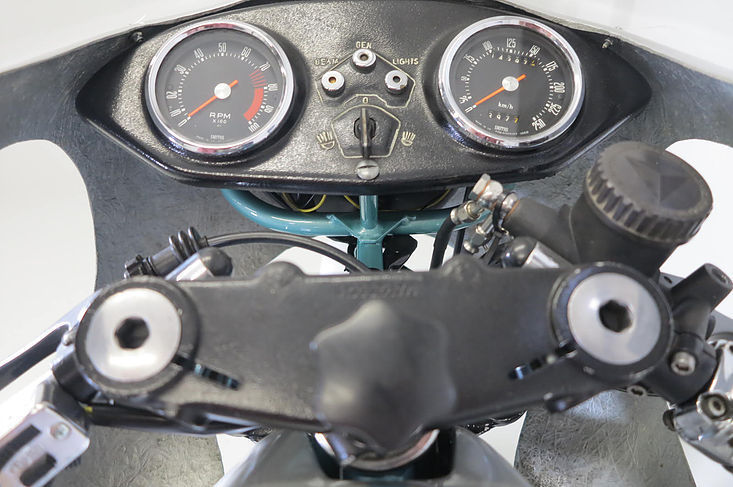 The 1974 Ducati 750 Supersport has often been referred to as one of the most beautiful motorcycles ever produced. The Gugenheim museum highlighted the green frame prominently in their exhibit "The Art of Motorcycle." And collector value for these bikes has soared – to what many consider unreasonable levels. Built by Ducati's race shop in limited numbers (401 is the generally accepted number), this was a true race replica. Sporting triple disk brakes (claimed to be the first street bike to offer this feature), and the cases right out of the racer, the 750ss street bike made concessions for the road; a strengthened crankshaft, provisions for an oil cooler (although none was originally fitted), and different carburetors. The green frame Ducati is said to be the only round case, bevel drive desmo bike produced for the street. The bike even retains the racer's semi-transparent stripe on the tank; a no-need-for-a-gauge solution to determining fuel levels.
This is collector-grade machinery, and with it comes a collector-grade price tag. The opening ask for this auction is a cool $190,000 USD – with a reserve in place. The bike was originally sold in Germany, however it now resides in the UK. At this price, only museums, small countries, or heirs to the Microsoft fortune need apply. But it is good to dream, right? To find a nearly original 1974 Ducati 750ss in this type of condition is a mega-rare event, and you can be assured it will not repeat any time soon. Check it out here and good luck!!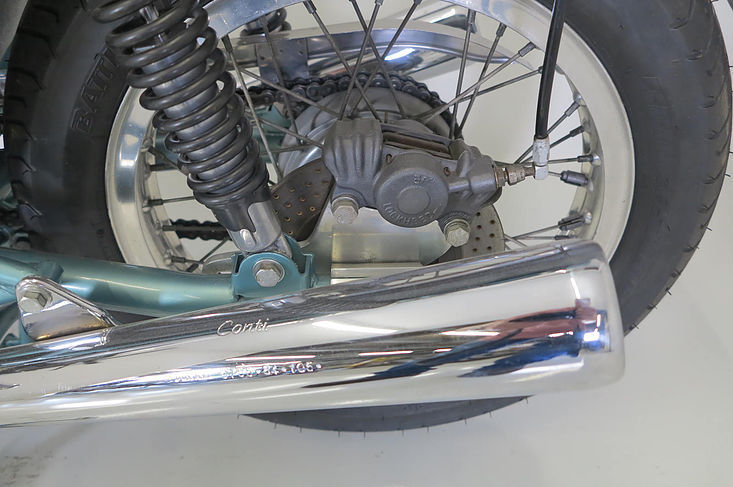 MI