Warning!
This post is in our archives. Links in this post have been updated to point to similar bikes available to bid on eBay.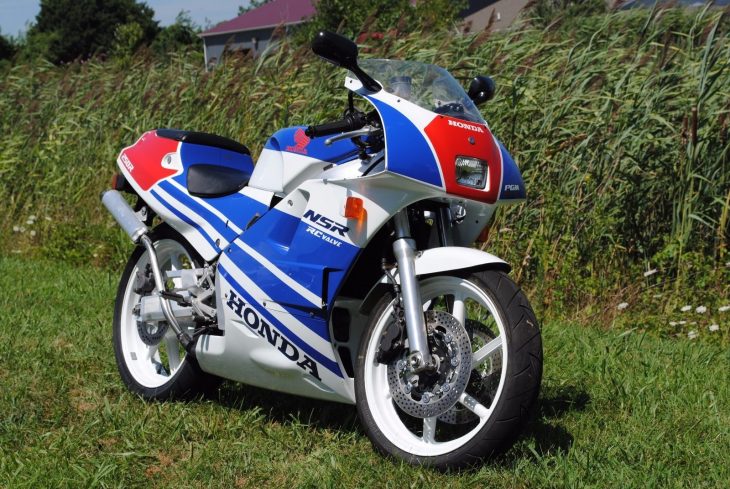 Many of the coveted bikes in the quarter-liter two-stroke race-replica class were never officially sold outside Japan. They were certainly seen in countries where "parallel-imports" or "grey-market" bikes were commonly sold, but 250cc sportbikes were intended primarily to meet the needs and requirements of that market. And that means buzzy little animals like this Honda NSR250R MC18 were restricted to a mere 45hp when sold new in Japan, and de-restricting them can require knowledge, specialized parts, or both. In the case of the later MC28 that used Honda's trick Smartcard technology, de-restricting the bike was a major headache, since the digital card held the bike's ignition map and can't easily be updated without an official HRC race card, although apparently work-arounds do exist…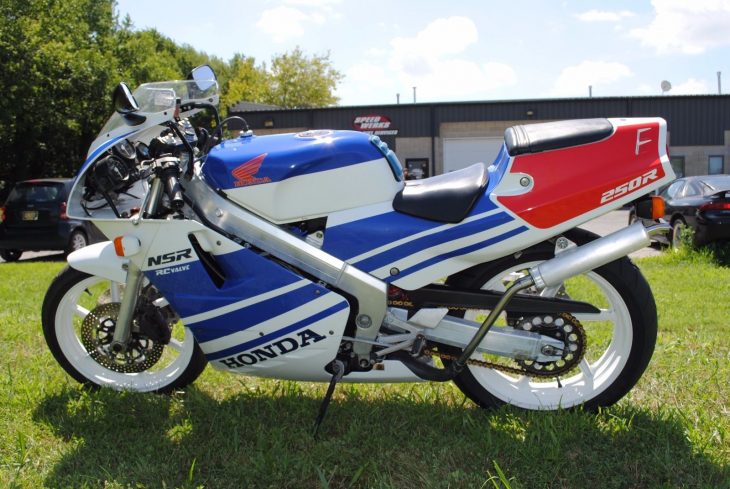 Honda's MC18 NSR250R was powered by a 90° liquid-cooled 249cc v-twin backed up with a six-speed cassette gearbox and featured a more basic, easily-hackable version of Honda's PGM-II ignition system which, in this case, has already been modified to release somewhere in the neighborhood of 55-60hp, depending on who you ask. The MC18 unfortunately lacks the later model's asymmetrical "gull-arm" swingarm that allowed the bulging expansion chambers on the right side to tuck up close for maximum cornering clearance, but it is still an iconic machine.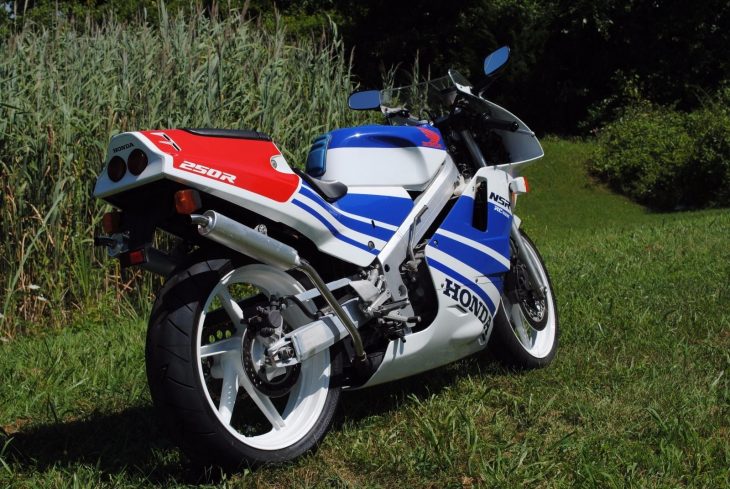 This example looks to be in excellent condition, with plenty of new parts as described in the listing. If you check out the seller's website, they do claim to do thorough inspections and even restorations of the bikes they sell, so it's not like you're showing up at the docks to pick up a bike that's possibly been thrashed by a teenager then left outside to corrode for the past twenty years. Their prices are higher than some I've seen on eBay recently, but they seem to have quality bikes for sale, and it helps to know there's someone in the continental US you can yell at if things go wrong…
From the original eBay listing: 1989 Honda NSR250R for Sale
MC18 R5K model from Moto2 Imports. Popular blue and white color scheme with just 8,900 miles. This bike has been fully mechanically restored with brand new tires, chain, spark plugs, re-built jets/needles, refurbished front forks & new fork seals. The fuel system has been flushed and cleaned and the whole bike has been treated for rust and corrosion removal. The engine has been professionally de-restricted and is now producing full power. All lights, indicators, and switches are in proper working order. Cosmetically, the bike is in excellent condition (see pics) and the plastics are all factory OEM. You will not be disappointed. Moto2 Imports is the country's number one importer of foreign sportbikes, specializing in two-strokes. Check out our website for more information and inventory!
The seller also claims that the bike has a valid Washington State title with a VIN matching the frame number, which should hopefully give some peace of mind to bidders. And the fact that it has been professionally de-restricted is a big plus, since those extra ponies will be helpful at moving the potential extra mass of its new American rider… Among the Big Four, Hondas seem to be the most desirable, with commensurately higher prices to match. Bidding is very active on this one and already up to $5,000 with the Reserve Not Met, with The Buy It Now set at $6,599 which seems to be right on the money currently for a US-titled NSR250 in good condition.
-tad