Warning!
This post is in our archives. Links in this post have been updated to point to similar bikes available to bid on eBay.
The TZR250 was Yamaha's entry into the hotly-contested quarter-liter class wars that raged throughout the 80s and 90s. Early TZR250s were powered by a fairly conventional liquid-cooled parallel twin, and the last generation used a 90° v-twin like rivals from Suzuki and Honda. But in between, Yamaha experimented with an interesting solution to give the 3MA version of the bike a competitive advantage.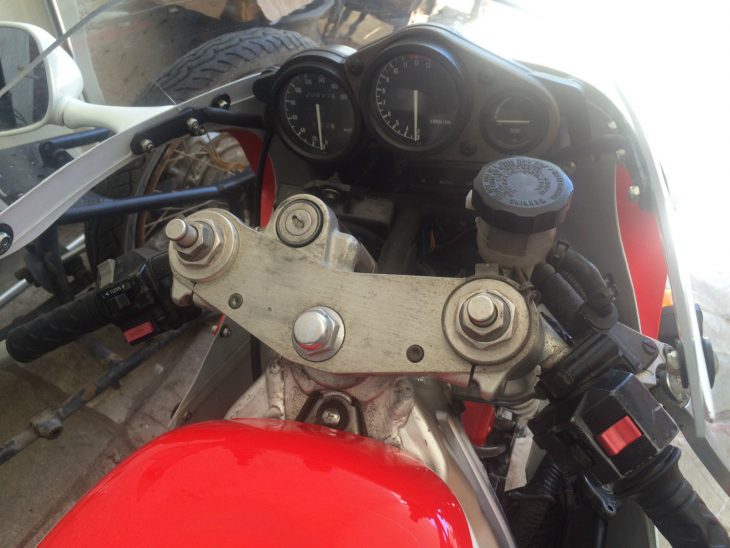 All of these 250cc two strokes were very close in terms of specifications: weight, displacement, power were all nearly identical, so every little bit helped. The 3MA version of the TZR250 saw the cylinders spun around 180° from what you might expect, with the carburetors at the front where they could gulp fresh air and the exhaust exiting out the rear. This helped solve some of the packaging issues involving the bulbous expansion chambers needed for two-stroke performance, keeping them tucked up inside the bodywork instead of having to route them under or around the engine.
Overall, this particular TZR250 looks like a decent enough bike on the surface, but I'm betting the seller is aiming far too high with the starting bid. Under the bodywork, things look a bit iffy: anyone care to weigh in on exactly what is going on with the right side of the engine? Bodged repair? Cobbled-together block-off plate so the bike can run premix?
And is that the cover for the YPVS power-valve system missing?!
From the original eBay listing: 1989 Yamaha TZR250 3MA for Sale
The Yamaha TZR250 is a motorcycle manufactured and produced by the Japanese motorcycle manufacturer Yamaha between 1986 and 1996. Yamaha produced the road going two-stroke motorcycle, loosely based on the TZ250 Yamaha racing bike. Parallel-twin, reverse cylinder and finally V-twin variants were produced. It evolved as a natural replacement for the popular RD250/RD350 series of the 1980s. It has the Yamaha Power Valve System (YPVS) which raises and lowers the exhaust port depending on the rpm of the engine. The YPVS servo motor starts to open at about 6,000rpm. In standard form 50 bhp is claimed at 10,000rpm. Although mid 40s is more realistic, and will not rev much above 9,500rpm in standard trim, owing to the restrictive standard exhausts and ignition boxes.

Racing

Still raced in the Yamaha pasta masters race series with the British racing club – BMCRC. Racing engines currently claiming circa 56 bhp @ 11,000rpm. Racing fuel ratios typically 1:30. Standard exhausts are difficult to improve on in terms of power and torque, but they are very large and impede ground clearance. Jolly Moto exhausts are popular replacements as they are lighter, produce similar performance, allow better ground clearance. An F3 racing kit was produced for a few years which included ignition boxes, carbs and exh, helping increase maximum revs, power and torque.

History

Production started in June 1986. At a cost of around $6,000 new on release it was seen as an expensive bike for a 250 cc, but given that places such as Japan, Italy and Australia had 250 licensing laws in place one can imagine the stir that something that could hassle 750s on a track caused. The parallel twin 2MA variant being the UK variant and the 1KT model being the domestic Japanese variant. Variations between these two models being minimal, e.g. wording on the brake master cylinder in English or Japanese. Lighting arrangements were also different, to comply with UK type approval regulations, particularly the indicators were mounted on stalks rather than faired into the bodywork.

In 1989, the parallel twin reverse cylinder version, 3MA arrived. If you wanted a lightweight backroad weapon decorated with speedblock graphics in the late 80s and early 90s, your choice was clear: YAMAHA TZR250 3MA. In between, Yamaha's 1989-1990 3MA version of the TZR used an unusual reversed-head configuration that had the carburetors mounted on the front of the engine, giving the exhausts a clear shot up under the seat and out the tail-section, avoiding expansion-chamber clearance issues. Backed by a six-speed gearbox and mounted in a classic Deltabox frame, the complete package made 50hp, depending on tune and weighed in at 308lbs wet.

This particular example has been well-used, with 20900 km on the clock, and does have some minor wear-and-tear, but is extremely clean with the fairings off.
What's interesting here is that the entire end of the seller's description "If you wanted a lightweight backroad weapon…" is actually a quote by me from this post. So it's me quoting him quoting me. What happens when someone quotes this post for a book on the TZR250, and then I end up using that book as a resource? Will the world explode? My head certainly will. Will time and space as we know it end? One day, I hope to find out.
In any event, the only thing more mind-blowing than the fact that I'm quoting myself being quoted in this post is the $9,900 starting bid. That's just huge money for what is a very cool [I really want one of these] but ultimately unsuccessful bike. The theory makes sense, but in practice there were other, better ways to skin this two-stroke cat and it was only made for a couple years, before Yamaha switched to a v-twin like rivals from Honda and Suzuki. Unless prices have jumped suddenly, this is crazy money for the 3MA since recent examples have sold for between $4,000 and $5,000. Later TZR250 3XV are generally more valuable, but I think the price would be unrealistic, even then.
-tad