Warning!
This post is in our archives. Links in this post have been updated to point to similar bikes available to bid on eBay.

6.26.2019: This bike has SOLD! Congratulations to buyer and seller! -dc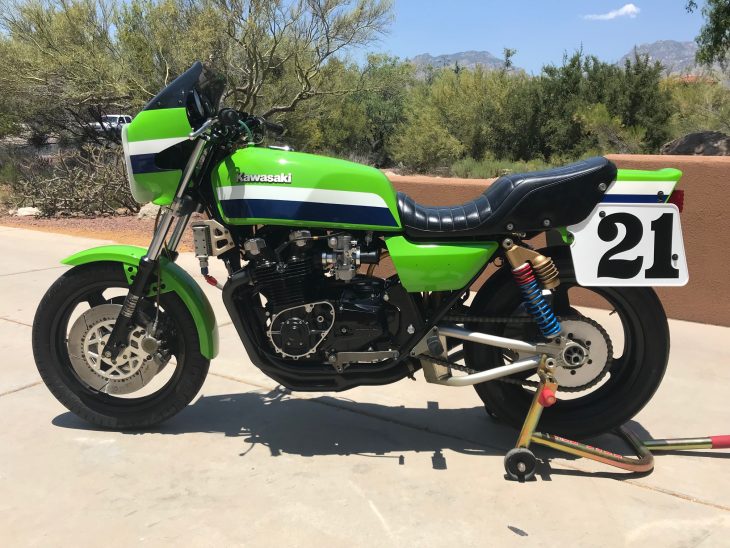 Last seen on RSBFS in 2013 under the byline Kawgasm, the 1982 Kawasaki KZ1000 S1 is off the rarity scales.  This S1 was found in a storage container, cleaned and assembled but not restored, then taken to the Quail Motorcycle Gathering in May, this might be the silk purse from a sow's ear story for spring 2019.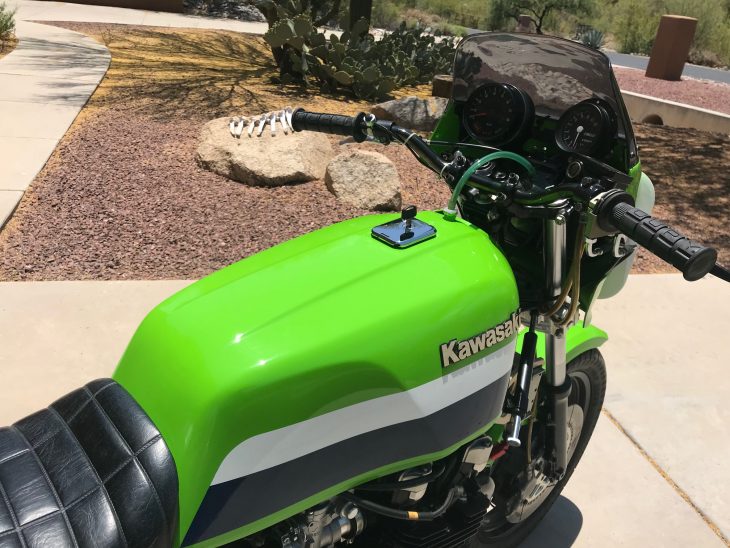 The Kawi S1 is pictured in Webster's next to the word unobtanium, and you would've had to know somebody in the motorcycle business then, and perhaps finance now to procure one. The race engine was quite different from an ELR with dual plugs, magneto drive on the right end of the crank, a bank of Keihin CR carburetors and a mammoth oil cooler under the steering head. The fabricated swingarm is supported by remote reservoir Works Performance shocks. Lockheed racing brakes made the solid 330mm disks, looking downright oversized even these days.
Evidently the original owner was a machinist and cooked up some beautiful light alloy parts for his new machine. The oil cooler brackets are bombproof but the brake rotor and caliper mounts have a serious look. Comments accompanying the before pictures:
n October, 2014, a friend of mine told me about a guy that was interested in selling his 1982 Kawasaki 1000. He said he bought it new in 1983. His wife said that he was getting on in age and if he passed away, she wouldn't know what to do with it. He asked me to come by and see it. When he opened the storage container door, stuffed in the back was a green bike. I assumed it was a 1983 ELR. There was no lighting in the container and you could hardly move inside. I was able to get some pictures and realized it was truly an S1. I told him I was interested and he said he'd get back to me. It took him 5 years to get back to me. It took us 6 hours to move a machine and many boxes in order to get to it. But finally, it was extracted. Here's a chance to own the Holy Grail of 80's sport bikes.
A careful inventory and cleaning was in order, but you can't call it a restoration. The original CR carbs were in a box and re-fitted. They still have yet to experience dino juice. The condition and documentation defies belief, and the owners' restraint in the presence of a "new" S1 indicates this isn't their first barn find.
1 of 29 produced. Frame #0080 Motor#030330. Arizona Titled. This bike was sold new in Tucson,Az.
Bike was originally shipped to Hill Kawasaki in Orlando, Florida

Then Transferred to Kawasaki of Tucson on 10/21/1983

Sold on 10/31/1983 by Kawasaki of Tucson

Never any track time. This one owner bike was played with on the street for less than 3 months and then stored away until January 2019. It was removed from storage and is now for sale. Unrestored and like new. A true "barn find". Documentation includes the Predelivery (PDI) Form. The dealer information sheet from Kawasaki Motor Company regarding these bikes. The Dealer transfer form with pricing and serial numbers. The warranty forms filled out, even though there was no warranty. The Factory Chassis and Engine manuals. The Chassis and Engine parts pricing books. The Factory race stand . The original carbs were never run on the bike. The owner opted for 33mm smooth bore Mikunis. The original Keihin CR carbs were reinstalled at the time the bike was removed from storage. They are new and have never had fuel run through them. The owner was a machinist and made billet oil cooler mounts, billet caliper hangers and billet front brake rotor carriers. The original steel kerker muffler was replaced with an aluminum one. The slicks were replaced with street Dunlop's in 1983. The condition of this bike is unbelievable. Unrestored !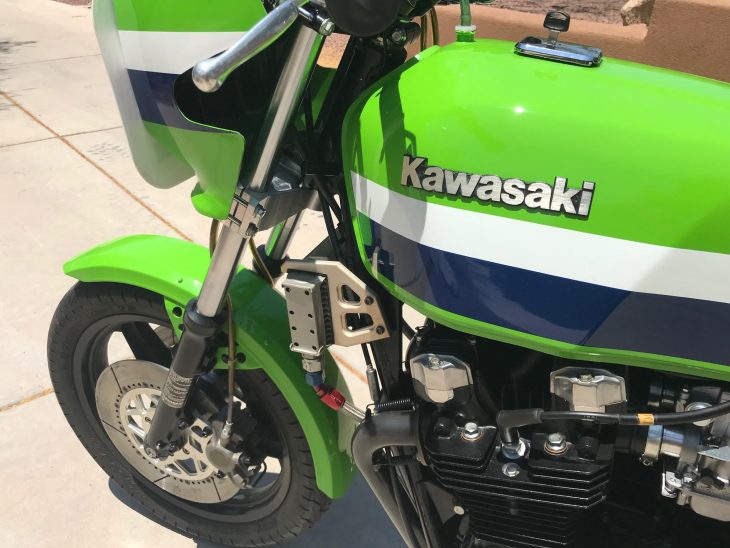 Around thirty S1's are reputed to exist, along with a substantial number of replicas in various states of correctness.  As the real deal, the fuel tank and carbs of this one will likely remain dry, some old slicks sourced, and some velvet ropes strung to keep it out of arm's reach.  .
-donn