Warning!
This post is in our archives. Links in this post have been updated to point to similar bikes available to bid on eBay.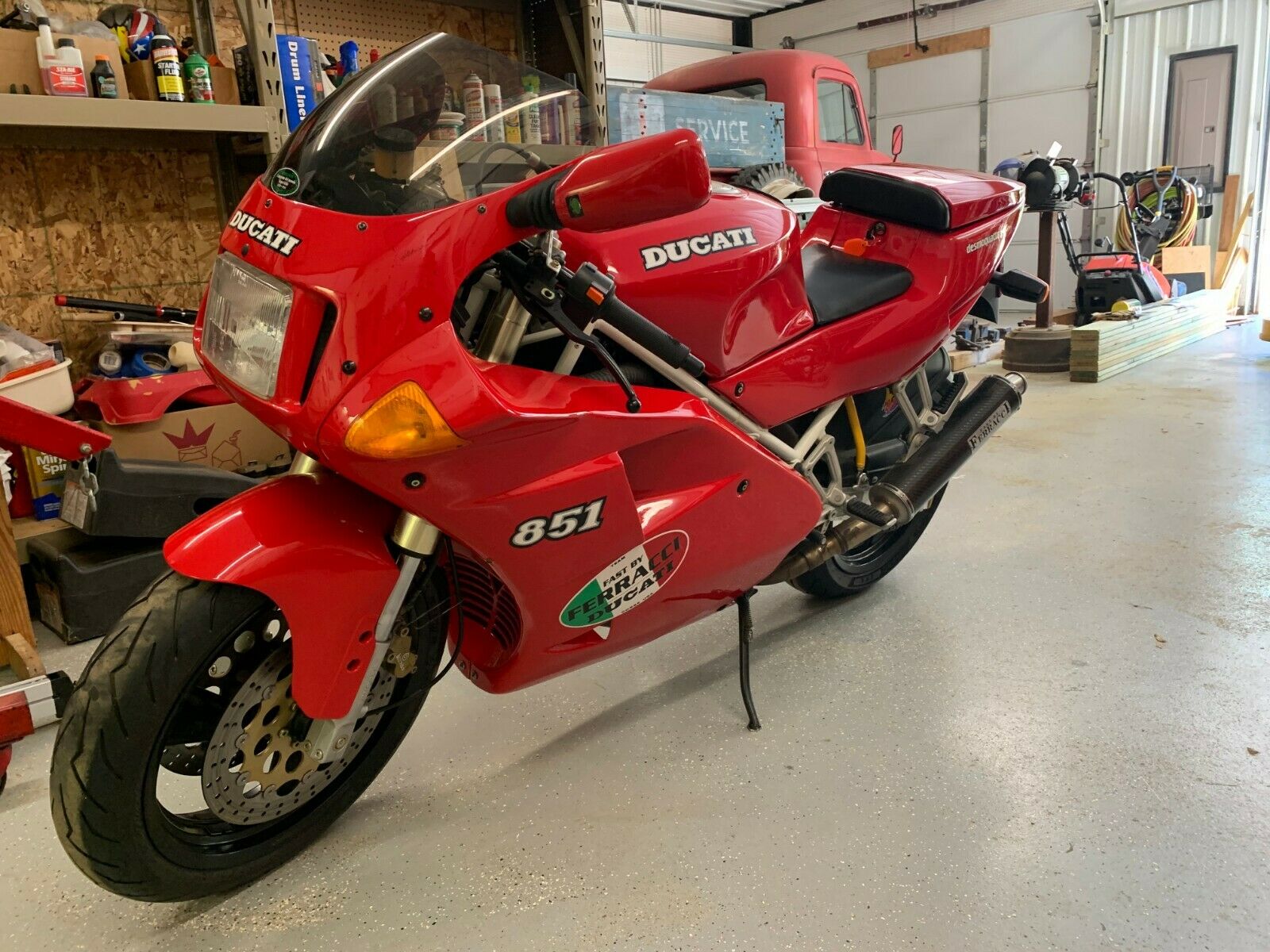 If not for the Fast By Ferracci sticker on this 1992 Ducati 851, you might believe that this is the bike we posted just earlier this week (see here). But no, it is definitely 851 season here on RSBFS, and I'm pretty happy about that! After all, the 851 is the model that really supercharged Ducati's ride up the competitive – and consumer – ladder being their first liquid cooled engine, their first 4-valve desmo head, and their first use of fuel injection. And while that might sound like throwing technology and parts at a bike, these pieces integrated so well as to make for a stunner of a runner that also looks great just standing still. The seller has a lot to say, so I will let him pick up the story here.
From the seller:
i have decided to list my ducati 851,it,s a rare bike and has an interesting history.it only has 2577 miles and was purchased from the original owner.the original owner was a race fan who followed the factory race team who decided to sign the bike.i have included pictures to verify this.i have two posters given to me by the previuos owner.rider #19 &rider #21.these posters are not signed.they just show the riders and the factory team in the upper left hand corner.after the bike was autographed the owner put it in storage to preserve it.unfortunately it remained there for twenty years.he finally decided to sell it and brought it to the blackhawk swap meet in davenport iowa where i came across it.it was love at first site.i purchased it and brought it home.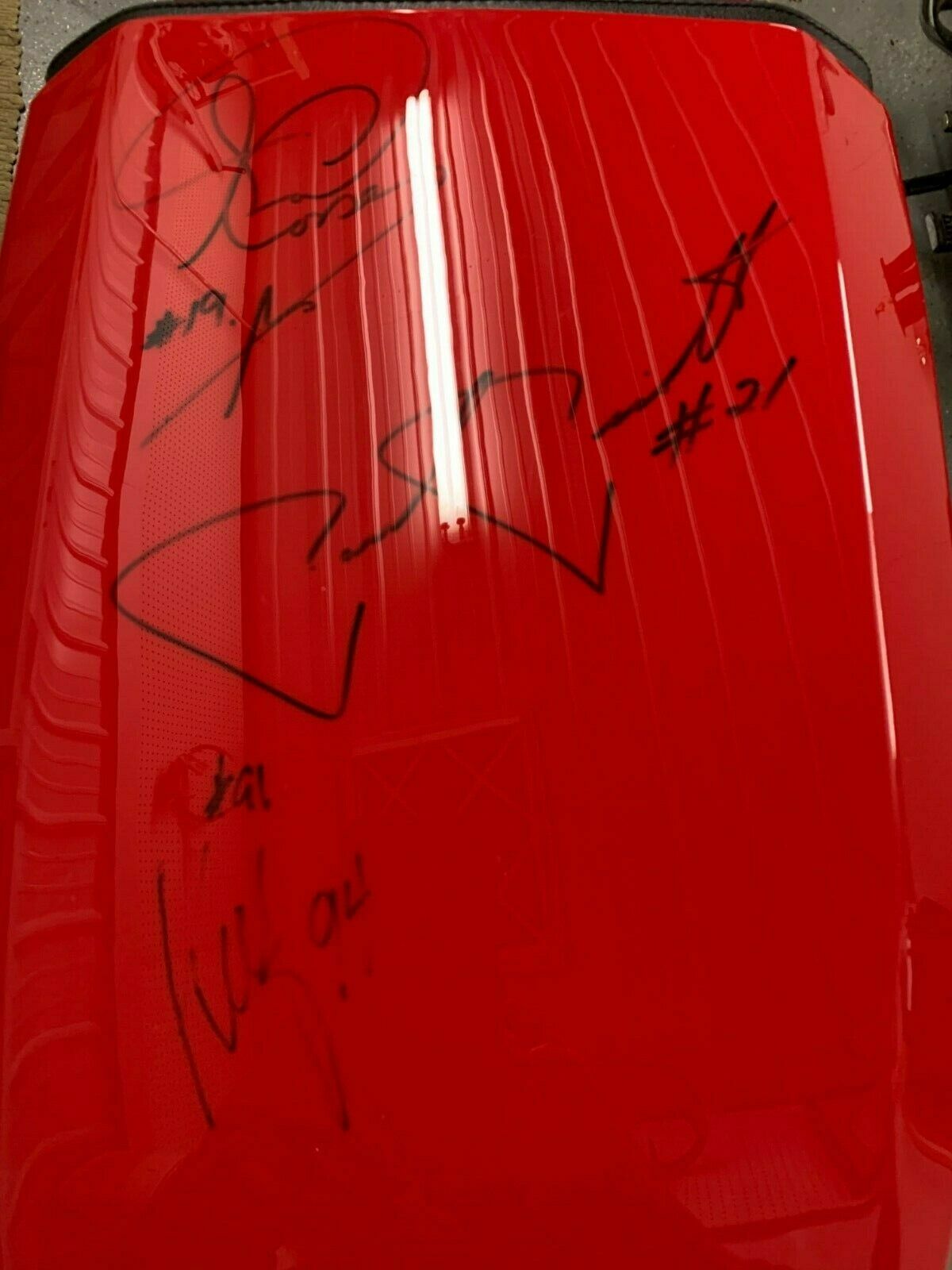 More from the seller:
after looking it over good i decided to get some help getting it going again.i took it to moto europa in st. louis.they had it for almost a year and went thru everything front to back.timing belts,fuel system,brakes,cooling system,new tires,battery,all of it.the final piece of the puzzle which took so long was the radiator which could not be repaired.one was sourced in europe and it wasn,t cheap.i have the original radiator and it will be included in the sale.i have the paperwork to verify all work that was done.it now runs,sounds,and rides amazing.i have also included pictures of some items that are included in the sale.i have a clean and clear title in my name so no nightmare paperwork to deal with.this is a hard sell but i don,t want it to go back to sleep for another twenty years.but with that being said i know what it,s worth.this isn,t american pickers and i,m not going to leave a little meat on the bone.if your looking for a little fun and a flip,this isn,t it.this isn,t wheeler dealer either.there will be no test rides or joy rides trying to pick it apart.i will take no chances on something happening to it and someone just wanting to walk away.
More from the seller:
i will start it so you can here it run.after you pay for it you can do what you like.if you wait till the listing is over and make an insulting offer i will not respond.i will not end the auction early unless the buy it now is tapped.i will not release the bike or the title until the full purchase price is in my hand in cash or the funds have cleared and in my bank account.if you bid and win that means you have agreed to these terms and the price.there will be no renegotiation on anything afterwards.there will be a non-refundable deposit due within 48 hours of the auction close.you are purchasing the bike as is.no warrenties or garrenties of anykind.will not ship overseas,us only.after all that,on a lighter note.i will answer all questions as honestly as i can.i want you to know what you are getting and have nothing to hide.
This 1992 Ducati 851 is a Strada (two seater) edition. It looks to be fairly stock, with the exception of FBF carbon cans (a wonderful, non-destructive mod), a tinted windscreen and lots of signatures and stickers. The seller doesn't note who actually signed the bike, but some close up viewing and some research nets the John Hancocks of none other than Canadia Pascal Picotte, and Aussie – and 1994 AMA Superbike champ – Troy Corser. There are other names scribbled on the fairing, and I invite sharp-eyed readers to help with the identification.
This particular 851 has been sitting for a long time, which resulted in some very low miles – just 2,577 according to the seller. Thankfully the bike has been gone through, which should remove worry regarding belts, valves, coolant and the like. It is uncertain how much value can be attributed to the signatures, however the rest of the bike appears to be in decent shape for the age. There is no doubt that the 851 is a model that is increasing in valuation, but it remains to be seen if there are any takers of the $18,000 opening ask (with a $21k BIN). Time will tell as this auction has approximately a week remaining. Check out all of the details here, and Good Luck!!
MI