Warning!
This post is in our archives. Links in this post have been updated to point to similar bikes available to bid on eBay.
Every post will be sent right to your inbox every morning when new posts are made. We will never sell our list or spam you. Plus you can click links to bid or buy right from the email and skip the site entirely. Subscribe to Rare SportBikes For Sale today!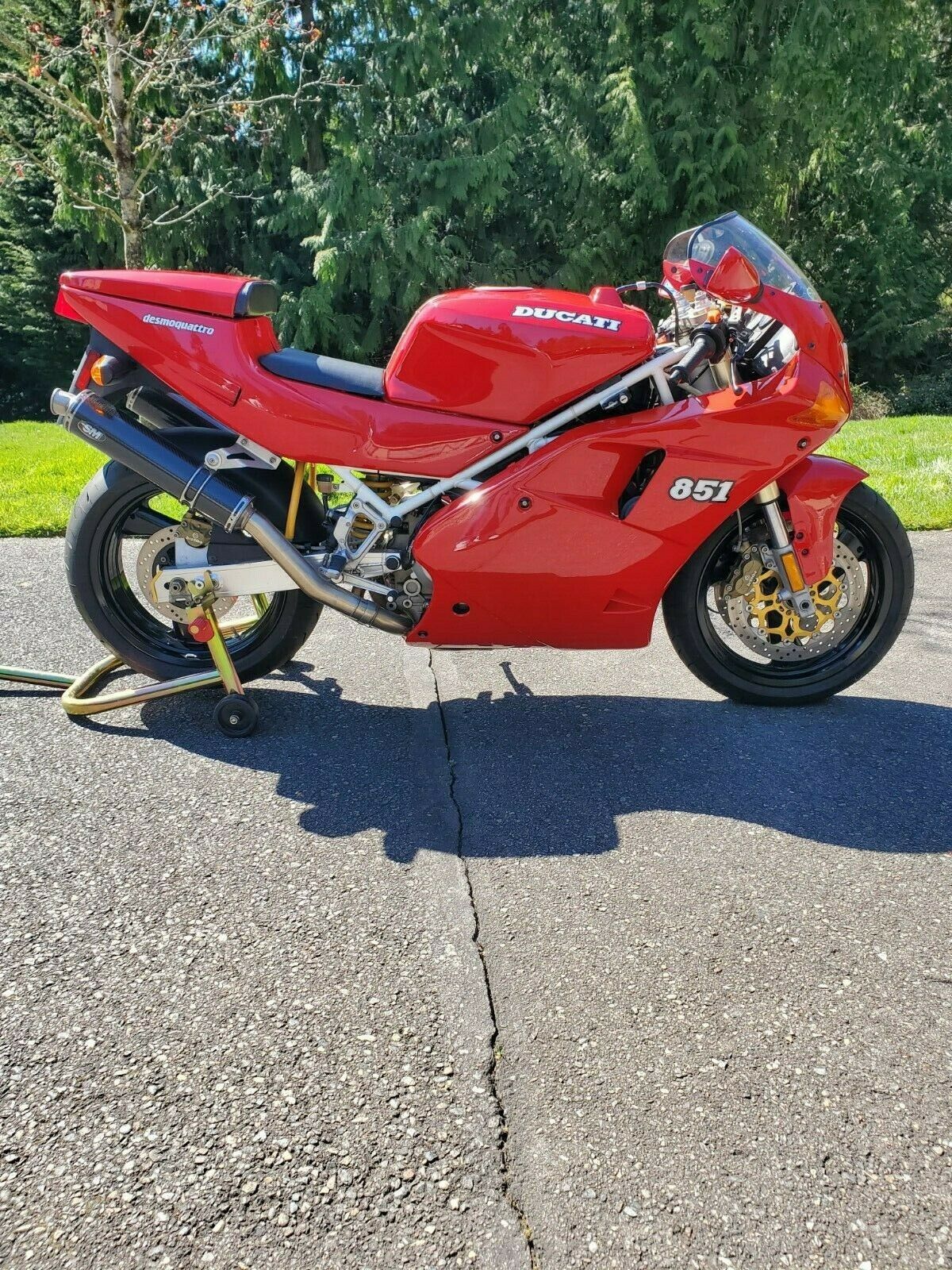 Ducati has quite the history of producing iconic, revolutionary models that were really large leaps in evolution. From the 1970s and the 750 SS with its stunning use of desmodromic valve actuation via a bevel drive arrangement, to the Pantah-engined bikes of the early 1980s with a new toothed rubber belt (which nobody thought would last), to the 851 of the late '80s and early 90s. Each brought with it great steps in terms of design and efficiency, and each was a milestone in its own right. And each contributed to the rich racing heritage that surrounds the Ducati legend. Today we find a pristine 1992 851 Strada – a bike right before the cusp of the 888 refresh – that should tick all the boxes for anyone looking for one of these astounding beasts.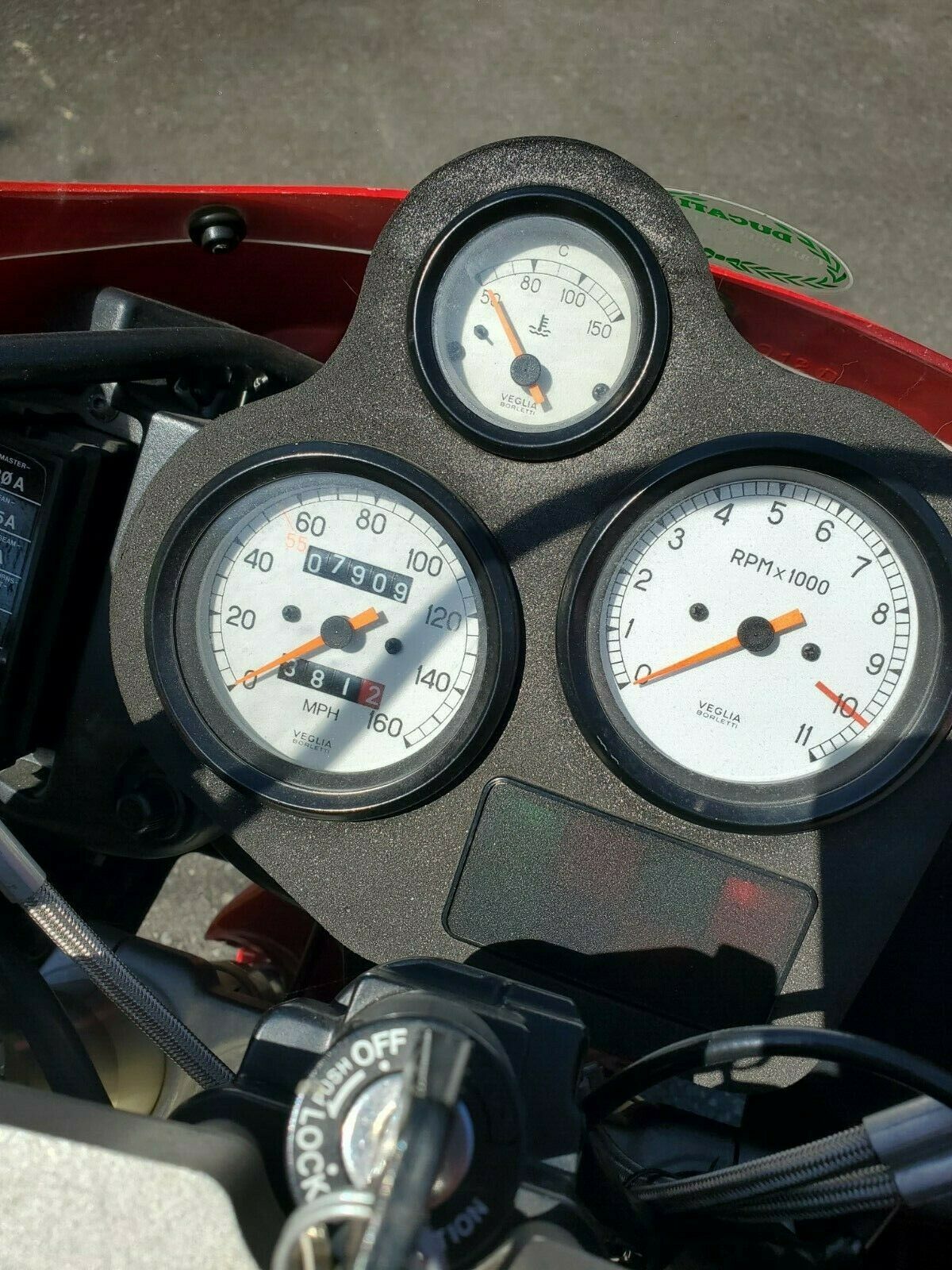 The magic of the 851 was a 1-2-3 abracadabra affair. Up to this point, all racing (and street going) bikes of the Bologna brand had the same basic engine characteristics: air cooling, two valve heads, and carbs. Ducati engineering (as funded by new owners, Cagiva) implemented Massimo Bordi's university thesis of a 4-valve desmodromic head. The effort was aided by noted cylinder head specialist Cosworth, but retained Bordi's basic design. The new head was affixed to an all new block which included liquid cooled cylinders to allow for tighter tolerances and more sustained high power and high RPM running. Fueling was provided by an all-new (and novel for the time) fuel injection system developed by Weber. The result was 110 HP at 9,500 RPM – figures unachievable by the earlier technology.
From the seller:
Selling my 1992 Ducati 851 Superbike. You don't see them like this very often anymore. Almost 100% stock with the exception of Sil Moto 50mm full race exhaust, Ferracci chip and K&N filter. Everything else is there and stock. OEM Stickers on Mirrors!! Original Cagiva windscreen as well. Took kit included, and all fluids and belts were done last week prior to listing. Tires are new with nubs still on tires and zero miles on them. Starts up if you just look at the start button. Only ethanol free gas used and has been in my collection for many years. Needs nothing, and is ready to ride or put in your office. Stand, owners manual and Ducati soft indoor cover comes with sale. I reserve the right to pull listing should I sell it locally, but feel as though this will get proper exposure. No disappointments with this bike. This is a classic and those who know them, know that they just don't come up like this very often. Time for a new home that will take care of her the way I did. All the old school Ducati grunt with this Classic. Please feel free to message me with questions. I know every inch of this bike and it needs for nothing.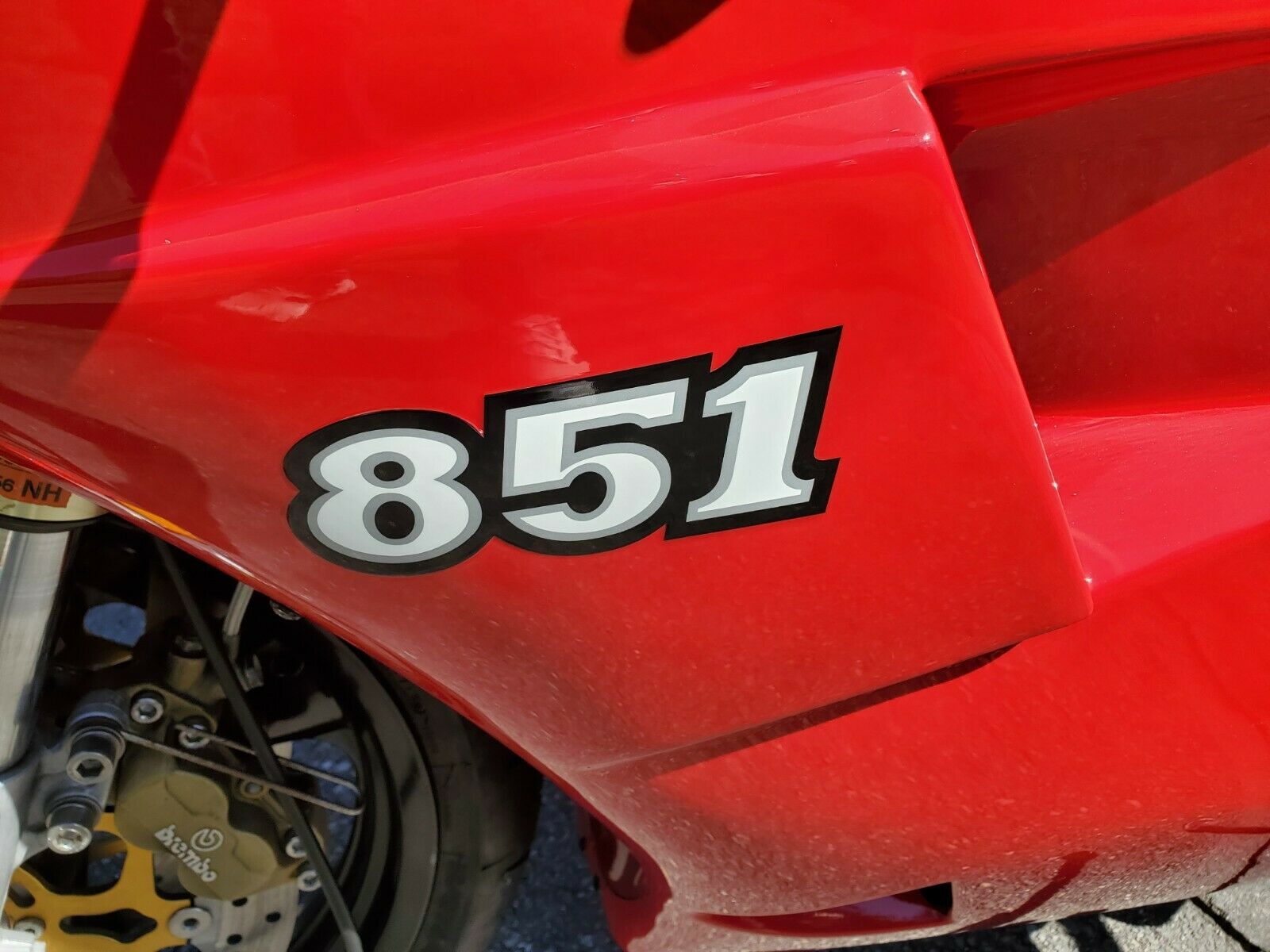 For a next-generation Superbike – one that was very successfully campaigned in WSBK – the 851 Strada is actually a pretty sensible motorcycle suitable for daily use. The cockpit is tidy and comfortable, if not a little cramped for bigger riders. The stretch to the clip-ons is modest, and the fuel injection ensures easy starts and idling. These models ride relatively easily in traffic, and even have a hidden passenger pillion, pegs and grab handles that emerge from under the seat – perfect for those two-up encounters! Maintenance is a little more involved than your average Japanese sewing machine, in that belts require regular replacement and valve adjustment is a bit more of a chore. If you can live with that, then the 851 is a bike that can fit into your life – and bring some raucous excitement to it as well.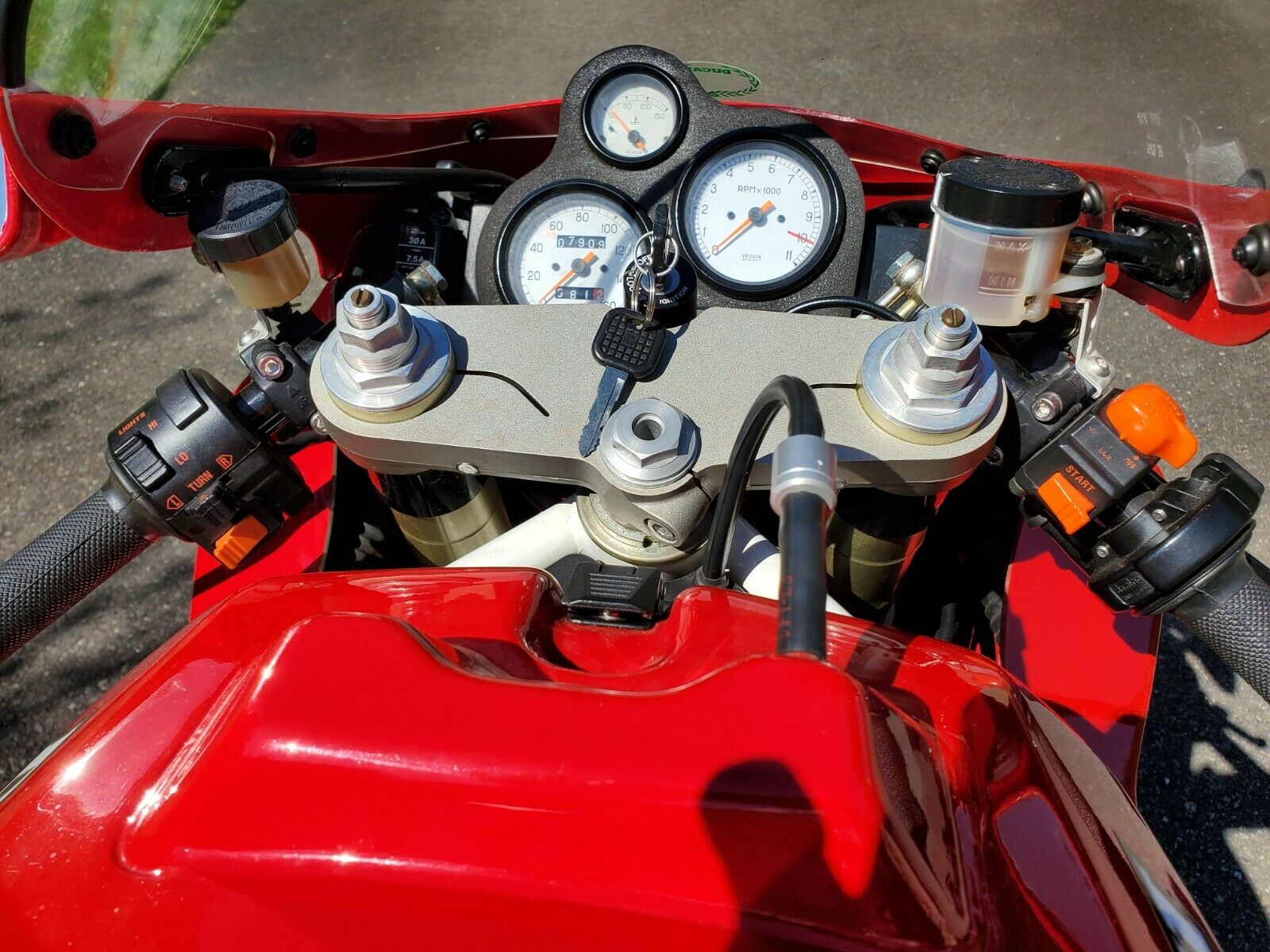 today's 1992 Ducati 851 example looks to be clean, clean, clean. It is an extremely low miles specimen, and appears to be in fully stock condition save for the beautiful carbon cans (I would guess that those things really give that desmoquattro a deep, biting sound) and the requisite upstream enhancements. The internets seem to agree with the assessment of this one, as the price is getting up there: a hair under $10k as of this writing, and the reserve still in place. It is not often that we see such a great example of this model, and with vaccinations and spring all showing up it would appear that the world wants to ride. Check out all of the details here, and Good Luck!!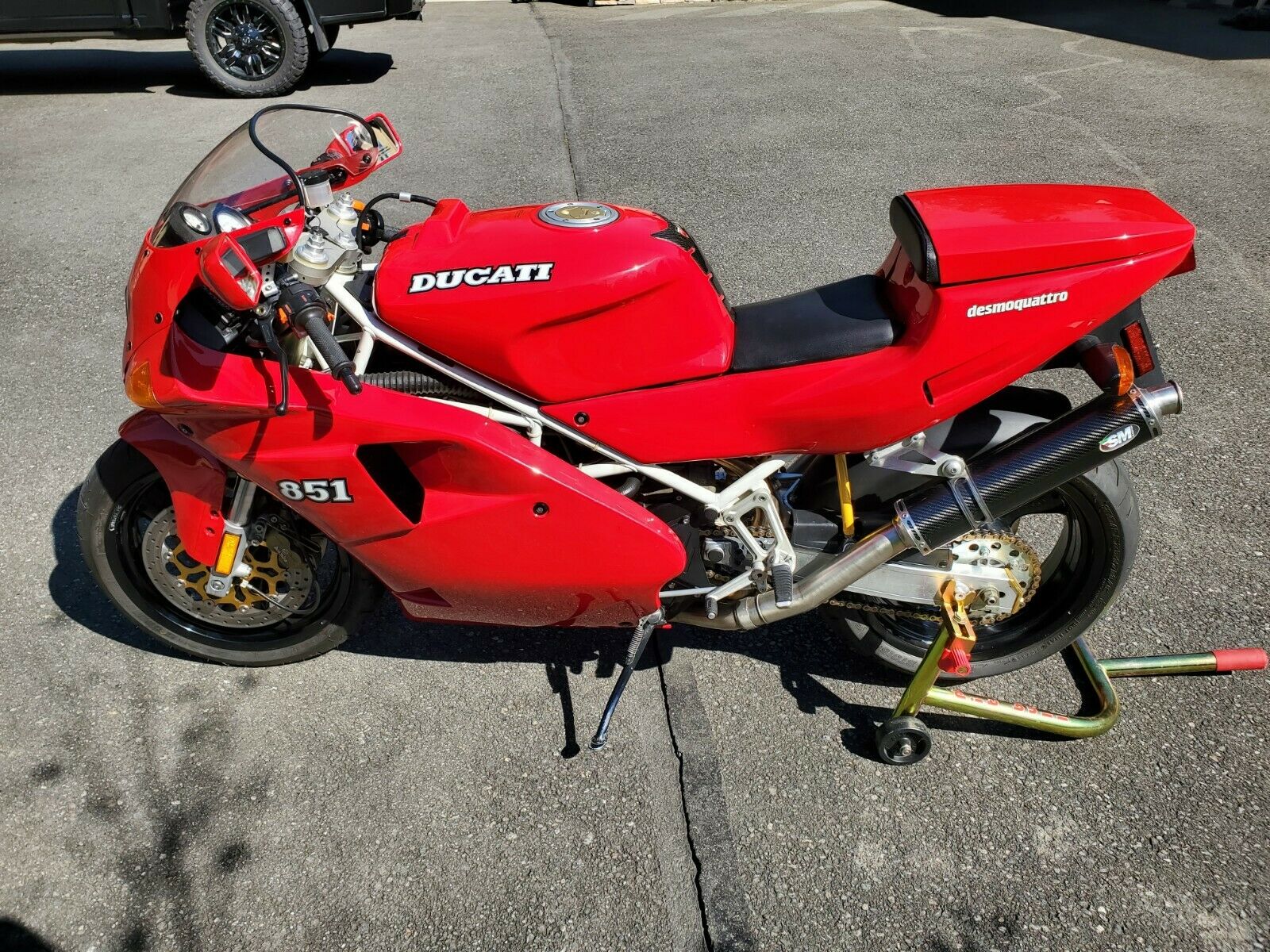 MI