Cagiva bought the rights to the shuttered MV Agusta in 1991, and in 1998 introduced their first new motorcycle in fifteen or so years.  Designed and built to set the world on its ear, the F4 750 had many race-derived components and a pricetag to match.  This Oro is number 227 of 300 and has lived out its adolescence in careful hands and still has the factory original Pirelli Dragon tires.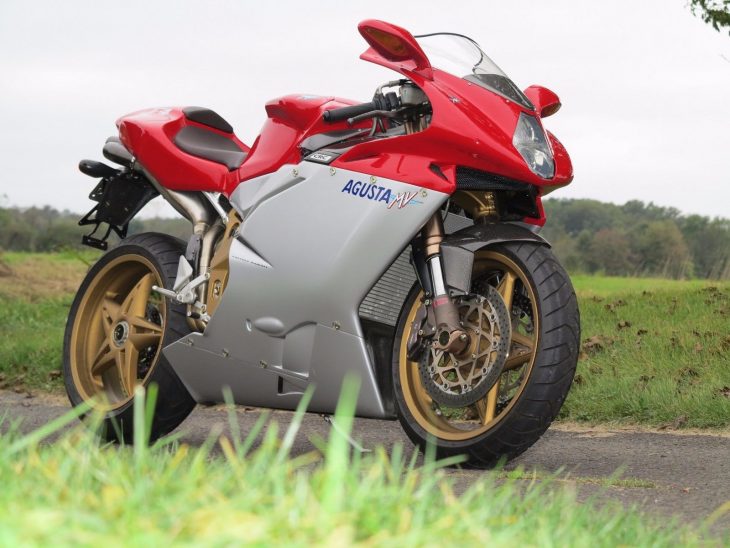 Designed by Massimo Tamburini, the F4 is striking from every angle and the specs read like an exotic motorcycle laundry list.  Ferrari helped design the radial-array four valve heads for the inline-4, and Tamburini himself had a hand in the 4-2-1-2-4 exhaust.  On the Oro, bodywork and fuel tank are carbon fiber, and magnesium wheels, frame connectors, and swingarm are anodized gold.  49mm Showa forks have quick release axle clamps, and the monoshock linkage allows ride height changes without changing shock settings.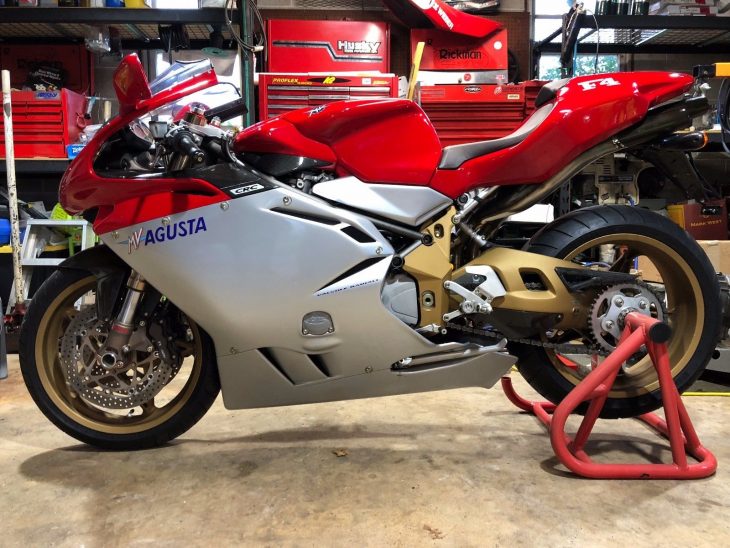 Evidently on display since just after its first oil change, this F4 750 Oro's picture is next to "magnificent" in Webster's.  The gold magnesium just glows in the right light.  Pictures with Mr. F from FBF are icing on the cake.  The owner's comments from the eBay auction:
It is one of 60 imported into the USA by Eraldo Ferracci, the USA distributor for the MV Agusta, and number 227 of the 300 built  for worldwide distribution. Purchased in July 2000 from Fast By Ferracci, Willow Grove, Pa. and pictured on delivery with Eraldo at Budds Creek Motocross Track back when Elrado's Team Husqvarna raced there. 

 

Eraldo is pictured setting up the bike to my specifications. Some of the history and specifications of the F4 750 ORO are below. 1600 miles on this bike since its purchase, and it has always been stored in a climate-controlled environment. The bike is in perfect condition and comes with all original manuals. I think this bike will be a very good long-term investment and a great bike to have in any collection.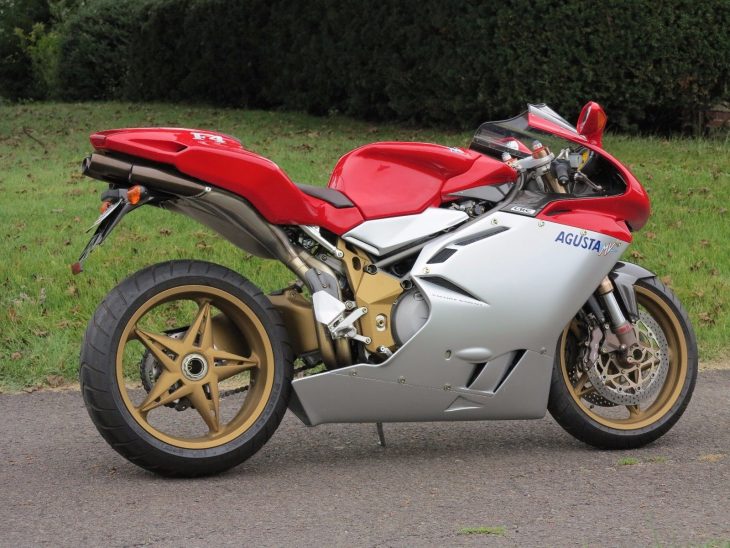 The Castiglioni brothers saw their vision for MV Agusta through and the F4 brought a few regional superbike wins back to the marque, but a factory race team wasn't in the cards.  The F4 engine proved to be the foundation of the revitalized MV, and though the model was more sensibly produced starting in 1999 with aluminum castings and plastic fairings, an Oro is worth pursuing.  This one appears to have the white-glove treatment and provenance to justify going wherever the bidding will take it...
-donn