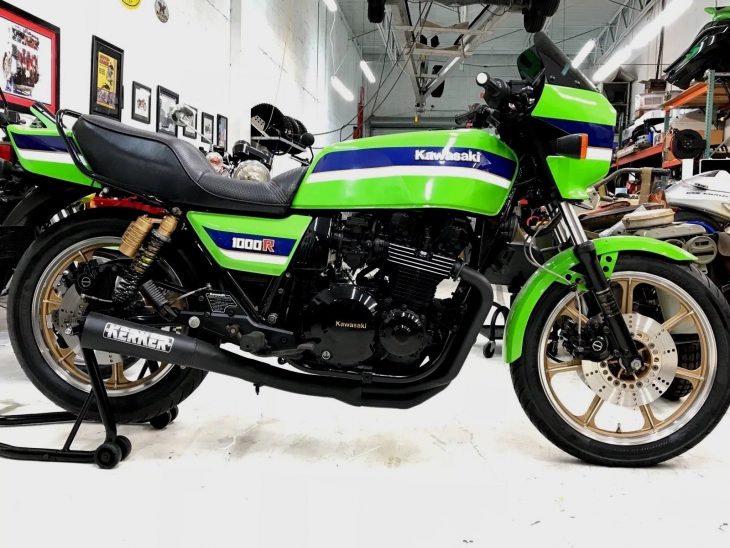 The early '80s were a great time to be an enormous Japanese superbike, as Wes Cooley, Kenny Roberts, Freddie Spencer and Eddie Lawson were busy catapulting your fortunes into the stratosphere. The Kawasaki KZ series in particular was enjoying the fruits of Lawson's labor, as the flat tracker from Upland, California won the AMA Superbike Championship back-to-back in '81 and '82 aboard a lime green and electric blue KZ1000.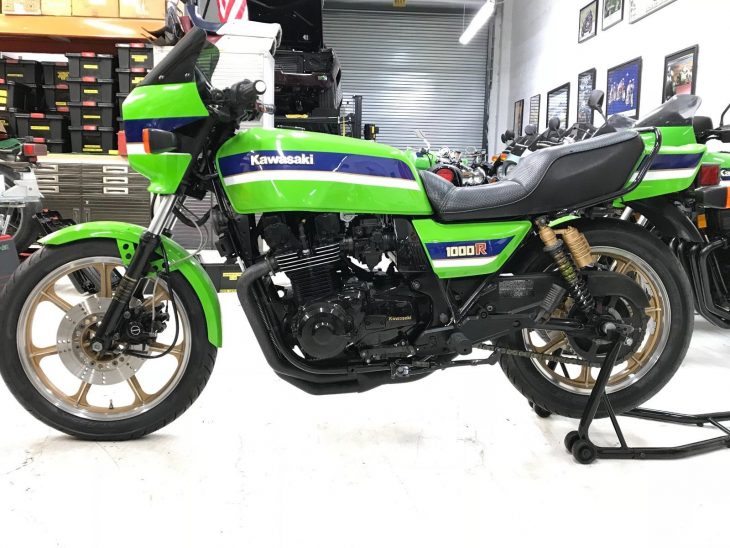 The 1983 Kawasaki KZ1000R Eddie Lawson Replica sought to imitate Eddie's championship steeds for the street, complete with 4-to-1 Kerker headers, reservoir shocks, a GPz1100 head and the striking paint scheme that would become synonymous with the brand.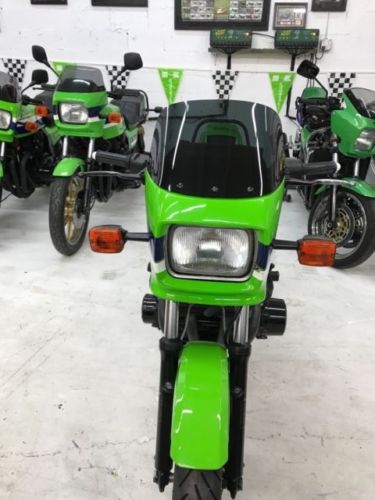 Kawi made fewer than 1,000 ELRs, which makes the real-deal bikes a very special find today. The example here appears to be flawless, with just 6,200 miles on the clock. It appears to have originated in Canada, but now lives in the collection of a bike mechanic out of Miami, Florida.
The seller says it has raft of new parts, freshly-cleaned carbs and is one of four in his collection.
From the eBay listing:
1983 KAWASAKI KZ1000R EDDIE LAWSON REPLICA IN AMAZING CONDITION HAS BEEN IN PRIVATE COLLECTIONS FOR MANY YEARS I WENT THRU THE BIKE THIS YEAR, CARBURETORS CLEANED, NEW METZLER TIRES, BRAKES OVERHAULED, NEW FUEL PETCOCK, NEW SS BRAKE LINES, ALONG WITH OVER $8000 INVESTED BY THE PREVIOUS OWNER (10 YR MAINT HISTORY, LOTS OF NOS PARTS)

THIS IS A NO RESERVE AUCTION TO OWN AN AMAZING ORIGINAL 1983 KAWASAKI KZ1000R EDDIE LAWSON REPLICA WITH 6200 MILES (10900 KM THE BIKE LIVED IN CANADA ). THERE WERE A LIMITED AMOUNT OF SPECIAL EDITION ELR'S, AND ONLY A SMALL AMOUNT OF NORTH AMERICAN DEALERS RECEIVED THEM IN 1983.

THE BIKE HAS BEEN IN PRIVATE COLLECTIONS FOR MANY YEARS AND IS ONE OF 4 ELR'S THAT ARE IN MY COLLECTION. SINCE I DON'T NEED 4 ELR'S I AM MAKING ONE AVAILABLE TO THE HIGHEST BIDDER.

SHOW IT OFF IN YOUR COLLECTION, MAN-CAVE, OR LIKE ME IN YOUR OFFICE NEXT TO A WES COOLEY REPLICA.

I HAVE BEEN A BIKE MECHANIC SINCE 1980 COLLECTING, RACING, AND RESTORING THEM FOR OVER 35 YEARS. THIS BIKE HAS RECENTLY BEEN SERVICED: CARBS, BRAKES, BRAKE MASTER CYLS, NEW ORING CHAIN, NEW METZLER TIRES, FUEL PETCOCK, PLUGS, OIL&FILTER, NEW BATTERY, AND OVER $8000 INVESTED BY THE PREVIOUS OWNER. LOTS OF HARD TO FIND AND NOS PARTS.

DONT MISS OUT ON YOUR CHANCE TO OWN A PART OF MOTORCYCLE HISTORY. PLEASE CALL ME WITH ANY QUESTIONS 954.816.0806 FLORIDA TITTLE IN MY NAME. I AM HAPPY TO WORK WITH YOUR SHIPPER AND CAN STORE THE BIKE IN MY SECURE CLIMATE CONTROLLED LOCATION FOR UP TO 30 DAYS. $1000 DEPOSIT BALANCE BY CASH OR WIRE TRANSFER WITHIN 3 DAYS.
As one of the first true race tribute bikes, and one of the earliest world-beating Japanese race bikes, ELRs should enjoy sustained value, and this example needs nothing to enter a collection or limited use.