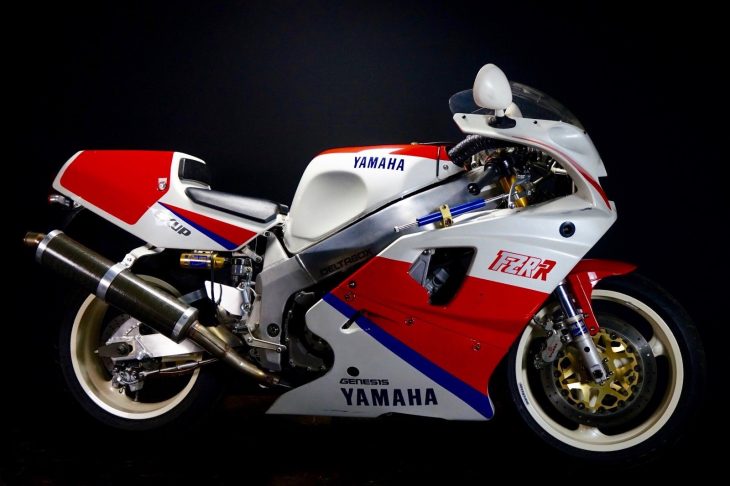 "Homologation" refers to the process by which a manufacturer makes a particular machine eligible for production-based racing classes. In most cases, mass-produced motorcycles include significant compromises in terms of their materials, construction, components, and even geometry that seriously hinder their racetrack performance. You can't sell every machine with radically oversquare bore and stroke, titanium engine internals, magnesium engine cases, and adjustable steering-heads, or the average GSX-R1000 would cost as much as a decent car, and Suzuki wouldn't sell too many. So to get production bikes into a form more suitable for racing, manufacturers build a small run of tricked-out, "improved" versions that often include very exotic features or parts, and those "homologation specials" are produced in limited quantities and often sold at outrageous prices. The number required varies by racing series and year, but at the end of it all, you end up with something like this, the Yamaha FZR750R OW01.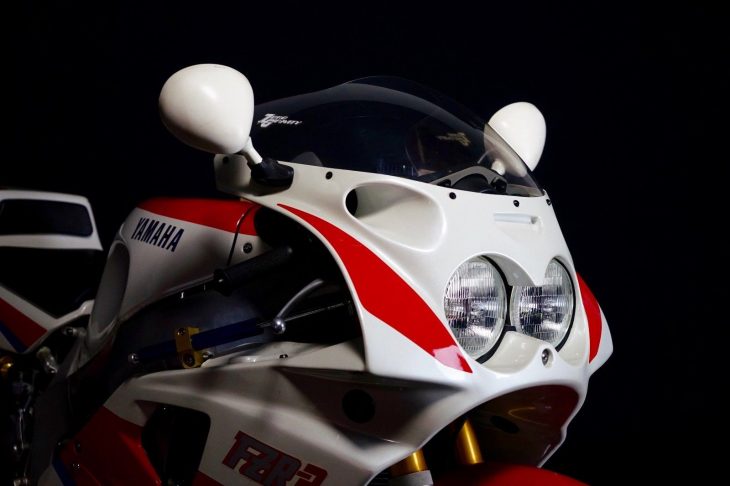 Unlike Honda, who basically just created a whole new machine to meet the requirements with their trick RC30, the OW01 could easily be mistaken for a regular production FZR750 at a glance: the most important modifications are under the skin. The five-valve, 749cc engine included magnesium castings, titanium rods, twin-ring pistons, and flat-slide carburetors. The revised Genesis engine used much more radically oversquare dimensions, compared to the stock bike, and it's naturally more rev-happy as a result, although the expected EXUP valve does keep things reasonably streetable.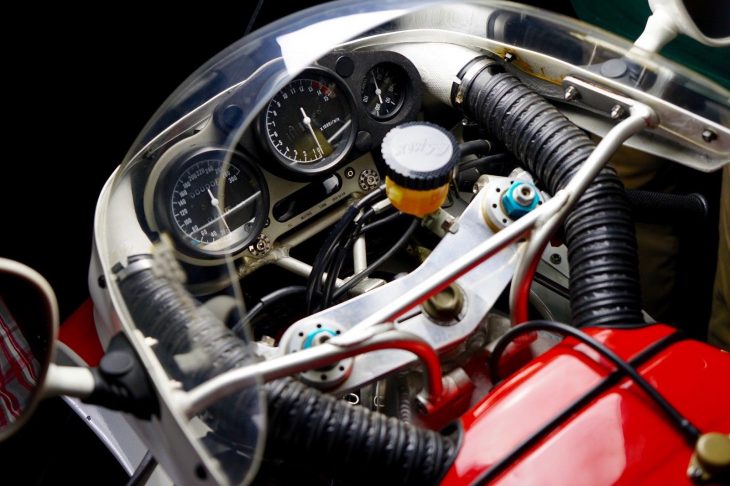 The OW01 also used an aluminum fuel tank with an endurance filler cap and a removable aluminum subframe to reduce weight carried up high, quick-release axle clamps, Öhlins suspension, and a set of 17″ hoops at both ends, although the pièce de résistance was probably the hand-welded aluminum Deltabox frame, a bit of gorgeous industrial artistry. This example has been further sweetened with a raft of kit Yamaha Engineering Co racing parts, as listed in the seller's description.
From the original eBay listing: 1990 Yamaha FZR750R OW01 for Sale
For sale is a gorgeous, race kitted 1990 Yamaha FZR750R OW-01.  Potential buyers will already understand and appreciate the scarcity of homologation race bikes, so I'll spare you a long description of their rich history.

The story behind this particular OW-01 is that prior to taking delivery, the original owner instructed his dealership to order and install any additional factory race components that were available, which included:

Marchesini Wheels
Brembo Rotors
Brembo P34 Calipers
Ohlin Forks
YEC Racing Triple Clamp
YEC Racing Clipons
YEC Racing Rear Sprocket
YEC Racing Swingarm Kit
YEC Racing Caliper / Dogbone
YEC Racing Ram Air Tubes
Early YEC Racing Lower Radiator
Dry Clutch and Gearbox
Rare Magnesium Kit Alternator

This bike was ridden, but reportedly never raced.  Note: The Marchesini wheels do not drive the odometer, which currently reads 4/10ths.  The bike has a few minor scratches and nicks here and there, but is in wonderful condition overall.  It has been on display for a couple years, so a service will be in order if it is to be ridden.  Also, the original components that were replaced when the bike was kitted were not passed along.
While not as successful overall, compared to Honda's RC30, or as well-known these days, the OW01 is certainly one of the most desirable sportbikes of the era. This example was up previously on eBay but failed to sell, although bidding got as high as $26,500. The current starting bid is set at $31,000 with no takers as yet, so the seller may be aiming just a little too high on this, in spite of the exotic racing components: the YEC parts are valuable for sure, but the bike's lack of pure originality may keep the price lower than they're expecting
-tad