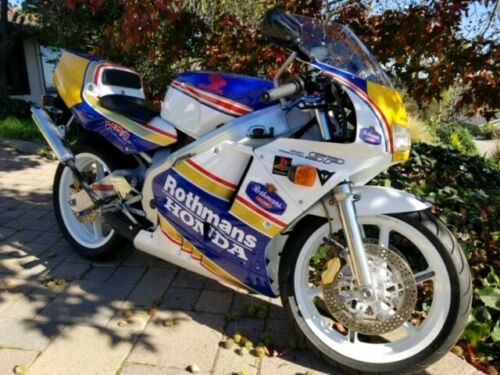 There's something nicely poetic about a cigarette company springing for the racing efforts of some of the smokiest, dirtiest little rippers to ever grace the grand prix stage. It hearkens back to the devil-may-care days before airbag suits or adequate runoff, and celebrates a certain cavalierness that precious few subscribe to anymore. This 1992 Honda NSR250SP Rothmans will take you back to a time when even street riding required a level of focus that comes with the knowledge that the nerves between your brain and your hands are all there is to save you.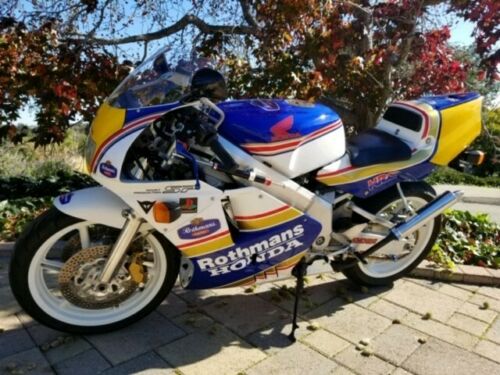 When unrestricted, these bikes made nearly 60 horsepower in a knife's edge powerband and were known for their trim waistlines and extremely agile handling. As an SP model, this one got even lighter magnesium Marvic wheels, a dry clutch and fully-adjustable suspension. There is a lot of edge to this knife, and you have to have a very clear idea of what you're doing to get the most out of it.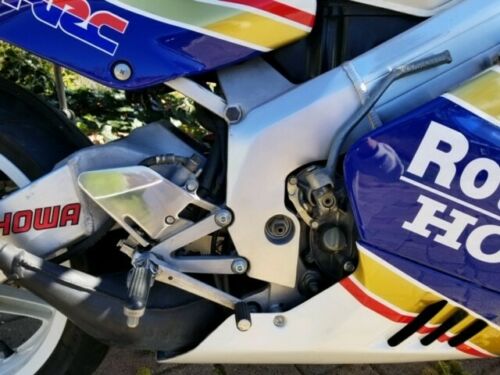 This example is a pure rider's item. The seller says it wears aftermarket bodywork, which will be a ding for anyone who wants to tuck it into a garage and wait for the auction value to balloon. Those weird, non-stock Playstation stickers have to go, too. But, here is the good part: The bike was last owned by a mechanic and NSR freak, who, according to the seller rebuilt the engine and transmission bottom to top. It also wears recent and thoroughly modern rubber. It's ready for the springtime riding season.
From the eBay listing:
Up for auction is a genuine 1992 Honda NSR250R SP (sport production ) Rothmans with a clear California title. I purchased the bike two years ago from a local motorcycle tech and NRS guru who has been working on and enjoying these bikes for many years. This NSR was completely rebuilt by him in his shop just prior to me purchasing it. Every part on the bike was inspected, rebuilt or replaced. The engine and 6 speed cassette transmission were redone using a brand new crank shaft, rods, pistons, and bearings. All plastic panels have been replaced with new. Other parts were repainted or polished as necessary. The original white MAGTEK magnesium wheels look great with newer Michelin pilot power tires. Mileage shown on odometer is not accurate. The original odometer has been replaced with a properly functioning used speedometer/odometer. The bike is all stock except for levers and stainless braided break lines and has also been de-restricted. This NSR performs as it should and is an absolute blast to ride. Unfortunately I am not able to ride it much and have only put about 1500 miles since its complete rebuild. I am a bit reluctant to sell this bike knowing that it will be very unlikely that I could find another one titled in my state. California has banned all future registration of 11 digit VIN numbers. Certainly this also means the value will continue to rise since the existing pool of California titled NSRs will never increase. I have done my best to describe the bike. Please ask any and all questions before bidding. Bike is available for viewing before auction end. I can assist buyer with arranging shipping. Buyer will be responsible for any shipping costs.