Warning!
This post is in our archives. Links in this post have been updated to point to similar bikes available to bid on eBay.

Founded in 1950 and a relatively minor manufacturer, the Castiglioni family leveraged the Ducati brand in 1985, and though they had thoughts of folding it into Cagiva, only a few larger displacement bikes were produced before they acknowledged Ducati's greater name recognition.  The Alazzurra was a sporty mid-size with a Ducati-branded desmodue aboard, and had a lot in common with, and improvements to, the Pantah on which it was based.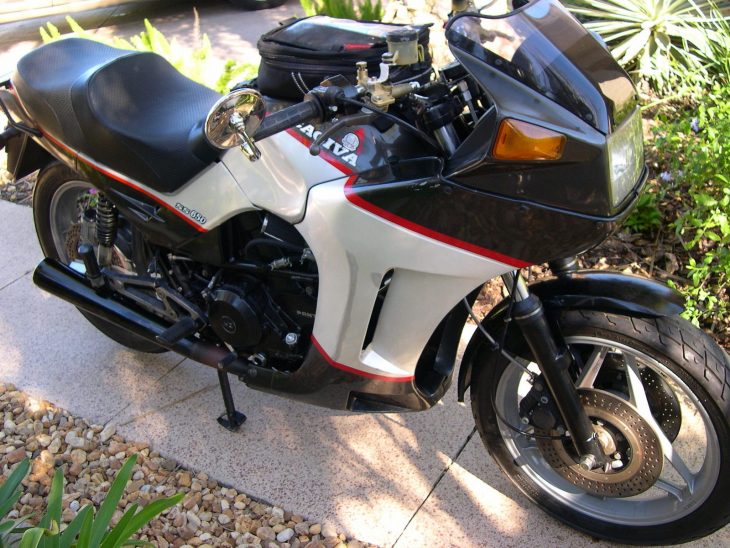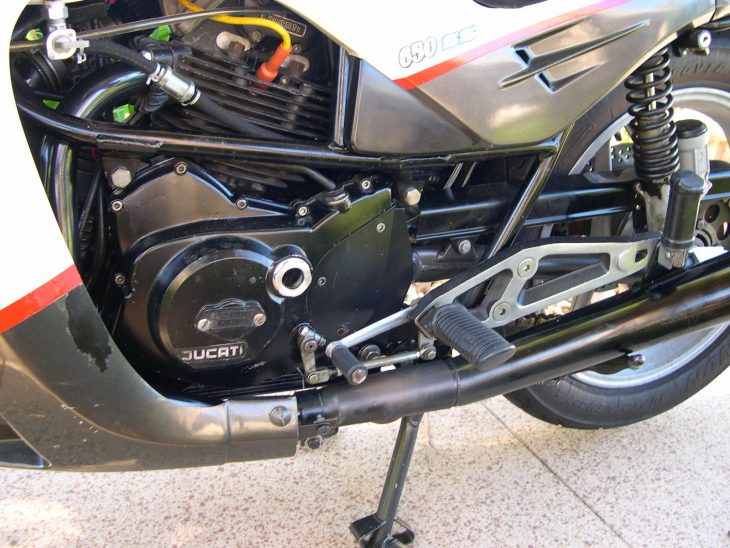 With its newly designed supersport fairing, the Alazzurra looked a little more modern than the Pantah it was intended to succeed.  The recently designed engine was a revelation, especially above 5000 rpm.  Moderately-sized Brembo and Marzocchi hardware acquitted themselves in the braking and suspension departments but were more sport-touring than race replica.  The relatively light weight and willing engine endeared the Alazzurra to reviewers.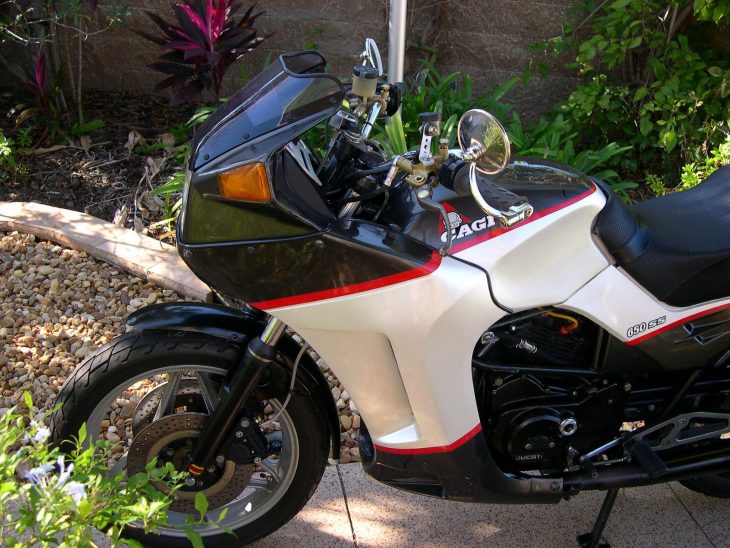 Coming out of a Florida home, this Cagiva has been faithfully rejuvenated and updated by its most recent owner.  A lot of details in the eBay auction:
This survivor was purchased from the widow of a friend of mine several months ago.  The odometer shows 5200 miles and is probably accurate based on the condition of the instrument cluster, the wiring and in particular the black chrome head pipes ( these are almost always corroded).  The valves are in spec and the oil came out pretty clean with no metal bits. Engine runs very strong, clutch doesn't slip and gears  shift well.

Upgrades include 38 mm Marzocchi front forks ( probably from an 860 GT ), K-N air filters, Dyna coils, 280 mm Brembo cast iron rotors, as new Avon tires, adjustable steering damper, Brembo Goldline brake and clutch levers, black chrome Conti mufflers ( there is a small ding on the left Conti above the C ).  These things were on the bike when I got it this past fall.  I found and rebuilt the missing rear brake caliper, rear  master cylinder, replaced the droopy rear turn signals with shorter new old stock CEV's, replaced the leaking fuel petcocks with Bevel Heavens aftermarket items, installed new old stock Superbike bars, English high quality bar end mirrors, rebuilt carburetors, added alloy tops, alloy oil and ignition sight  windows, stainless steel brake lines front and rear, new Thomasselli throttle and cables, timing belts, oil and filter, fork oil, replaced ignition pick up lines with Bevel Heaven kit, repaired the rear turn signal wiring ( amazingly all the wiring except the PU's and the rear turn signals remain intact, soft and pliable ), installed a new fuse box from Moto Guzzi to replace the original ( which was missing the cover ).  All that to the tune of about $2000– receipts included.  All the lights and gauges work, the  brakes are very strong, the clutch doesn't slip, forks don't leak, steers and tracks true.
Still, there are a couple of things to do before she goes out the door, but not seeming deal killers, and the the Alazzurra has a much-improved Corbin seat from the previous owner.
As project bikes go, this one seems about 90 percent complete, and though the ask might be a little high for an obscure almost-done, the work that has been done looks ok and there is the "make offer" button.  The Alazzurra reviewed as a little less racey but more friendly than the preceding Pantah, and got gigged for gas-crisis jetting but was otherwise a nice rider.  No arguing the rarity, and if you like the classic feel, this low-mile Alazzurra could be sweet Sunday morning bike…
-donn