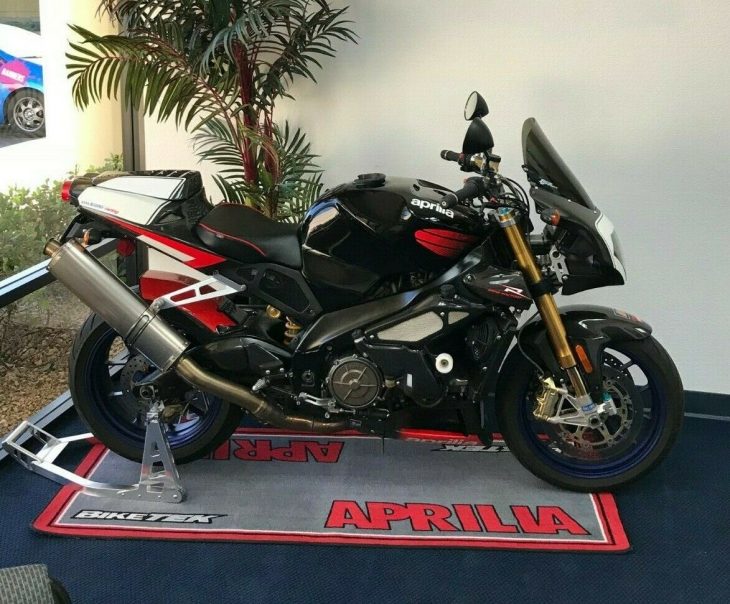 "Necessity is the mother of invention" or so the saying goes. You're out riding your brand-new GSX-R750 in the canyons, hit a patch of oil, and low-side into a ditch. You limp home and realize what new bodywork will cost, but no worries: you just rip it off, and fit a set of motocross bars to help you do sick wheelies! The irony of the modern supernaked is that the trend started with owners actually improving the power-to-weight ratio of their sportbikes, but when the factories got involved, they almost always detuned their bikes to make the performance more "road-oriented," and fitted lower-spec brakes and suspension to keep costs down. The Japanese usually went even further, using last-generation engines and building new, heavier frames to house them. But not Aprilia: their Tuono Factory was just an RSV Mille with the fairings removed and a set of handlebars added. Just like dad used to make…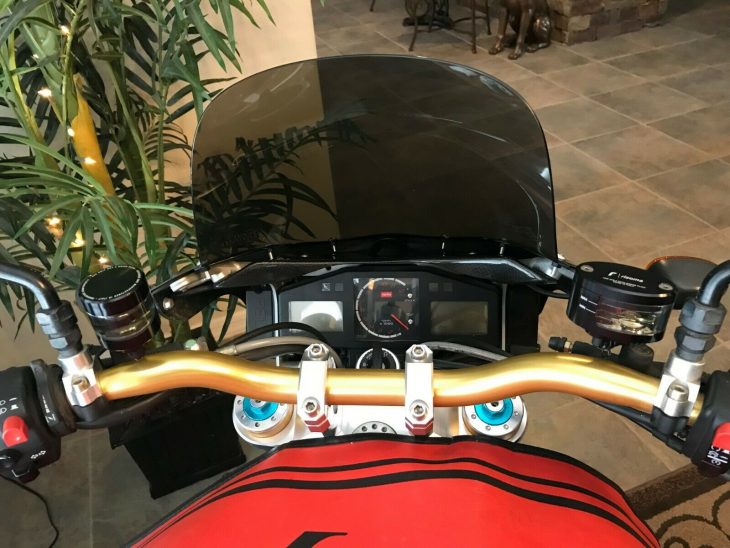 All the good stuff from the Mille is still there: the sculptural aluminum beam frame is more visible in this application, a big plus in my book. Lightweight wheels and quality suspension. The compact, powerful, and reliable 60° Rotax v-twin… the weird 90s Aprilia styling, here with added weirdness. Given the already questionable styling of the RSV Mille, the results were less than cohesive, a jumble of angles, odd shapes, futuristic details, and random mesh vents. Luckily, it somehow swings around past "ugly" on the dial and back towards "cool" as a result of all the quality kit on display. The first-generation Tuono is by no means a pretty bike, but it looks sinister and brutal, dangerous to the rider and to anyone nearby. Like a chainsaw with a rusty knife blade for a handle…
The 60° Tuono unit had balance shafts to offset the vibrations caused by the narrower angle between the cylinders. Like the Ducati superbikes of the era, it displaced 998cc, had four valves per cylinder, and liquid cooling. Unlike the Ducati, the twin featured a "Pneumatic Power Clutch" or PPC that took the place of a more conventional slipper clutch. On the overrun, engine vacuum is used to disengage the clutch and prevent the rear wheel from locking during downshifts. Fully-adjustable Öhlins suspension, including a steering damper not found on the Mille, Brembo radial calipers, and lightweight forged wheels rounded out the very trick package.
The Factory produced a claimed 127hp, up a few from the less carbon-adorned and more basic Racing version. Which is a bit ironic, don't you think? You might be under the impression that all v-twin sportbikes share a similar character, but large power-pulses aside, they can have vastly different feel. The Aprilia is supposed to rev harder but be a bit more "agricultural" than the Ducati, perhaps owing to the additional shafts spinning in the crank cases. Handling was excellent for both the Tuono and the Mille on which it was based, with a much more "Japanese" feel to the handling, compared to the slow-steering but hugely stable Ducatis.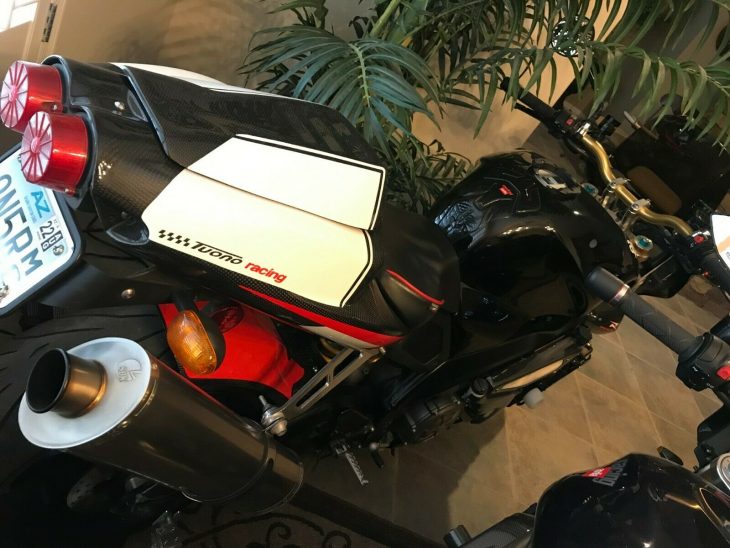 From the original eBay listing: 2005 Aprilia Tuono Factory for Sale
This is a rare opportunity to buy a very nice Gen 1 Tuono Factory model. 

They don't come up for sale very often so you will want to take advantage of this opportunity to snag a very clean example!

These were built with all the right parts straight from the factory, Ohlins front & rear, Brembo (radial front) brakes, lightweight OZ wheels, Titanium pipe, carbon fiber bodywork, great V twin torque 🙂

This example has been upgraded for comfort, performance & aesthetics with the following…

Sargent seat, 
Throttlemeister bar ends, 
Rizoma clutch & brake reservoirs, 
Pazzo adjustable levers, 
Zero Gravity & stock wind screens, 
Carbon rear cowl on bike with Pillion seat and pegs also included, 
Evo air box mod and Chip, 
Leo Vince SBK Titanium exhaust with removable silencer insert

I have owned this bike for a number of years and it spends most of its time indoors on a battery tender, but I do take it out for a ride now and then to keep it running right. Only flaw is a scratch on the top of the front fender, see pic.
It's not absolutely perfect, but it's obviously been cared for and enjoyed: note the horseshoe-shaped bit surrounding the fuel filler that is likely a tank-bag mount. It has a bit north of 20,000 miles on it, but the Rotax twin is famously unburstable when properly cared for. $6,500 asking price represents a premium over an equivalent RSV, but that's par for the course these days.
-tad