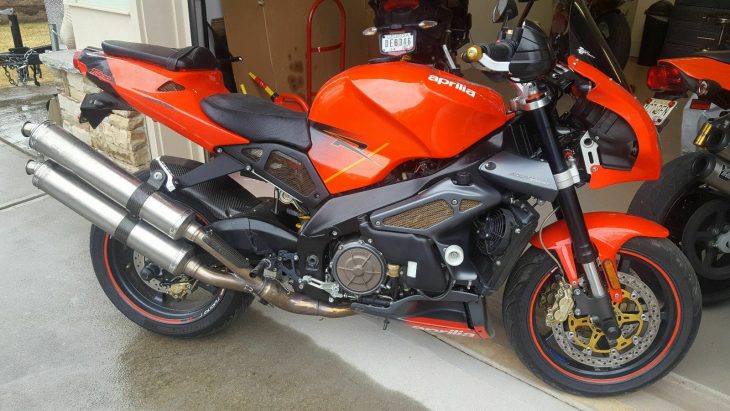 The first-generation Aprilia Tuono is the odd Italian bike notable more for what it does than for how it looks. It's relatively practical, with a comfortable, upright seating position, is powered by a reliable v-twin developed by Austrian firm Rotax, and offers bonkers, uncompromising performance. Suspension is high-quality, handling is excellent, and it apparently is great for pulling wheelies. And those looks? Well, it's… distinctive, at least. Basically, it's a bike for riders, not poseurs.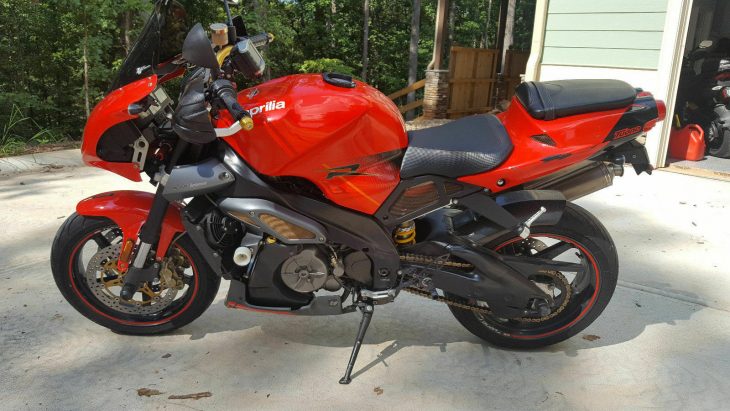 The market has finally found a name for bikes in this class: "supernakeds." They used to be called "streetfighters" since these naked sportbikes were originally exactly that: Japanese sportbikes that had their fairings removed and upright bars fitted to maximize road comfort and hooligan potential. This was obviously done for practical reasons, not because the owners crashed their bikes and didn't want to pay for pricey replacement plastic panels… Even the Speed Triple and Ducati Monster used that formula, and were basically parts-bin machines based on fully-faired sportbikes.
Significantly the Tuono, unlike more practical nakeds from Japan and even most European competitors, didn't use a last-generation powerplant, detuned with milder cams more suited to everyday riding. It's pretty much exactly the Mille engine, with the same claimed power output. Part of that decision is obviously rooted in pragmatism: Aprilia didn't have an older engine they could slot in on the cheap. And using the same engine, frame, and other components certainly simplified production for a company producing their first big-bore sportbikes. But it was also the "right" thing to do, and the bike has a serious cult following: with less being more in this case, the Tuono actually a bit lighter that the RSV on which it's based and makes for a serious canyon weapon.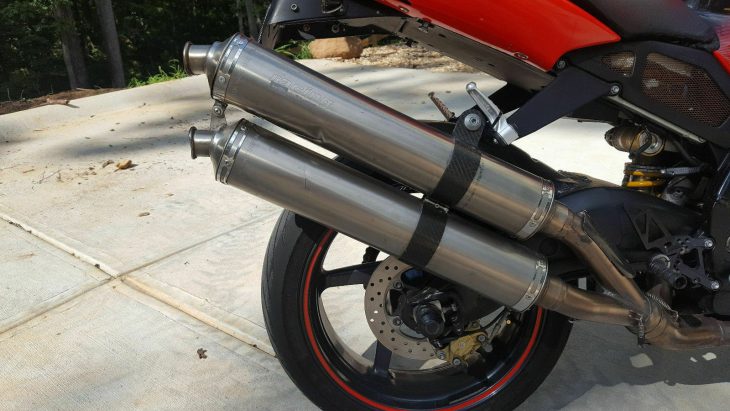 The second-generation Tuono is generally considered to be better looking than the original. The styling was more refined, or maybe just slightly more coherent, but it still isn't exactly a pretty bike. And if you're going to build a bike with intentionally outrageous styling, you might as well lean all the way into it. What I'm saying is: I much prefer the original, far funkier Tuono seen here. It just looks nuts, and should be a blast to ride.
From the original eBay listing: 2004 Aprilia Tuono R for Sale
First full naked Superbike. 998cc 138hp tuned for street use this was the Aprilia RSV Superbike with the fairings off and handlebars instead of clip ons. It's a beast will eat Monsters easily, for experienced riders. Before traction control or ABS this beast will spit you off it you don't handle it properly.  

Second owner. No accidents. Clean and clear title. Always garaged. Its my third bike I always end up riding my zx14r so it might go to someone more appreciative. Only have done routine maintenance like fluids, filters, tires and chains. 

Tires are Michelin Pilot Power 3s
Aprilia Racing twin pipes 
Eprom Chip 
Handlebar guards (keeps hands warm)
Heated Grips
Aftermarket rear sets
aftermarket adjustable brake and clutch levers
crash bobbins on axles and frames
Electic outlet on dash
Zero Gravity smoked windshield
Neutral finder mod completed

Bike is all day comfortable. Toured it with side bags for weekends. Or will do track days. Bike is in Oklahoma. Buyer to arrange local pickup I will assist your driver and shipping company when buyer makes arrangements. Cash only or bank wire. No checks of any kind. No paypal beyond the deposit. Clean and clear title in hand ready to go.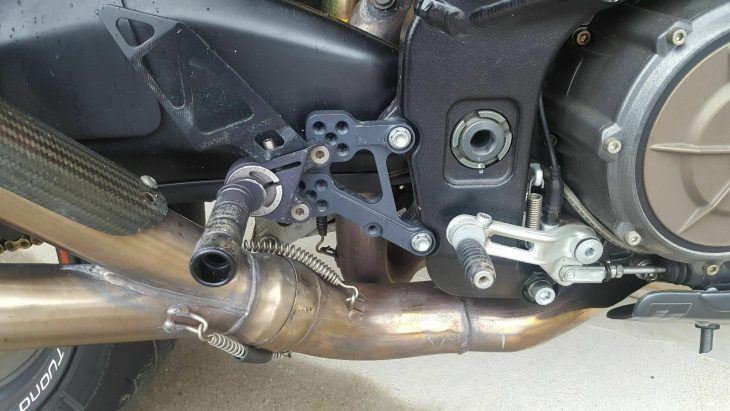 Miles aren't all that low, but these are hard to find in any condition. The seller is asking $4,499 for this one, and it looks like it's been well maintained and looks really sharp in this all red scheme. Sure, there are a few dings and cosmetic imperfections, but for that price, you get a cool bit of budget exotica that goes even better than it looks: there's a reason you can find low-mile Ducatis all day long, but every single Aprilia I find for sale seems to have 25k+ miles on it.
-tad