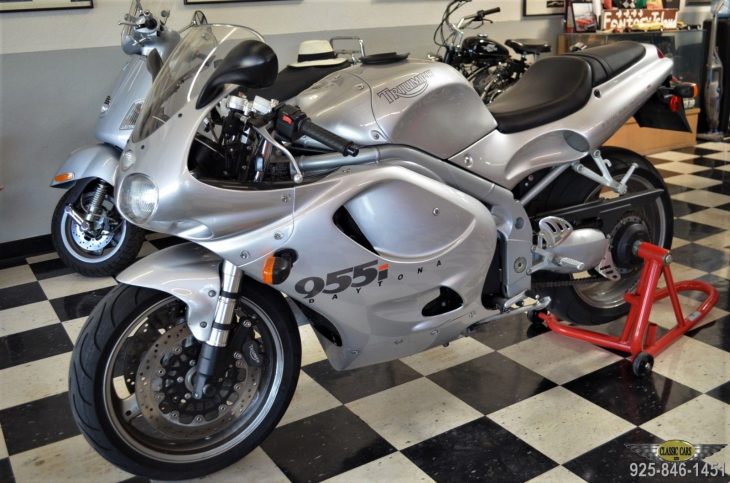 The first generation of Triumph's new line of motorcycles that followed their resurrection by John Bloor seemed calculated to avoid direct comparison with products from the Japanese manufacturers. They'd obviously learned from their past mistakes trying to match the high performance and low cost of their Big Four rivals, and the new lineup filled in the gaps in more conventional thinking: a sportbike that wouldn't be legal in any major racing class, with comfortable ergonomics and a big, flexible engine. Or two engines? Check. A funky retro-roadster with classic looks and a three-cylinder engine? Check. And it worked: build quality was high and the bikes sold well enough to support a second generation of the machines that included the now-iconic bug-eyed Speed Triple, the versatile Tiger, and an updated Daytona like today's sleek silver example.
The second generation of the Daytona introduced in 1997 still didn't try to go head-to-head with bikes like the GSX-R750 or the GSX-R1100. In fact, with the four-cylinder version gone, it fell pretty much between those two in terms of character and performance: it was more powerful and more comfortable than the 750 and more agile than the 1100. The GSX-R1000 that came along later pretty much murdered the Daytona in terms of outright performance, but Hinkley's big triple sportbike was one of the best roadbikes of the era, and the looks have aged very well.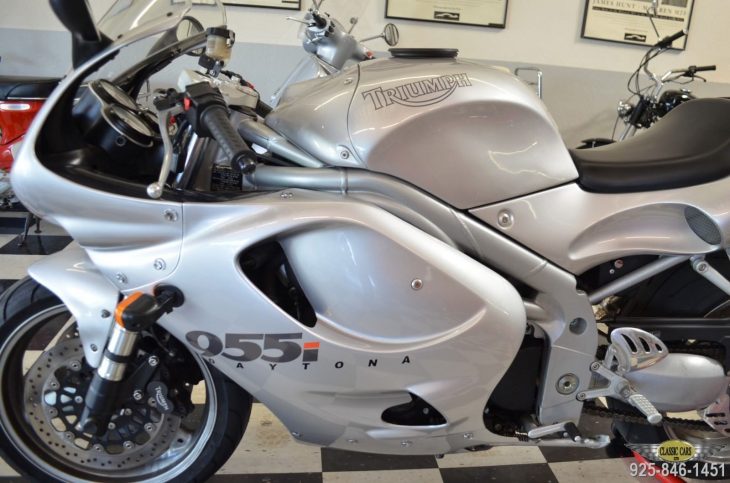 Originally designated the T595, the revised, fuel-injected 955cc triple put out 128hp at the wheel and a healthy midrange. It was quickly renamed the 955i to avoid any misunderstandings regarding the big triple's displacement. The single-sided swingarm is obviously for looks, since no one that I know of was racing them, and the simple, monochromatic paint suggests confidence in the design: I've always felt that wild graphics take away from a bike's design and distract you from its actual silhouette, like you're looking at some World War II combat ship with bold shapes painted on the hull to make it harder to hit with a torpedo… Anyway, I like these in Triumph's vivid "burnt mustard" color, but this silver example looks very elegant and mature.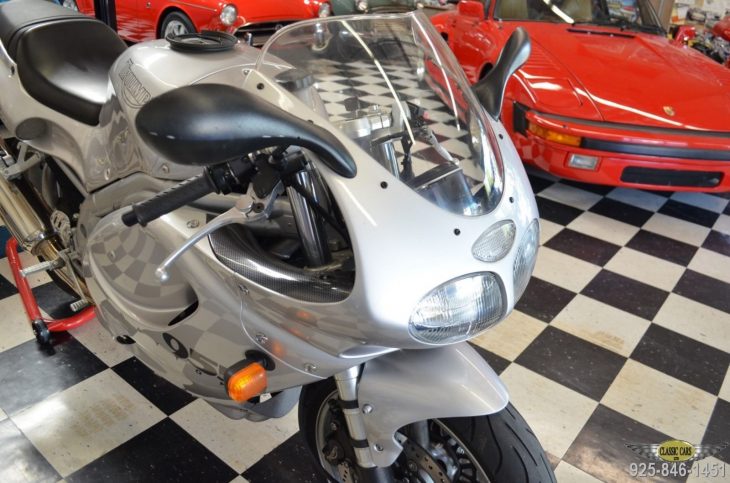 The smaller Daytona that was introduced in 2006 carried on Triumph's tradition of oddball displacements, and that bike's famously flexible 675cc triple ended up allowing Triumph to finally compete on nearly equal footing with the more traditional 600cc inline fours. Triumph fans have long clamored for a sportbike built around the bigger, 1050 engine from the Speed Triple, but a new bike based around the 765cc version might be a great alternative to Ducati's "supermid" 959 Panigale and MV Agusta's F3 800…
From the original eBay listing: 2001 Triumph Daytona 955i for Sale
Frankly, there is not too much to say about a 2001 Triumph 955i that has accumulated just over 3,600 California miles since it was delivered in 2001! We will take this opportunity to clarify a few important points, and provide a history of the bike that many believe represents one of the best high performance sports bikes ever produced by Triumph. Specifically:

From a cosmetic and mechanical perspective, the bike remains in excellent condition in every respect… no surprises, no excuses.
Within a few months the bike was fully inspected and serviced by the local Triumph dealer. The bike has always received "expense no object" care and has been ridden occasionally to ensure full operation at all times. Of course, it has never seen rain.
The 955i has always been licensed and carries a clear California title
No surprises, accidents, replaced components, aftermarket parts… 100% stock
No modifications
Stand shown not included
Owner's manual included

Note: This is a serious super bike and we recommend that only experienced riders consider the purchase of a bike that is capable of speeds over 165 mph with ¼ mile speeds reaching 130+ mph when piloted by a capable rider.
In any event, if you have a hankering for an absolutely pristine example of Triumph's comeback kid, you're in the right place. There is very little time left on the auction and bidding is up over $4,500 with very active bidding. This is more than you typically see for an early Daytona like this one, but mileage is outrageously low, and appears to be one of the very last built before a significant redesign in 2001 that resulted in a much improved, but less attractive motorcycle.
-tad