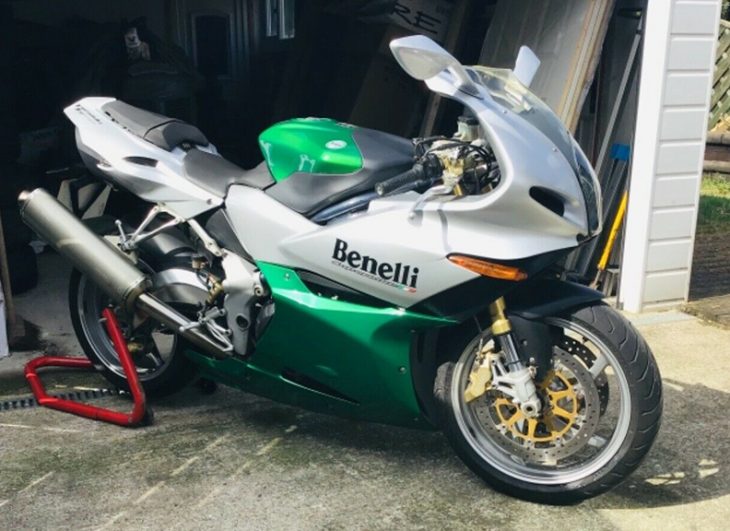 It's always interesting to see the disparity in terms of bike values, depending on market. It seems like you can make a decent living, finding bikes where they are cheap and plentiful, and shipping them to places where they ain't… In Japan, the 250cc two-stroke sportbikes of the 80s and 90s are relatively cheap, although they obviously have an enthusiastic following. Here in the USA? They were never officially imported and, until certain models recently cleared the 25-year import restrictions, were extremely rare. I haven't looked recently, but many classic Laverda models are much less expensive in Europe than here as well. Looking at the £3,650.00 asking price for this very cool Benelli Tre Novocentro, it looks like the same holds true for these stylish and quirky machines, since that works out to just $4,623.00 in US currency.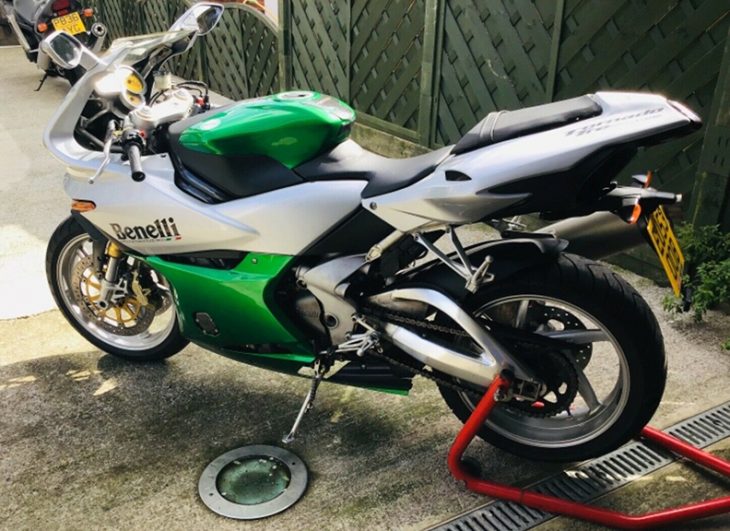 Obviously, the Tornado has rarity going for it, along with distinctive Italian looks. But it's also a pretty functional motorcycle, with a solid 140hp from the 898cc three cylinder, good handling, and quality braking and suspension components. A six-speed cassette-style gearbox is probably overkill on a roadbike, but the slipper-clutch with an adjustable engagement point is pretty cool, as is the frame that's glued-together using aerospace-grade adhesives. It lacks the radial-mount calipers and eyeball-flattening power of today's fastest bikes, but these have more than enough performance to keep even expert riders entertained.
I'd take great pains to stay in front of other riders, to keep them confused looking up the tail of the Tre to see bright yellow cooling fans under the tail. With the underseat-mounted radiator, the engine could be mounted further forward in the frame for better handling. Parts are likely the biggest issue for any Benelli, although there were some minor issues with reliability, as you'd expect from a brand-new, low-production, high-performance Italian sportbike. Nothing that can't be handled by the patient owner, but still a headache if you're not prepared.
So what happened? Why wasn't the revitalized brand a bigger success? Well partly it was the unknown of a newly-reborn brand flogging an expensive, top-shelf sportbike. But the bike's original 900cc displacement was meant to allow it to be homologated for racing, and the bike was a victim of changing World Superbike rules that basically made 900cc triples obsolete, since the bike would have been uncompetitive in it's original form. Later machines bumped displacement to over 1100cc, but that just made it a more effective roadbike as it was too large to race.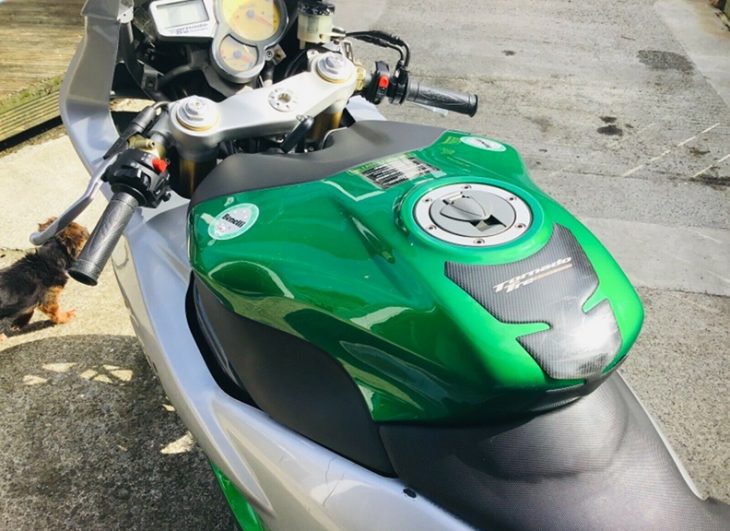 From the original UK eBay listing: 2003 Benelli Tornado Tre Novocentro for Sale
Here we have my truly iconic Benelli Tornado TRE 900                                                                       

These bikes made quite a stir back in the day – for some good and some bad unfortunately but now when you have one with all the modified bits dealt with and niggles ironed out they truly are an absolute brilliant thing to be out on when the sun comes out… My example is as expected – equipped with what was back then some top notch equipment and even by today's standards it's still quite trick 

The engine has had the cam chain replaced (June 2018) before the manuals suggest as this is very important – also the valve clearances done then too as these engines naturally sound tappety. The infamous recall mods – Z25 gear on the alternator shaft and clutch bolt all inspected and are fine. The suspension and brakes are from the best makes along with a titanium Arrow exhaust system – all original equipment…

The bike is in what's arguably the best colour scheme of silver and green with black accents here/there and of course the rear yellow under seat fans. These bikes are really something else and the triple cylinder 900cc engine loves to be used – the sound up the revs is amazing and just puts a smile on my face EVERY TIME I take it out. The bike is 100% mechanically spot on – does everything expected of it and needs nothing doing. Please do all your research required online as these bikes were all made 2003-2004 so don't be fooled by the late registered bikes for sale as they are all the same! 

Factory fitted alarm/immobiliser.


MOT until sept 2019 – only 16k miles…

I have documents – manuals – keys – history – receipts – V5 

The honesty part… The bike has a small crack along side the r/h front indicator as per pics due to being pushed into something in my garage and the tail unit has some mark where an item fell onto it… Neither are of any issue but want to point out faults also… My cars/bikes are only being sold due to an impending house move this summer and I need to downsize somewhat so please only genuine interest is wanted as were always busy.

Thanks for looking.

As stated before, the price is shockingly reasonable for a bit of functional Italian exotica, although maybe that's considered expensive on the other side of the Atlantic? The 16,000 miles aren't all that low, but the bike appears to have had considerate ownership by a knowledgeable enthusiast, and my understanding is that these Benellis are pretty robust mechanically, once you get your head around some of the unconventional engineering and idiosyncrasies. Parts availability would be the big unknown here, and I'd expect OEM bodywork to be nearly unobtainable. If there are any owners out there, we'd love to hear about your experiences in the comments!
-tad