Triumph's Daytona brought Hinckley back into the sportbike arena with many innovative design solutions.  This 955i has been restored to a beautiful level and benefits from the exotic Centennial Edition colour.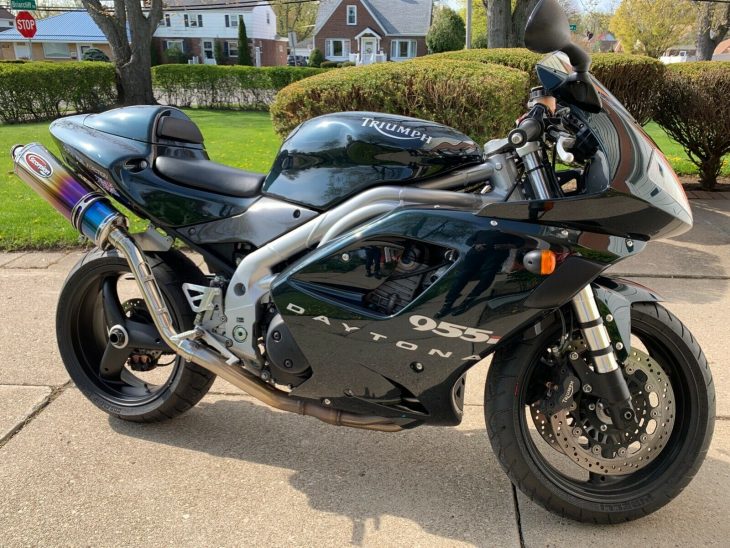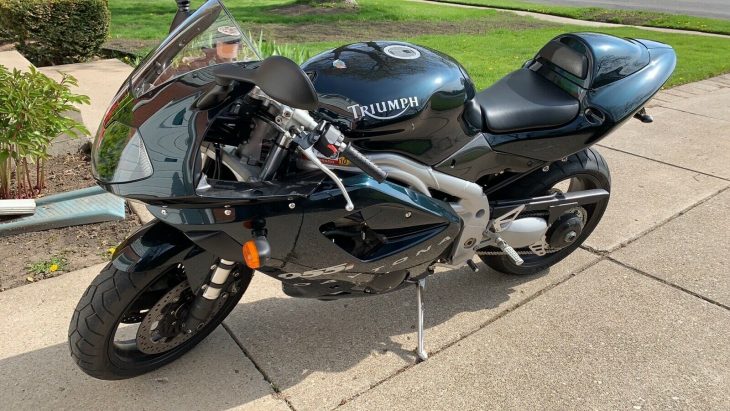 Though not going nose to nose on the racetrack, Triumph saw possibilities in the superbike market and used their "modular" engine in its three-cylinder form.  Updates to the valve train and compression ratio coughed up 147 hp, squarely in the liter ballpark.  Subtle changes to the oval-tube alloy chassis made for a slightly shorter wheelbase and seat height, in the interest of quicker handling.  45mm right-side-up forks remain, but the additional power would soon make a new double-sided swingarm a requirement.  The updated fairing begins with a two in one molded headlight, and made room for three more liters of fuel.
As a tribute to an injured Army buddy, this owner stuck with the refurbishment of this Daytona when many would've faltered.  Just about the asking price was put into its resurrection, but life has its own ideas and sometimes the toy has to go.  Looks great in the detailer's photos, and though too long to post here, the owner shares every work order as well as these notes in the eBay auction:
The bike starts quickly, without a fuss, and is always itching to be ridden. It gets up speed really quickly and is a blast. The substantial horsepower of the large displacement engine allows for the rider to get to where they want to go while in traffic. The engine consistently pulls. Such power is ideal when encountering unwanted traffic scenarios where you have to get out of harms way quickly. The brakes are new so they work very well bringing the bike from high speeds to a stop quickly and confidently. The weight of the bike adds to its stability on the highway. And though it is a heavier bike it is still sporty and flickable. 
 

The bike wields lots of power and decent torque for a seasoned bike. 

The suspension is fully adjustable making for a smooth and dialed in experience. The Scorpion exhaust has some growl but sounds really nice. 

The bike will ship with its OEM exhaust as well. That being said, I always use earplugs on every outing. This bike is a great way to experience the road. 

I have taken great care of it while in my keep. In fact I had it ceramic coated in early spring and just had a full detail and wax performed on it before winterizing it and putting it away for the winter season.
 

Nearing the end of the season I noticed a couple of issues that will need to be addressed –

1) A throttle mapping service may be in order

2) The speedometer fails intermittently (Though a new speed sensor was installed in the Spring 2021)

3)  A new rear blinker assembly is needed

4) It is in need of a coolant flush and coolant replacement
The Centennial Edition's subtle take on BRG was to celebrate Triumph's 100th anniversary, and the Daytona provided at least a viable alternative to the mainstream.  The 955i superbike was succeeded by a more manageable 675 until 2016, and has recently been revived as a limited edition with the 765cc spec engine for Moto2.  Hinckley Triumph has made an epic go of it, with the 955i as the second generation of their first superbike.
-donn