Marketeers at Buell must have looked longingly at BMW's fanbase and wanted to access some of that longer-than-an-afternoon enthusiasm.  This S3T has all the last year of production improvements, light mileage, and excellent cosmetics.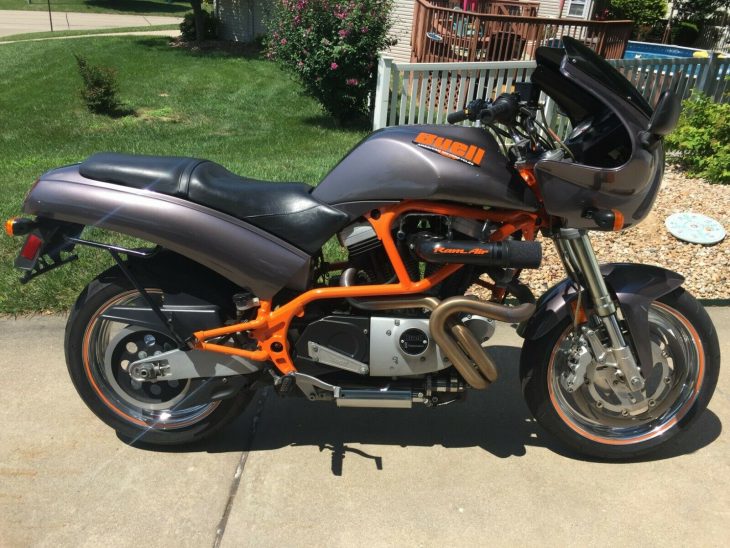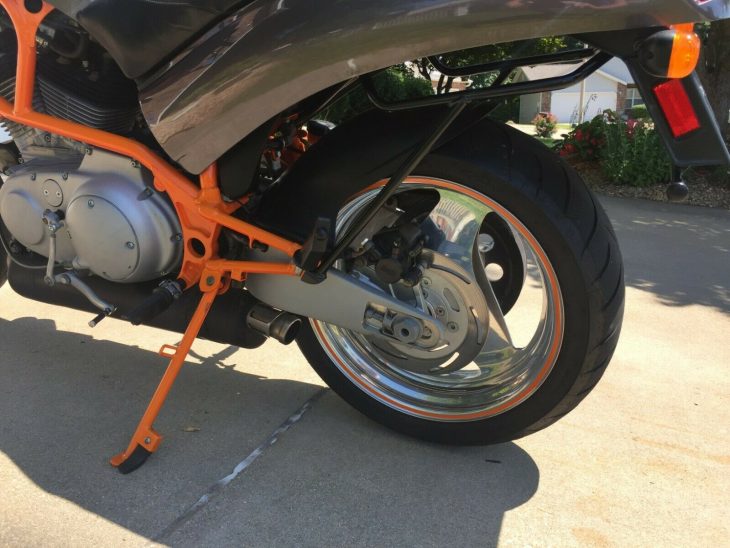 Late in the Thunderbolt program, Buell had made a lot of updates to the S3T, like electronic fuel injection tailoring the mixture to 101 hp.  The long stroke of the 1203cc Sporty motor, with factory Thunderstorm heads, takes care of providing a healthy 66 ft.-lbs torque at 5,500 rpm.  The almost maintenance-free belt drive smooths out most driveline lash and is lighter than a chain.  Showa provided their multi-adjustable 40mm fork  and underslung rear shock.  Buell's signature 340mm single disk is up front, with a six-puck caliper, mounted to a set of very pretty fabricated Comstar-type wheels.  The rear exhaust is tucked inside the frame of its way to the central muffler, and can't get to your leg.  The seat shape was also improved over the years, and the fairing is a nice compromise between local and long distance.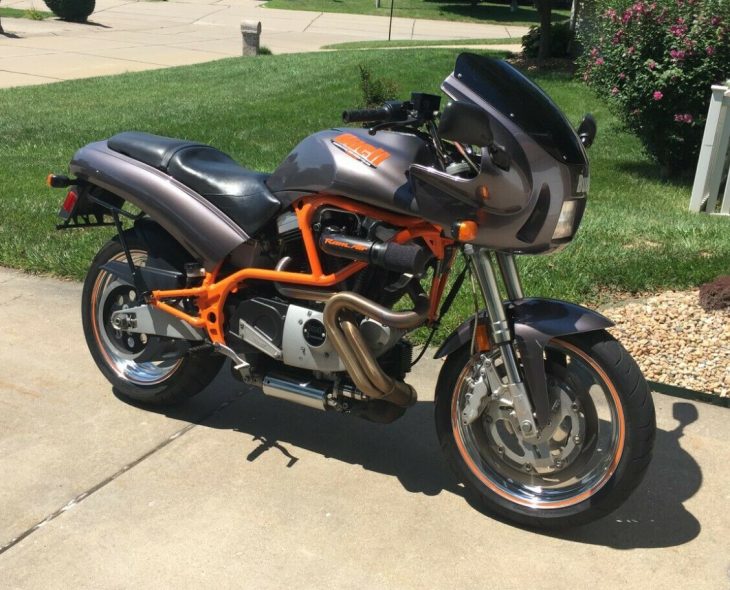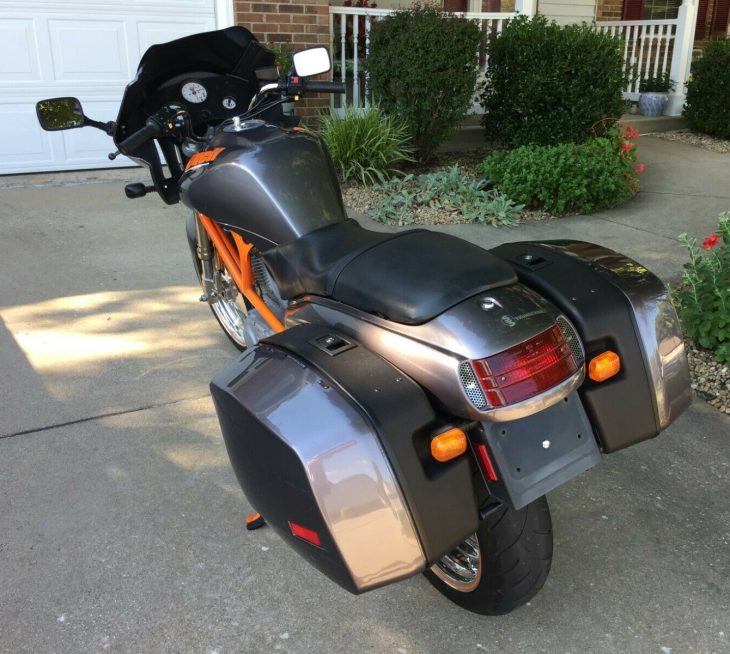 No ownership history is provided, but this S3T has been cared for and shows beautifully.  Seems little needed to be done to improve on the factory's ideals, with just an intake added.  Its chunky good looks visually prepare you for the 500 lb. riding weight.  The bags are enormous and aren't an everyday on-off item like the BMW, so they can stay off until a long trip beckons.  Comments from the eBay auction:
Buell's top of the line bike in 2002 with MSRP of $13,395
Equipped with the Deep-sized Detachable Color Matched Saddle Bags that
have fitted removeable luggage per picture.
Wheels are the factory optional Performance Machine Polished Aluminum.
Factory rated at 101 Horsepower and 90 ft-lbs of torque it is not for the timid.
Fuel Injected and with the Harley Belt Drive it is very low maintenance.
Being the last year of the Tube Framed Buell's it is a future collectable
especially with the rare color combination. (Volcano Gray / Blaze Orange)
This bike is factory stock with the exception of the upgraded Uno air cleaner
and vinyl rim stripes.
Bike is in very good condition with some minor imperfections.
See scratch on front fender in picture five.
Right passenger saddle bag has a minor scuff on side.
Plastic fuel tank cover has some typical Buell air bubbles in the paint.
The S3T reviewed as a sport tourer that didn't forget about the sport, with the big torquey lump that made the sections between corners disappear.  Quality control issues seem to have been largely put to bed this late in the game, though even with the isoplanar engine mount stuff wants to come apart.  This Thunderbolt looks unfettered and ready for another 20K miles.
-donn