Bimota's SB8R combined Suzuki TL1000 power with a hybrid alloy/carbon chassis, and presented the company with a WSBK win in 2000.  This example was parked in an aircraft hangar for many years but shows none the worse for it.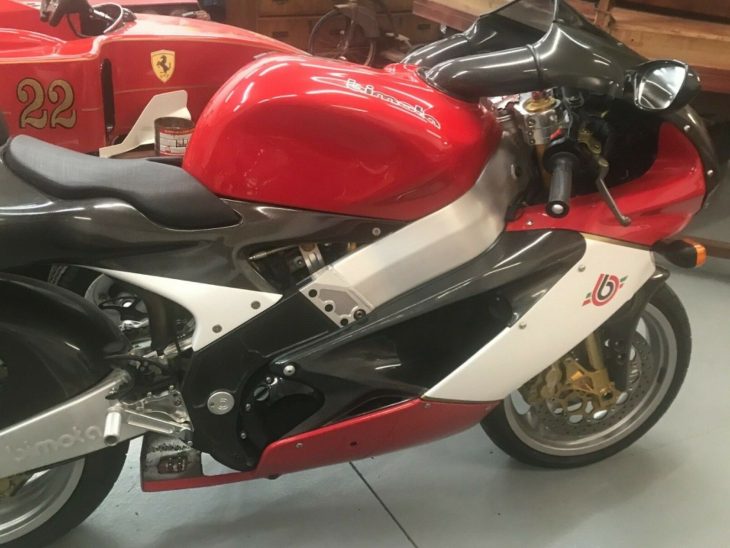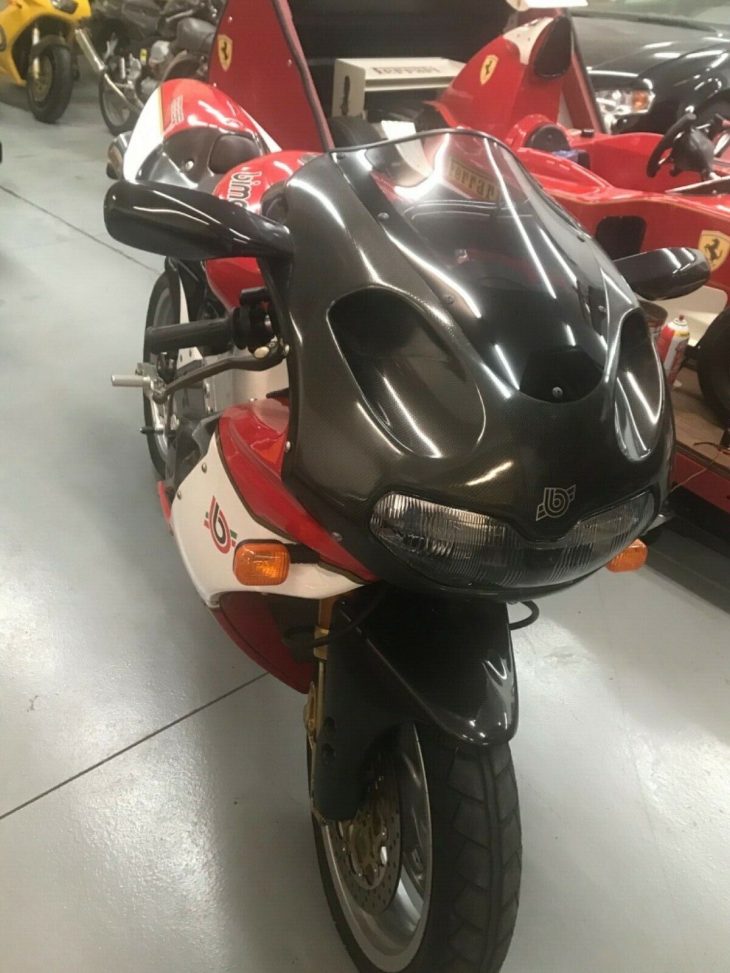 Bimota saw the potential in Suzuki's liter twin and worked their now-typical magic of better handling and lighter weight.  The 996cc mill is canted slightly further forward and equipped with Marelli fuel injection and 59mm throttle bodies.  Along with Bimota's own exhaust, the package rates 134 hp.  The chassis uses carbon frame connectors and alloy spars, with a self-supporting carbon seat console.  After Paoli 46mm forks were installed in an adjustable headstock, Bimota found room for a more conventional Öhlins shock on the right side of the engine, with a healthy linkage.  Weight was below 400 lbs. dry, and despite the bulbous looks from the front was quite narrow.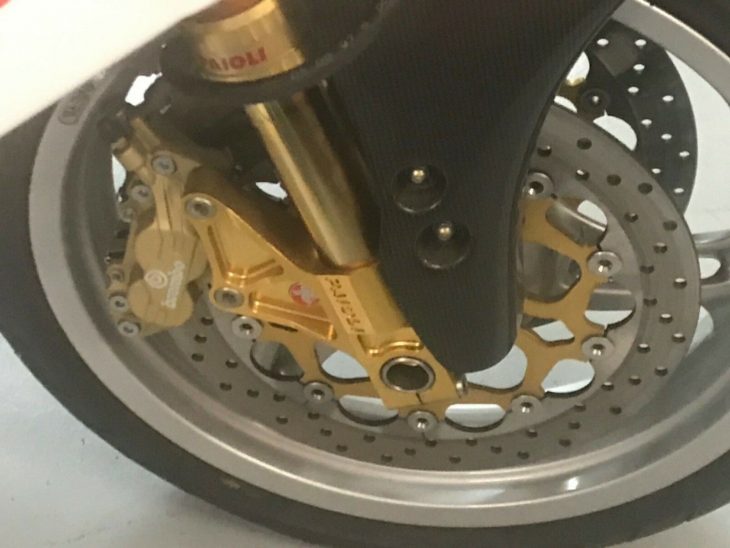 Back in a corner behind the King Air or turbine single ( looks like it's in a real toy shop now ) this Bimota waited for a break in the action that came too late.  Still it was protected from the elements, and shows like a virtually new bike.  The all metal cam drive could deal with the waiting, but all new expendables will be required.  After a thorough going over, the next owner will have real time machine.  Details from the eBay auction:
Stored in a private collection the last 10 years, 1,560 miles from new, $7k in upgrades including Arrow carbon fiber exhaust system, many billet pieces, upgrades to fuel system, new battery, workshop manual, factory cover, we have factory exhaust. Receipts for all upgrades. Bike sounds incredible. When first bought no expense was spared to make this Bimota supersonic and address any factory issues, many racing spec parts were sourced and installed. Look over the receipts for specifics. Bike has sat in a hanger for 10 years – it's not detailed it will clean up as new.
Bimota dialed in every target where the TL-1000R had missed the mark, though it cost just about double.  Racing helped the road bike, as the exhaust was re-designed after endurance race failures.  The new owner will have to peek around the big carbon fresh air ducts until the thumbs memorize the switchgear, but big torque will make pulling out to pass a memorable experience.
-donn