In an era of mass-produced sportbikes, it's easy to miss the details that made bikes like the Bimota SB4 so special. Virtually every modern manufacturer makes concessions to mass-production, and machines that, at first glance, look gorgeous can get a bit ugly in the details. MV Agusta's F3 675 is a beautiful sleek, wasp of a motorcycle, but the stock clip-ons are obviously a cost-saving measure… But these early Bimotas, although far from perfect in terms of performance as-delivered, feature an attention to detail that is virtually extinct.
Powered by the durable and tunable 1075 air-cooled Suzuki GSX four-cylinder and five-speed transmission, the SB4 continued Bimota's tradition of fitting reliable Japanese engines into state-of-the-art frames. That frame was made from chrome-moly tubing with machined aluminum side-plates and helped the bike achieve a svelte dry weight of about 405 lbs. The SB4 rolled on 16″ modular wheels fitted with radial tires, another pair of exotic features on a bike from an era of bias-ply tires.
From the original eBay listing: 1983 Bimota SB4 for Sale
Bimota SB4 1100cc

model year 1983

VIN 00229

Built alongside the HB2 was the SB4 using Suzuki's 1100cc Katana power plant, this is the rarer fully faired model painted up is the one off stunning Bimota race colours and is in amazing excellent condition throughout

Ride and collect! Bulletproof investment.

Bike is currently located in Stowmarket, England but i can get them delivered all around the World at cost, no problem.

We can supply US contact as reference.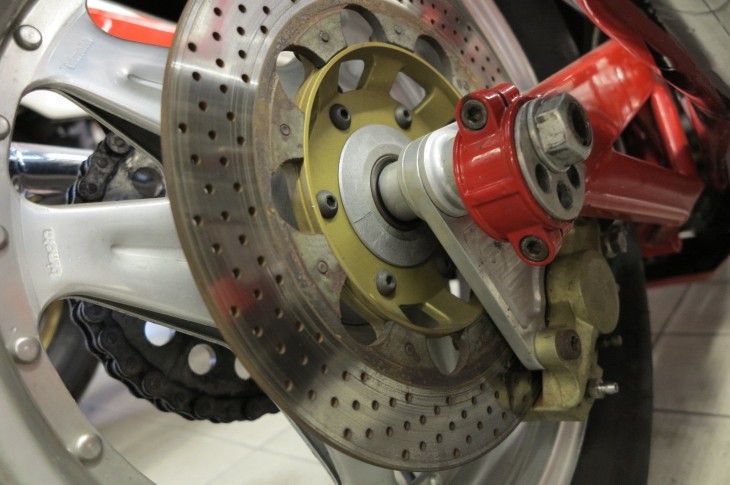 Bidding is active and currently sits at $7,600 with the reserve not yet met. With just 272 built, the SB4 is exceptionally rare and offers a great value with top-shelf construction and a distinguished pedigree. If you're looking for a bike that has real potential to appreciate, these early Bimotas are pretty hard to beat.
-tad