Guzzi Exotica:  2006 Moto Guzzi MGS01 CORSA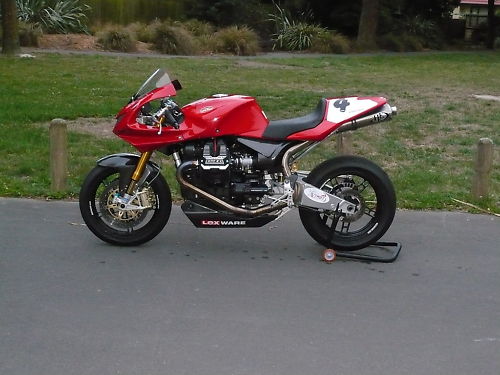 If it looks this good standing still, it must be a sight to see and hear in motion.  Can anything really be bad with word "Corsa" in the title?  This is as exotic as they get straight from the Moto Guzzi factory to date.  Trying to find accurate info on the MGS-1 is confusing to say the least so Guzzi enthusiasts please correct me in the comments if need be.  It looks like the bike debuted in 2004.  I keep seeing production numbers of 50 bikes.  I do not know if that is a yearly total or an overall total.   I can't even determine if any of the bikes were "officially" imported to North America.  It also looked like Moto Guzzi had plans for a street version that never materialized.
It might date from 2004 but it doesn't look dated to me.   Slap some light and turn signals on it and I bet you'd sell a few.  I read several reviews of the bike and for the most part there was nothing but positive comments about it.  This review on MCNEWS.COM was one of the more interesting ones, plus it has some good pictures for those of us that loose interest quickly.  It  covers what technical enhancements were made to the bike that made it drool worthy.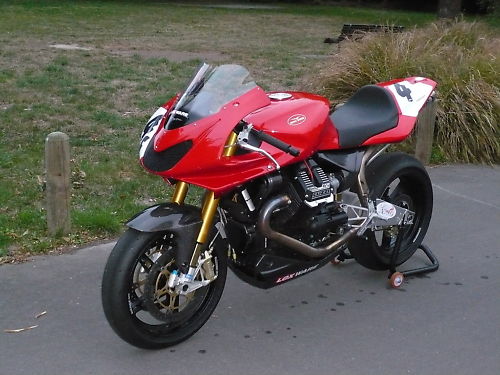 Just a bit from the auction:
THIS BIKE HAS HAD VERY LITTLE USE AND IS IN IMACULATE CONDITION, VERY RARE OPPORTUNITY TO PURCHASE THIS VERY COLLECTABLE FACTORY BUILT RACE BIKE, ONE OF ONLY 50 IN THE WORLD.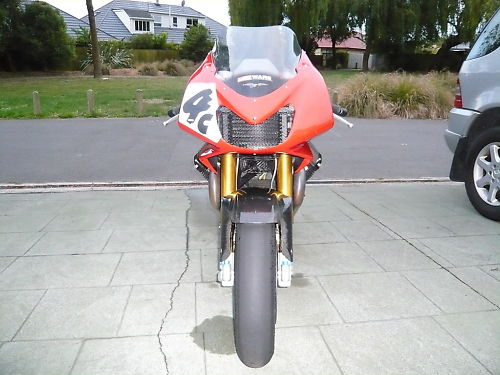 From the side it looks like such a wide bike but from this photo it looks pretty darn thin.
This particular MGS01 has an accent, it is located in New Zealand.  I'm sure that might scare off a few bidders but I'd assume a  Guzzi collector would jump at the chance to own one of these rare bikes.  The bidding is starting at $25,000.  It looks like they sold for close to $50,000 originally.  .  If that starting price sounds high, it is actually quite a drop from the starting bid price on the same a bike from a year ago.  Check out the post Jay did on the bike last year:  unless of course there are two MGS01's in Christchurch with number four plastered on them.
They sound as good as they look.

IK