Relisted from last November, with a 20% price reduction – Martin
In the early 1990s, Moto Guzzi was trying to revitalize their staid image and appeal to a younger, more sporting audience. Famous Guzzi tuners Ghezzi and Brian were brought in to style the new top-shelf sportbike, and the result was a machine uncharacteristically elegant and modern, considering Guzzi's products of the period. The MGS01 managed to look forwards and backwards at the same time: it was true sportbike that managed to be relatively lightweight while using a highly-developed version of their classic longitudinally-mounted v-twin and shaft drive.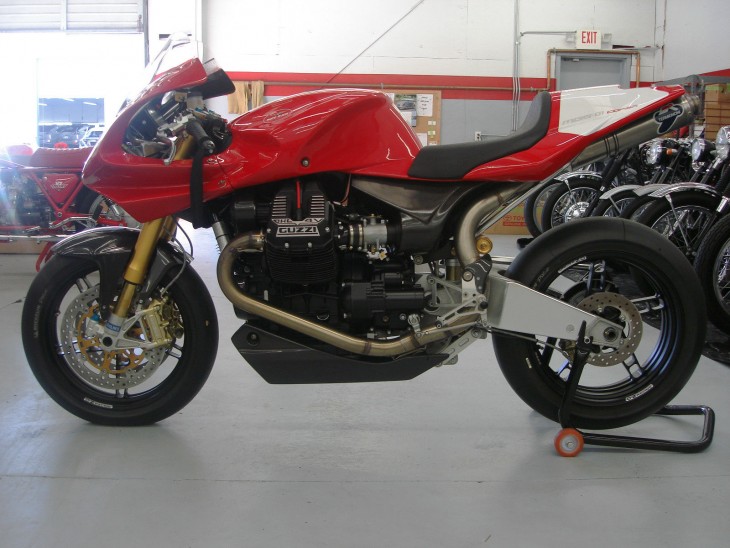 The bike used a bored-out version of the "high cam" eight-valve engine with Cosworth pistons and a 1225cc displacement, backed by the V11 Sport's compact six-speed gearbox and shaft-drive. It put out a very healthy 121hp and a stump-pulling 83lb-ft of torque. Unfortunately, although it was far lighter than other Guzzis being built at the time, the 420lb dry weight was still pretty portly when compared to its rivals.
Intended as a track day toy and gentleman's racer, it wasn't light enough or powerful enough to really compete against the Ducatis and Japanese inline-fours on track, and sourcing bodywork and parts should you crash could be a serious headache. It's just a shame that the promised roadbike production never materialized: Guzzis typically take a serious dive in the used market, but I could imagine that this one might have held its value…
From the original eBay listing: 2004 Moto Guzzi MGS01 Corsa for Sale (LINK UPDATE FOR RELIST)
One of the most beautiful bikes ever made. Italian art at its best…

Extremely rare 1 of 50 produced only 7 ever imported into the US by Moto Guzzi.

This bike was bought new in 2004 in California by a collector for display only.

Bike is still on the original MSO. I have all the original sales documents, original red Moto Guzzi bike cover. Everything that came with the bike new. I still have the original side of the Moto Guzzi crate.

A very rare opportunity to purchase an extremely rare exotic, will only appreciate. You can purchase to ride or display in your office or wherever. Hard assets like this are much better and safer than the market.

Can be viewed anytime in Las Vegas, Nevada by appointment.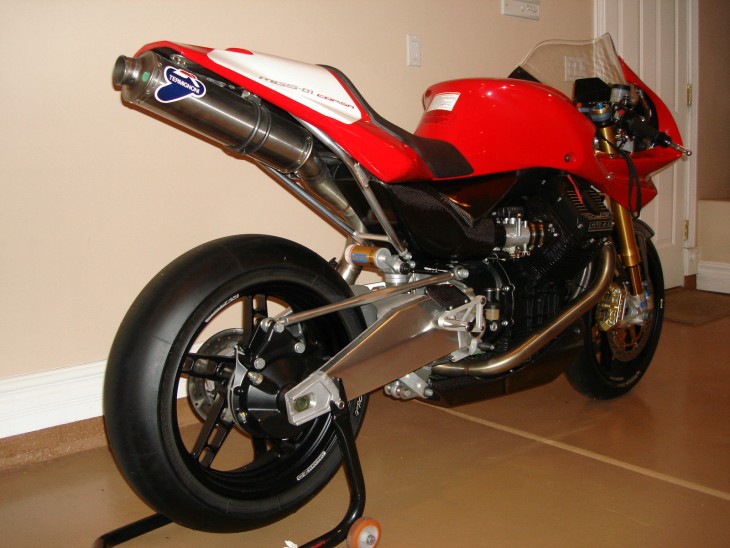 Not sure I'd take financial advice from someone trying to sell me a motorcycle, and I'm really not sure that using a rare motorcycle as a part of your retirement planning is exactly good advice anyway, but regardless: this is a very special motorcycle, and I certainly wouldn't argue with his claim that it's one of the most beautiful bikes ever made.
The question is: "Is the MGS01 $60,000 80,000 beautiful?" Because that's what the seller is asking for this well-preserved, virtually unused example. Opinions on production numbers vary a bit, but whether it was 50 or 100 or 150, you're very unlikely to see another for sale anytime soon.