For Sale: 1977 Moto Guzzi MG LeMans 850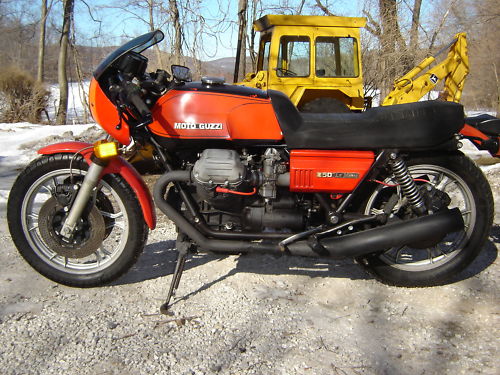 Wow – three Moto Guzzi LeMans Mk I bikes in a row! RSBFS readers are going start thinking that perhaps these are not the rare and desireable machines we have made them up to be…. Nah! Collector interest and rising price points should both defend the RSBFS stance on these fine machines – even if we have had a banner week of them on this site!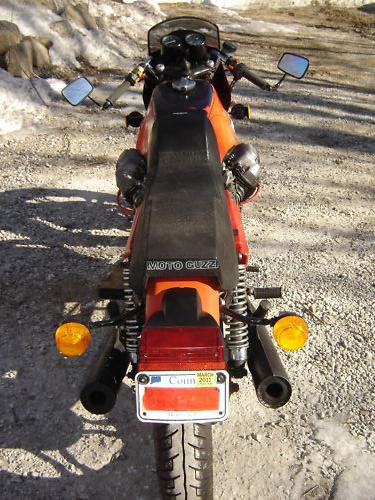 From the tiny fairing to the visually dominating motor, to the extremely narrow waist – these Guzzis are as unique a riding experience as anything you will find in motorcycling. While perhaps not the fastest bikes on the road, they are overbuilt and reliable machines meant to devour mile after mile of pavement with a pronounced Italian flair. You can't help but look the part when you roll up to your favorite eatery on one of these.
From the seller:
Hi,i m listing this bike for my frend,he is a ritired police investicator, he is the second owner.This bike was his personal bike for last 21years.Bike stars and runs very good.It has 56000 orininal mille on it.It was rebuilt 15000mille ago.It recived 1000cc kit balanced conrads,pistons.I did light porting on heads,installed Fiat brass velve guaids with teflon seals.It comes with Bitubo fork cartiges,DynaIII ignition and Koni rear shocks.Bike has original faded paint exept front faring.Brakes are very stong,shifts nice…
VIN# 072962and motor #*072962*…
This bike is a little more used, a little more modified, and a little rougher than the other two LeMans Mk I bikes we posted earlier (see HERE and HERE). While the big-bore kit does not raise the value of the bike, it does add to the torque of the motor making it more fun to use. Sure, the paint is a bit faded in places too, but that is an indication that this is a survivor. This is a bike you can ride around for a while, and then run a full restoration on it in the future. In short, I think this bike is a keeper.
Pricing for this cafe racer should be in line with the others we have seen, but lower due to the mods, miles and condition. The auction currently has zero bids with a start of $5,500, which is right about where this one should be. There is no reserve, so anybody wanting to pay fair money for a solid investment should sign in quickly. Take a look at the pictures, troll through the seller comments and Q&A, and let us know if you come home with this classic. Click the link to . Good Luck!
MI