For Sale: 1978 Moto Guzzi LeMans Mk I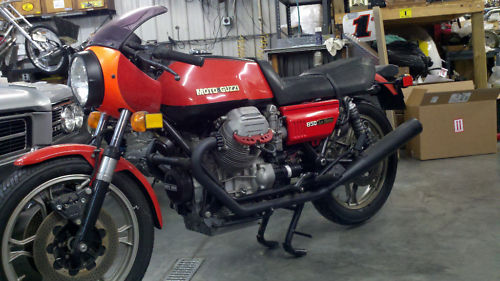 There is no doubt, Guzzis are hot right now. This beautiful Mk I bike was pointed out to us by the lucky new owner of the last LeMans we covered (click here for details), who just so happens to also be a RSBFS reader. And as is common with the rare models we seek, you may not find a bike for months only to suddenly come across several; when it rains it pours.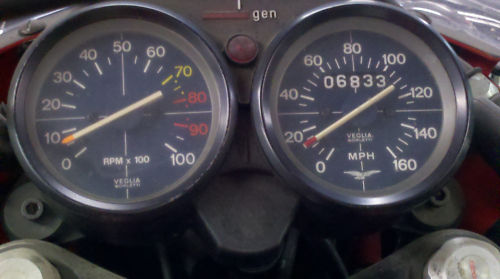 This bike has very few miles, and appears to be in good condition. It certainly helps when a bike stays in one home for a long period of time, and that is certainly what has happened here – this is the original owner!
From the seller:
I bought this bike new in Geneva, IL. Original bill of sale and IL title. All paint and seat is factory. 120 miles ago (April 1995) Harpers went through the bike and did a full mechanical restoration at a cost of $5,247.22. Has DYNA III ignition, Bitubo fork springs, and oil sump extender. The exhaust was purchased from Reno Leoni in 1979 or '80. The starter was replaced in 2007 but I saved the original. I have the ORIGINAL TIRES AND EXHAUST SYSTEM. Also have shocks somewhere and will include if found. FLAWS: a small ding on each side of the tank where the handle bars made contact. Also, a small piece broken off an upper fin on the right head BUT, there is a new right head included in the sale! The Guzzi has always been stored in my work area at the shop. I rode it once in 2008. Very reasonable reserve. For sale locally.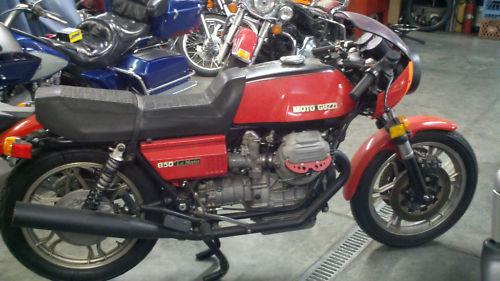 We don't often see this quality of classic Guzzi, much less a low-miles, original owner example. If you have been on the hunt for one of these cafe racer bikes, I would consider this your opportunity. This auction is on now, and the current bid is at $6,600 with the reserve not yet met. Earlier Guzzis LM models have mostly crossed for $8k+, so this is still in bargain bin territory. The seller will even throw in a few extras!
Don't miss out on this one, because who knows when we will find another one like this to post. . As always, good luck on this one, and tell 'em RSBFS sent you!
MI