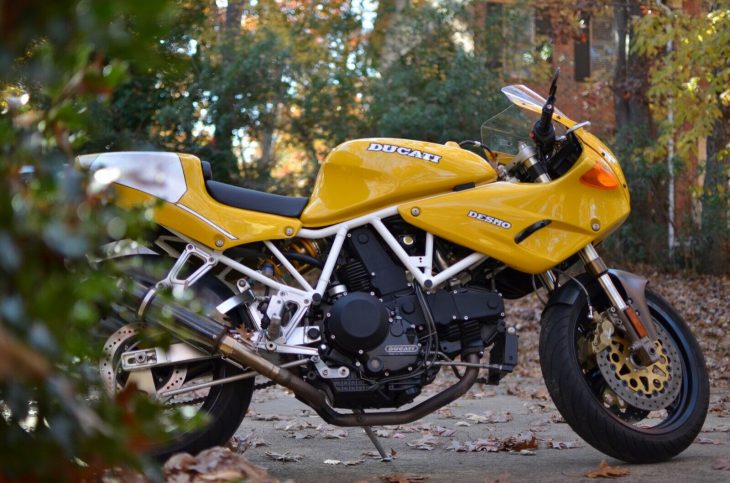 Not too many bikes look good in yellow, and that very short list is mostly made up of Italians, Ducatis in particular. Red may be the most traditional color for Ducatis but the 916, Panigale, and this 900SS/SP look so striking in the bold yellow seen here, especially with the half-fairing that reveals most of the classic, air and oil-cooled v-twin. Most of the half-faired bikes here in the US were the lower-spec CR model with much more basic suspension, but some apparently did come that way from the factory, and I'd definitely configure my dream-build SP that way. Yes, I do have a dream-build SP, and it's basically this one, with a two-up seat.
The Supersport was a mainstay of Ducati throughout the 90s, and was available in 900, 750, and even 400cc flavors, depending on the market. Here in the US, we got the 900, although 750cc examples do show up for sale from time to time, apparently sneaking in over the border. The 900SS came in two flavors: the SS/SP and the SS/CR. The motors for both versions were in an identical, as was most of the bodywork. As mentioned earlier, bikes could be had with a full or half-fairing and the SP generally had a carbon fiber front fender for, you know, weight savings. The aluminum swingarm doesn't look quite as trick, but probably offered a greater performance benefit.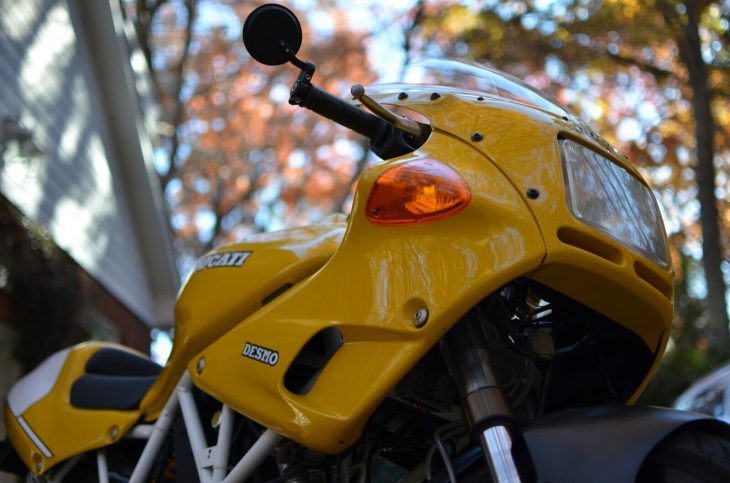 The biggest difference was the suspension. The CR or "cafe racer" came with non-adjustable suspension, because apparently cafe racer people don't really care about handling all that much? Anyway, the SP or "sport production" came with a fully adjustable Showa front end and shock. Parts are completely interchangeable, so some CRs have been updated, but this example does have the plaque on the top triple that indicate this is an original SP.
It's not completely stock, with a white frame, solo tail, and graphics meant to evoke the very limited-production Superlight, along with a low-profile LED taillight instead of the chunky 90s piece, but this 900SS still has the brackets for the passenger pegs, so it would be a relatively simple thing to put it back closer to stock. The Öhlins shock is a welcome update and the bike appears to be very nicely put together, as long as you're okay with the non-standard paint.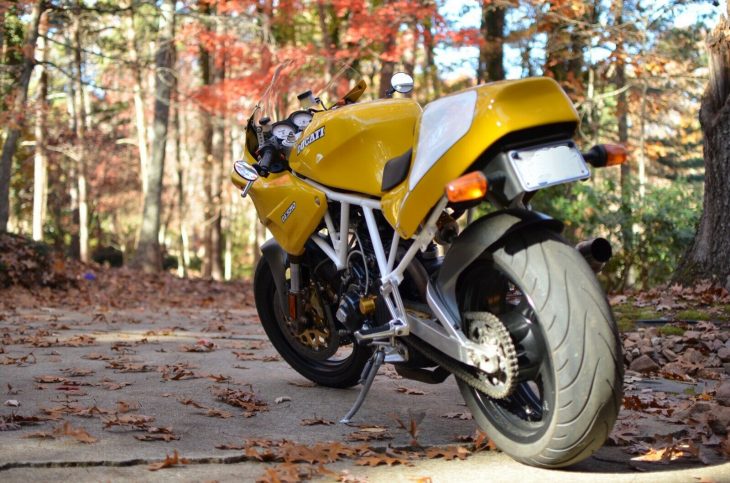 From the original eBay listing: 1996 Ducati 900SS/SP for Sale
1996 Ducati 900 Supersport SP Half Fairing Monoposto 

I'm selling my 1996 Ducati 900 Supersport SP.
The bike was rebuilt by Johann Kaiser of Moto Motivo in Raleigh, North Carolina in 2017. 
The bike is powered by a 904cc desmodromic V-twin paired with a six-speed transmission. 
It features yellow bodywork with a white-colored trellis frame, and features include new Brembo brakes, upgraded Ohlins rear shock, cast aluminum wheels, and a carbon fiber exhaust and fenders.
The bike has a clean NC title in the seller's name.
Has been garaged and has about 1000 miles after rebuild, and runs great.

You can find the bike on Moto Motivo's website:
https://www.motomotivo.com/restorations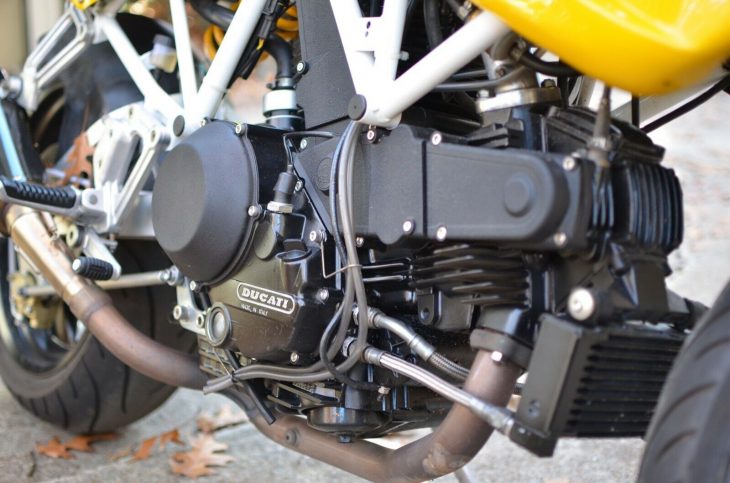 As mentioned above, I have a soft spot for these bikes. I'm a huge fan of the engine and the looks are a little bit retro and a little bit modern at the same time. It's not really sleek, but solid and handsome, a practical sportbike that doesn't overwhelm with power but can still handle well enough to entertain. With nice, original examples beginning to increase in value, the $6,000 asking price is a steal, if it's anywhere near as nice as it looks in pictures. I'd look for a set of classic Termignoni cans to really finish it off and just enjoy the two-valve boom and midrange shove while bombing along a set of canyon roads.
-tad