For Sale: 1976 Moto Guzzi Lemans 850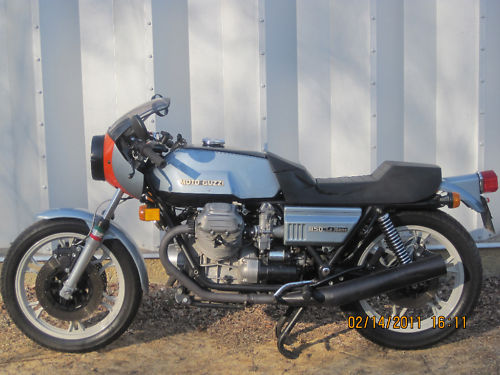 Given the positive responses to a few of the recent Guzzis posted here on RSBFS, I made an extra effort to another one. Never let it be said that we don't respond to our readership! It would appear that my efforts have paid off with this beauty, a 1976 850 LeMans. Sure, it is reaching thirty-something status in life, but it is still a looker.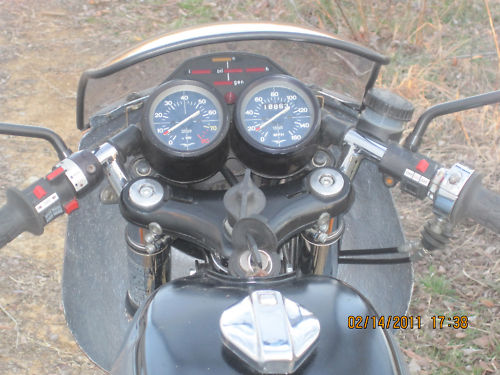 This example, powered by the ubiquitous air-cooled, two-valve Moto Guzzi 850cc v-twin, shows only minor alterations from stock. As the seller notes, this may be one of the earliest LeMans models imported into the country!
From the seller:
This is my Guzzi Lemans, which I have enjoyed for about 10 years. This is a very early Lemans, VIN# VE70505. I have not confirmed this but the bike may be the fifth Lemans imported into the USA.

Updates I have made along the way

All three calibers are updated Brembo's with single 10mm bleader
Beautiful Delrin intake manifolds

Powder coated wheels, fork legs and rear caliper bracket
Progressive fork springs

Stainless brake lines
Freshened brake cylinders

Electronic ignition

I am the second owner the bike was purchased Portland Cycles Yamaha: Portland, Maine. The fairing and side covers still have original blue paint. Original carb bellmouths. I mostly ran K&N's which come with the bike.

There are scratches on the front fender, a crack in the rear fender, and a small dent in the tank…please see pictures.

I want to adress a question before it comes up, the wheel color. This is my second Lemans, all Lemans's I have seen have had silverish wheel color. To my surprise this bike had a cream color wheel, with the outer rim polished. I color matched the wheel and omitted the polished rim. Again I feel that this Lemans is not typical of later versions.
This is really a great looking bike, with a unique stance and presence all its own. Collectors seem to be snapping up these old relics, and pricing has certainly been on the rise. These old M-G machines might just be the blue chip investments of the sport bike world, and the resurgence of the cafe racer movement certainly does not hurt!
If you are ready to join the lumbering world of the big v-twin, or simply enjoy an experience that is decidedly different, then this might be the bike for you. Bidding is now in the $7500 range, with a reserve still in place. There are more pics and more info available – just click the link and
MI