Warning!
This post is in our archives. Links in this post have been updated to point to similar bikes available to bid on eBay.

Update 4.27.2019: This bike has SOLD! Congratulations to buyer and seller! -dc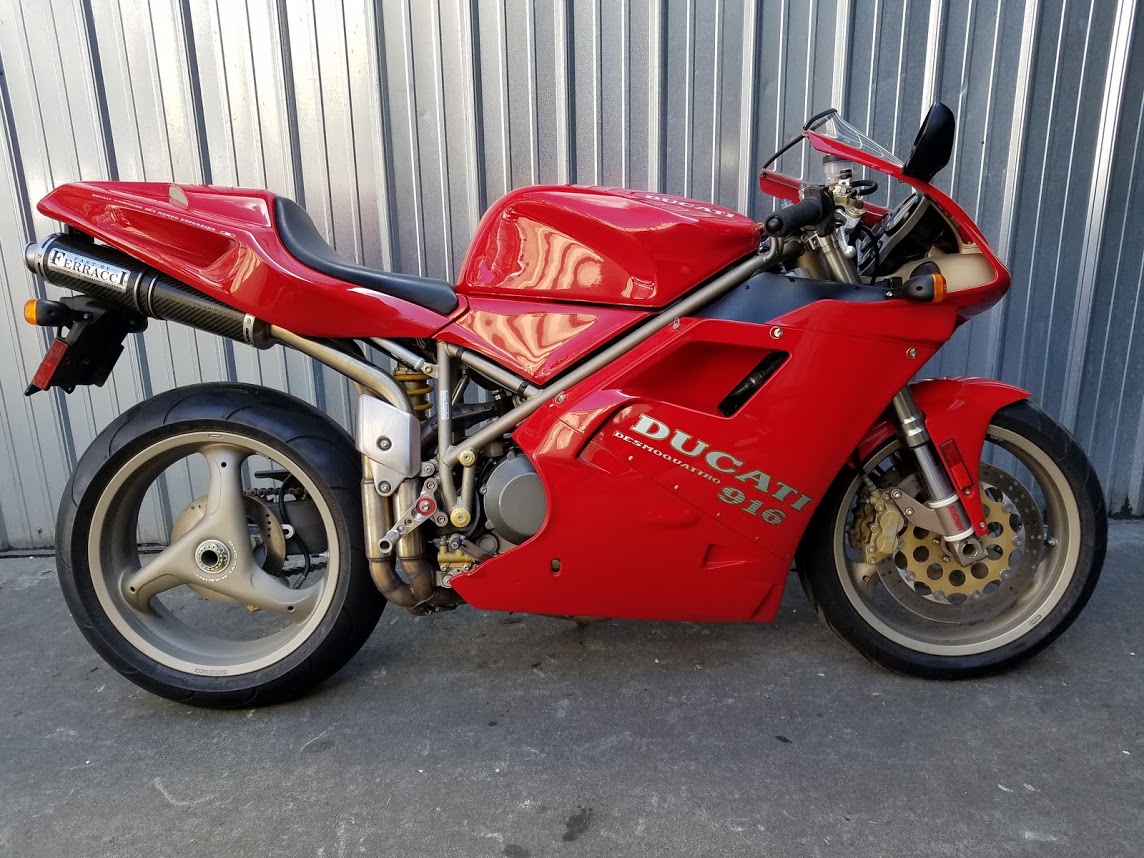 Some of the most collectible bikes at the moment have only recently come into their own. You see there is a direct link to a bike's age and how hot it might be for collectors. Only the rarest of the rare bikes appreciate in value on the showroom floor; elements such as original public reaction, total number of units produced, in-country availability when originally released, current condition, age and mileage all complicate the formula. Nostalgia is a pretty reliable condition, and if all other criteria are met then you can bet somewhere between 20 and 25 years on a motorcycle that was hot when introduced and still in good condition will pique the interest of fans and collectors again. Such is the case with the Ducati 916 – a bombshell of a motorcycle if there ever was one. As potent and fast as it was beautiful and unapologetic, the 916 was more of an assault than a revolution. Accolades from the press followed – as did the WSBK trophies.
Introduced in 1994, the bikes imported into the US were officially 1995 model year units. And if launching a groundbreaking new model is not stressful enough for a small company, imagine if your Bologna-based manufacturing line caught fire and burned to the ground just as you were getting up and running. That is exactly what happened to Ducati – right as demand for their gorgeous new powerhouse was at its peak. Ducati was forced to set up a new temporary production line for the 916, basing it on the grounds of MV Agusta's plant in Varese, Italy. Bikes from this production line – while technically identical to those of later production back at home in the Bologna factory – are interesting and rare artifacts and known as "Varese" bikes. How can you tell? The year is the first clue. The second is in the VIN number. If you look at the VIN, the character 11th from left (or 7th from right) is the manufacturing plant code. Most Ducatis have a "B" in this space, for Bologna. The early models built in the MV Agusta factory have a "V" for Varese.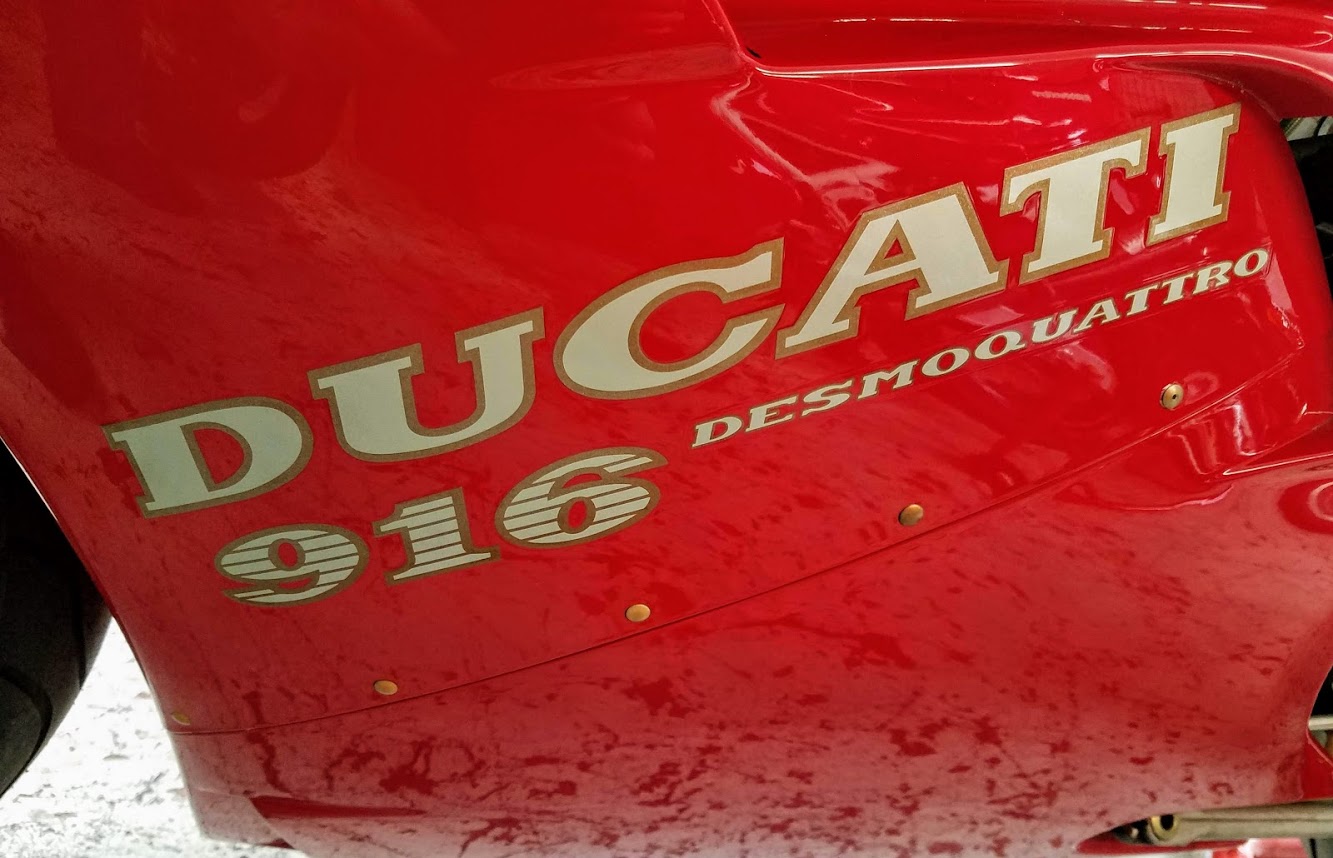 From the seller:
1995 Ducati 916
VIN Number: ZDM1SB8S2SV000849

This iconic Ducati 916 was purchased new in October 1994 from the Brother's Powersports in Bremerton, WA and has only had one owner. The 916 in original condition, paint is in fantastic condition, no fading, no corrosion or oxidation to be found anywhere. Some popular upgrades include Fast By Ferracci carbon exhaust with upgraded fuel chip, Cycle Cat adjustable rear sets and handlebars The original clip on's and foot pegs were provided. This 916 is in excellent cosmetic condition it has absolutely shows no signs of ever been dropped or tipped over. It has been loved since it came out if it's crate Always stored in temperature controlled garage when not in use and often serviced with new fluids and belts for good measure and joy of ownership. We have it scheduled for complete safety inspection and a 2-year service which will include oil, filter, hydraulics, coolant along with new timing belts. The owner has kindly provided some service records as well. It does have a clear WA title, all original keys and manuals included.

Only 2,266 original miles!

Price: $17,999.00
Contact: dave@seattleusedbikes.com

It is estimated that approximately 2,663 Ducati 916s were assembled at the Varese factory, before full-scale production was renewed in Bologna. And while there is no technical difference in Varese bikes, there is a lot of anecdotal evidence that these bikes received greater attention in that they were assembled more by hand as the production line in Varese was temporary. Regardless, Varese bikes are the most rare of the base model 916, and provides a further interesting story into this exotic and hyper twin.
This particular 916 Varese is a one owner machine, having traveled fewer than 2,300 miles in its 24 years of existence. It is being offered by well-known friend of RSBFS, Dave of Seattle's Used Bikes. This example is not totally stock, yet many of the stock bits come with the sale, allowing collectors to return it back to original glory if desired. The Fast by Ferracci pipes are nearly a requisite change over stock, and with a fuel chip, rear sets and handlebar upgrade, this is a bike that is made for riding. The bike has been serviced throughout its life, and the seller is offering up a 2-year service to ensure that this bike is up to snuff for whatever lies ahead; be it straightaway, decreasing radius left hander, or just a parking place on a pedestal somewhere indoors with an audience. Check out the pics, and then drop Dave a line. This is one good looking and authentic bike – and early 916s are riding the wave of interest and appreciation. Good Luck!!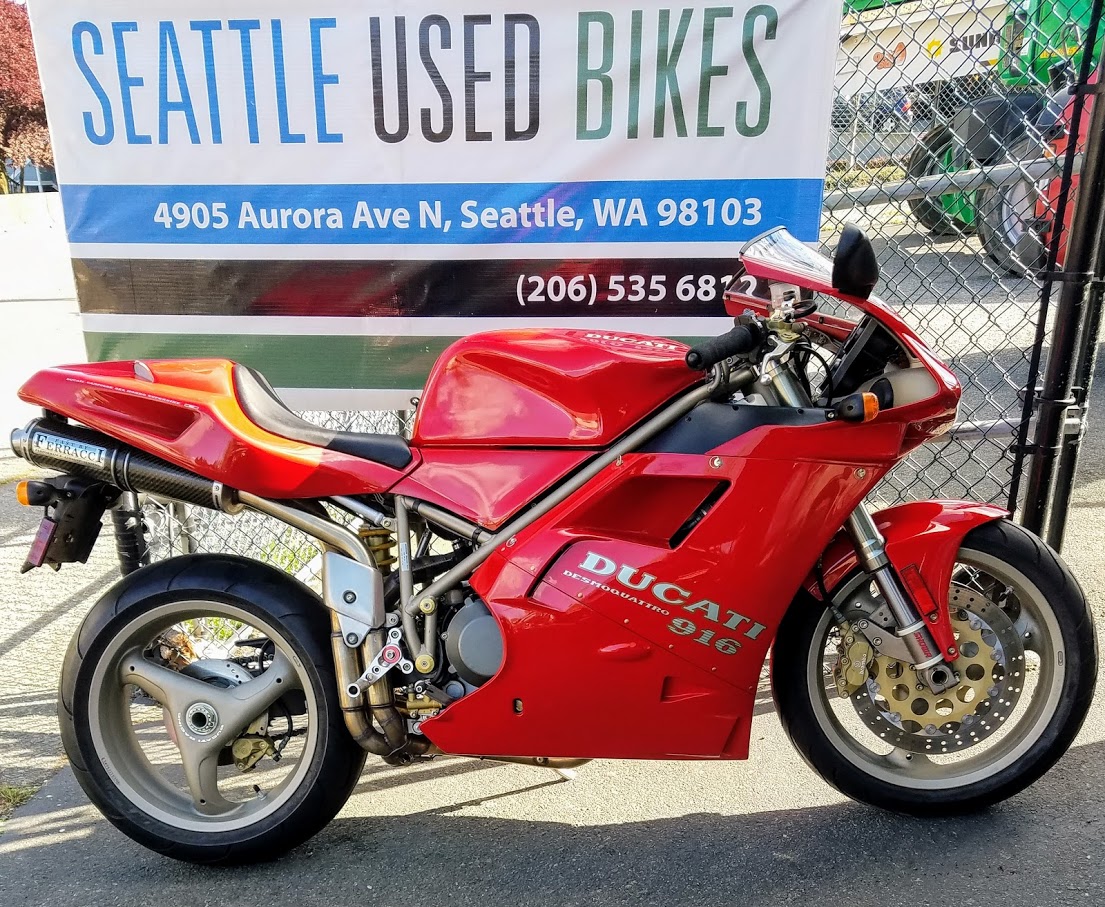 MI