Update 4.26.2018: Greg informed me that the eBay buyer fell through on this one after it was shown as sold for $9,300. However another buyer stepped up and this bike is SOLD. Congratulations to buyer and seller! -dc
Our friend Greg at Deftone Cycles has made a good name for himself choosing clean sportbikes for import and making them ready for riding season. This V-4 399cc mini-superbike is a great example.
Built from 1986 to 1992, the VFR400R used gear-driven cams and had four valves per cylinder, generating the kind of performance that has helped keep the grey market alive after all these years.  The NC30 is the third generation of three, with updates like the left-side exhaust, Pro-Arm monoshock with 18-inch rear wheel, and 360-degree crank timing.  The styling is so reverential to the 750cc RC30 that riders will find themselves fielding questions about the bigger bike.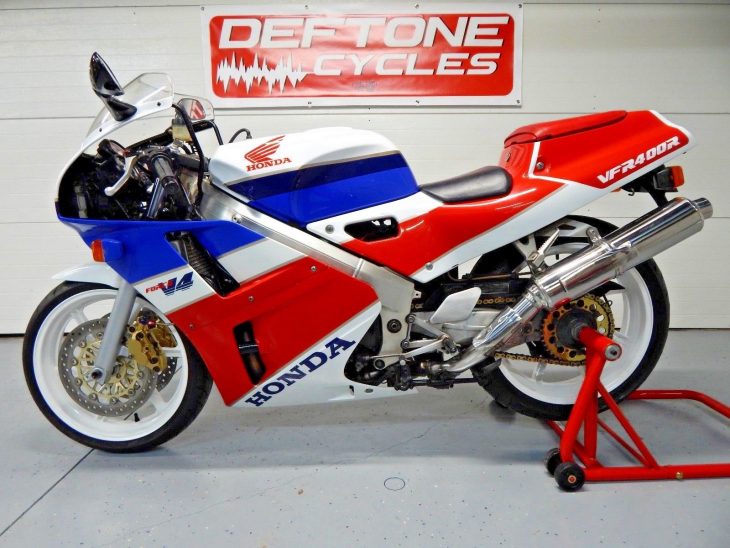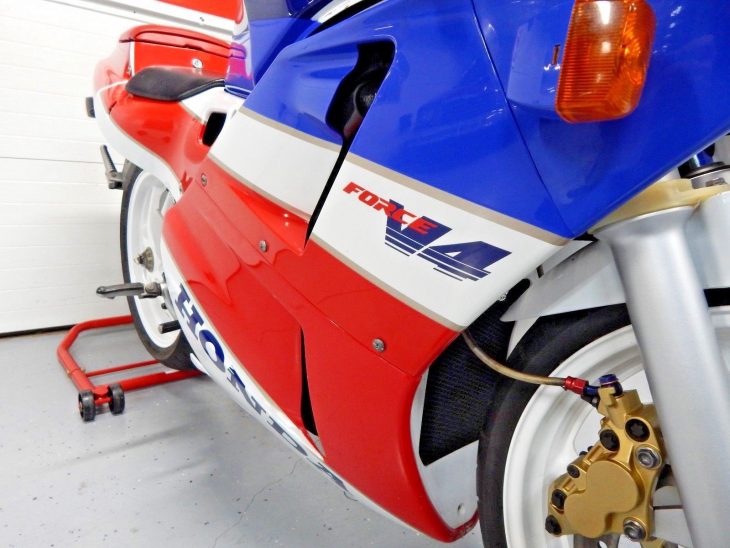 Deftone realizes the appeal of an  un-restored sportbike, and chooses their candidates carefully.  This one has complete factory fairings, undamaged though there is a little patina here and there.  The front brake calipers appear to have been refreshed, not a bad thing for a rider.  All new fluids and tune-up are part of the commissioning.  There is a dent in the left heel heatshield, but overall very few distractions on this machine.  From the eBay auction:
Completely original and unrestored.  Mechanically Sorted.  All fluids are fresh.  Shifts and revs to redline perfectly.  Starts effortlessly every time. Very Honest Bike. Very few scratches overall. Two blemishes to be aware of, Exhaust heat shield does have a dent. Fuel tank Dark Blue Stripe is showing some hairline cracks. This is very common with the Type 1's original tanks. Dark blue stripe is a decal that over time has been known to deteriorate. Please see Images. Fuel tank is Rust Free. Has Vin Matching State of Ohio Title.
The VFR400R reviewed as a spot-on handler and was intended for the fan-base in progressive license markets.  It was offered intermittently in the Euro zone but often for more than competing 750's and 900's, insuring showroom failure.  But word got out, the legend grew, and there has been a steady demand for track-day machines and rare street-sports here and in the U.K.  The auction has just opened with a starting bid of $6,500, and you can send Greg questions via eBay's "contact seller" link or email - here -.
-donn