Without being over-spec'ed or blingy, Yamaha's entry into the 249cc learner-sports class was right-sized, nicely put together, and handled straight out of the box.  This one has been on display and recently returned to the land of the living.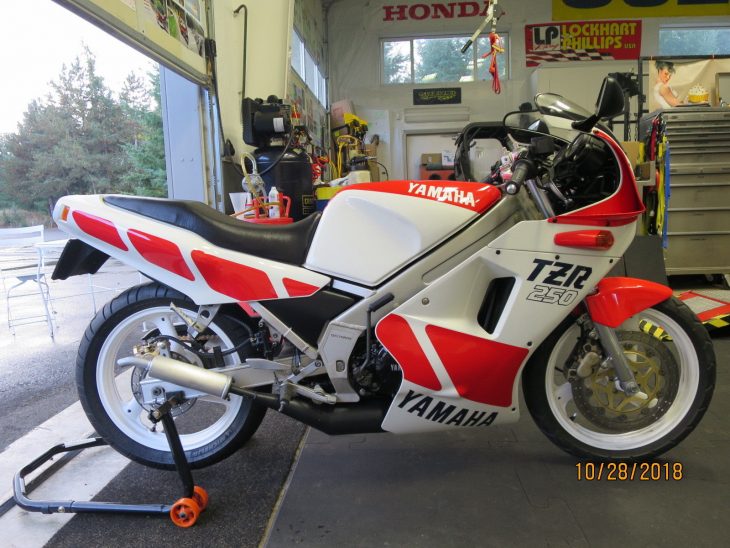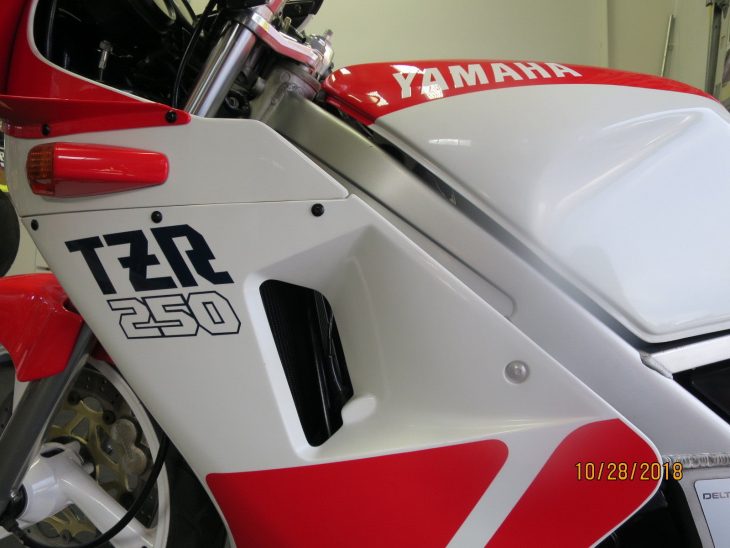 Like the RD350 whose success it was trying to copy, the TZR250 used a parallel twin engine, the twin Mikuni carburetors ( with bores not much much bigger than your thumb ) making 50 hp.  The alloy DeltaBox frame is as close to overdone as anything got on the TZR, but chassis rigidity pays double in predictable handling.  The forks were not adjustable and the monoshock for preload only, but reviewers said they got it right.  Front brake was a single 320mm disk, but with a four piston caliper.  Front and rear tires were 17 inchers.
In surprising condition for its age, this TZR has run just 5,700 miles.  No comment about whether this is a gray market import, but there is the KMH speedometer.  The previous owner's cosmetic restoration is mentioned in the - video -  and here are some of the comments from the eBay auction:
RECENTLY -

New Battery & amp; Battery Tender Hookup - which can also be used to run Electric gear

New front and rear brake fluids flushed and replaced with Honda Pro DOT 4

Carbs were Digitally Synchronized

OEM Air filter checked -  is as if new

Perfect Mechanical and Cosmetic condition and needs nothing

Replaced the fork oil with 15W

New transmission oil

Oil Injection Tank filled up

Coolant flushed and replaced

New set of tires have 300 miles on them in 4 rides this last year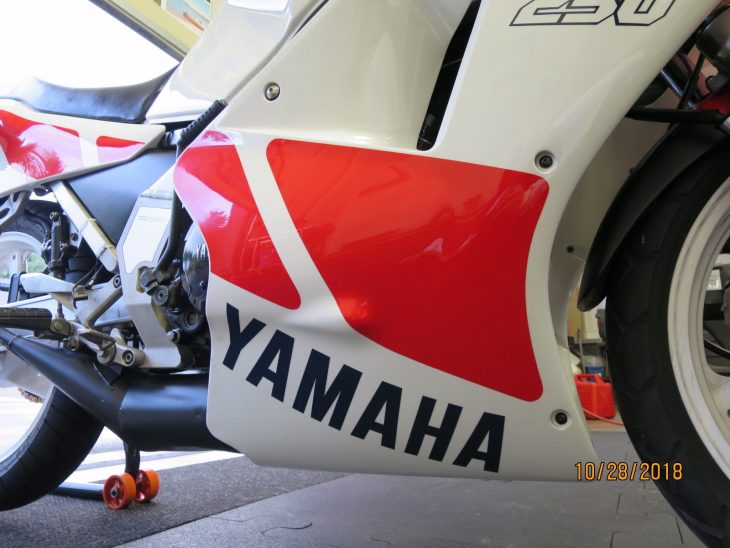 Yamaha went on to a reversed cylinder twin ( carbs in front, exhausts in back ) in 1989 and finally joined the crowd with a V-twin in 1991.  But the original can often be the best.  A bit pricey for a 250, the TZR languished for their last couple of years here.  This early and seemingly correct example will go far, but probably not outdoors...
-donn