Update 10.8.2018: This bike has SOLD to an RSBFS reader! Congratulations to buyer and seller! -dc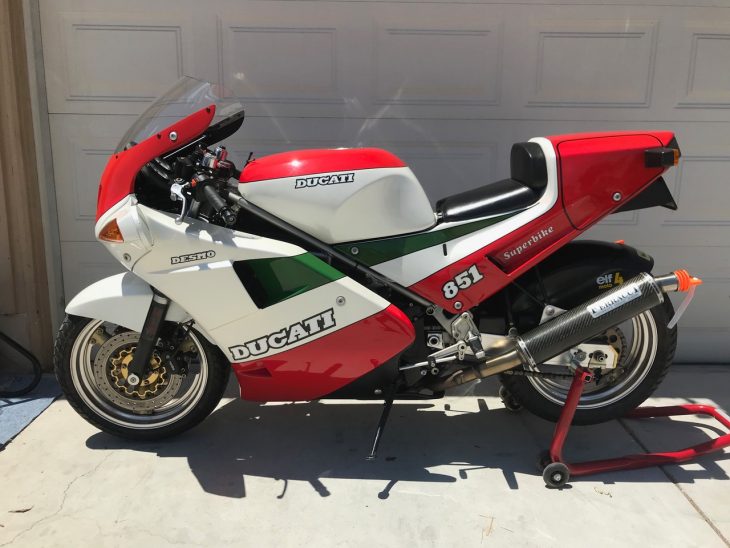 The Ducati 851 is rare and special enough in Ducati's classic blood red livery, but it's worlds more special in the Italian flag tricolore paint scheme. The 851 was Ducati's first real foray into the gem-like speedfreaks we know today. Before there were Panigales, there were these. Only there were fewer of them. Way fewer.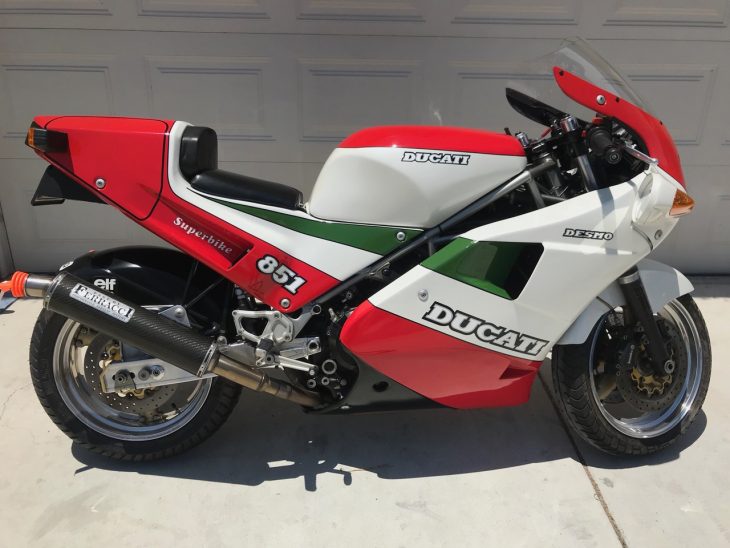 This example has been used as intended, which is to say: it has been ridden. It's in show-quality condition, and wears Ferracci pipes, though the originals are included, along with a bunch of paperwork, the factory rear stand and the original windscreen.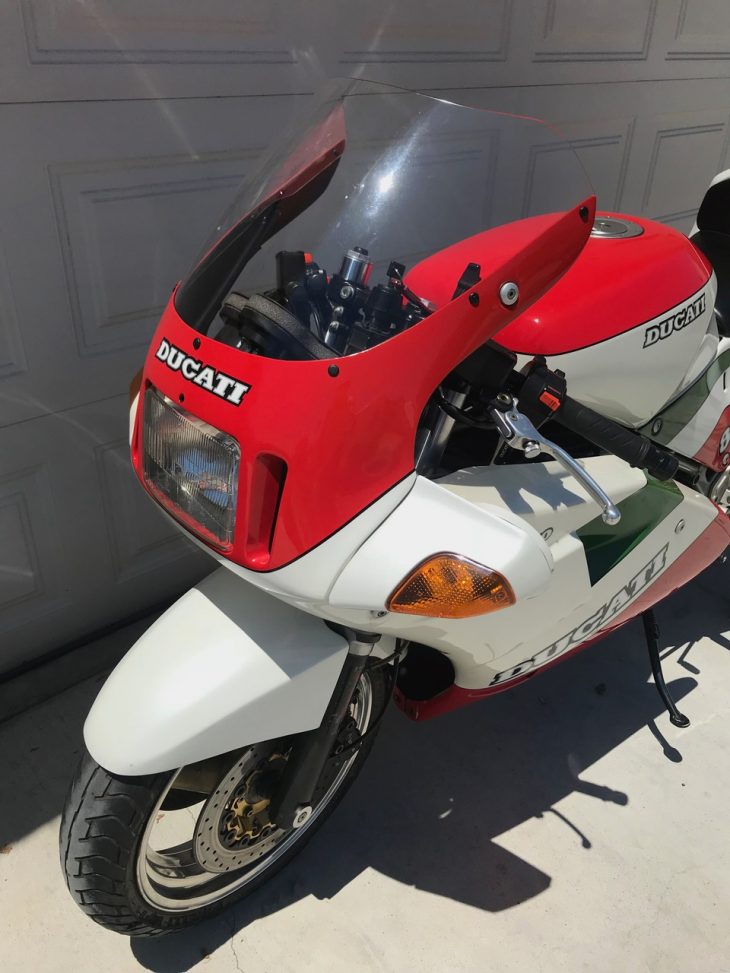 From the seller:
I believe its a 851 Strada 1/304 from what I've seen online. It has 18,734 KM (11,640 miles) with Vin# ZDM851S1850158 Engine # ZDM851W4850621. I believe I am the 2nd owner of this incredible machine. 1 being the person who purchased this from Cagiva directly in Spain and who had it imported here to the states, which I have paper work from and will include the original letter from Cagiva regarding the transport to him when it was imported which can be seen in one of the pics. I got it on consignment through this gentleman out of Munroe Motorcycles in San Francisco about 8 years ago and have taken care of any bugs and gremlins it had while in my care. I mostly dealt with electrical issues from the time I bought it but thought they were all taken care of till I had swapped it over to a LiPo battery a couple years ago where the bike almost caught fire due to the battery almost blowing up. It has since had the stator and the voltage regulator replaced and I do think now everything on the bike is in great working order with no issues of any kind. I bought it with the Ferraci slip on pipes already installed, thank you Julio, and they sound amazing and are deep and throaty. Since Im a rider I had the original Marvic wheels from my SuperLight fitted to this bike from the beginning of my time with her. That way it looked stock but was on 17″ wheels and I could replace tires easily and proceed to log miles without concern. I just had the original 16" wheels put back on to sell it but am including the brake carrier/caliper set up with spacers and hardware so if the new owner wants to put 17" wheels back on it should be easy for them to do so.

So along with the hardware for 17" wheels I am also including with it the original letter and paperwork from Cagiva along with its original stand, official Ducati 851 workshop manual, original tool kit, paperwork form previous owner along with all records, original exhaust pipes which do show some slight scuffing but I got it them that way so not sure of when that occurred as I have never dropped or scratched it, original used wind screen with slight scuffing which again came that way so not sure the story there, custom Geza motorcycle cover, 3 keys and a clear California title with registration good till August of 2019. I rode it to Laguna Seca the last year Moto GP was held there and had it on Ducati Island and was even approached by Ducati and they borrowed it for an official photo shoot where they parked it under the Ducati banner and got some nice shots of it. I only say this because it was a cool little moment for me having this bike and it was quite neat to see the attention it got from the Ducati higher ups.
If the bike were mine (dream on), I'd follow the seller's advice and stick on a set of 17s and call it good. If you keep it on two wheels, the 851 is a blue-chip collector ride and should gather value even if it isn't a garage queen.