Warning!
This post is in our archives. Links in this post have been updated to point to similar bikes available to bid on eBay.

Update 10.20.2020: The sale of this bike is now concluded to an RSBFS reader with a winning bid of $14,200. Congratulations to buyer and seller!

From the seller, "Just wanted to thank you for the support, your listing got a huge response and no doubt contributed to the amazing sale price at the end of the day." Thank you for the kind words!

If you've got a special and rare sportbike that would benefit from being on the site, check out our Featured Listings! -dc
---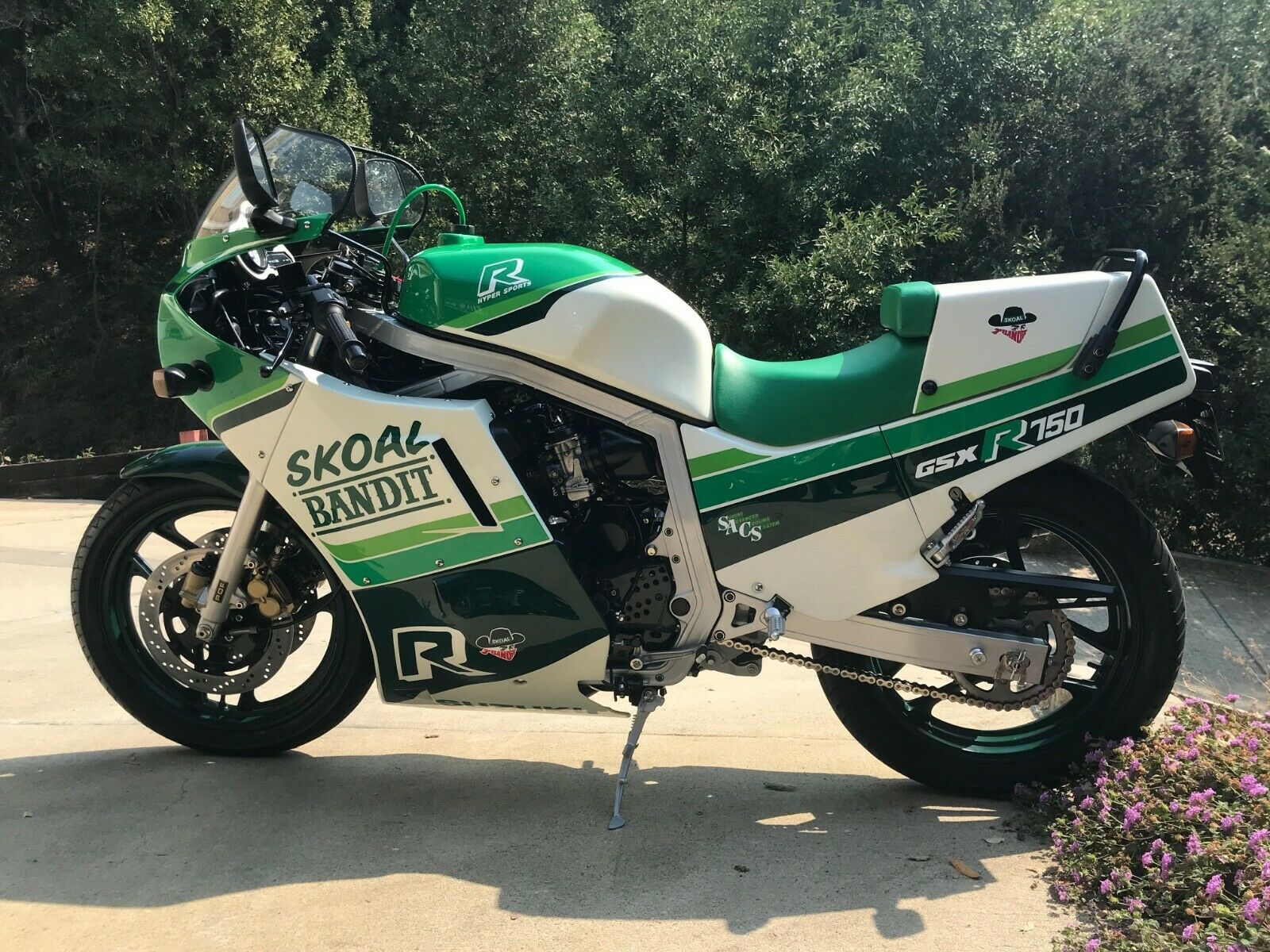 The first generation Suzuki GSX-R750 needs no introduction on these pages. A meteoric sport bike that turned the world on its ear, the slab-sided Gixxer redefined the concepts of light weight and handling. Today even non-LE models are appreciating quickly in price, for although these were mass produced motorcycles, the ravages of time and hard use have taken toll on the available supply. Today's Featured Listing is the perfect example of a Gen I slabbie – with a twist. Faithfully recreated in the legendary "Skoal Bandit" livery as applied to a handful of new bikes sold in the UK, itself an homage to the Suzuki GP & production racer colors, this is a unique and ultra-rare opportunity to score some classic 1980s artwork.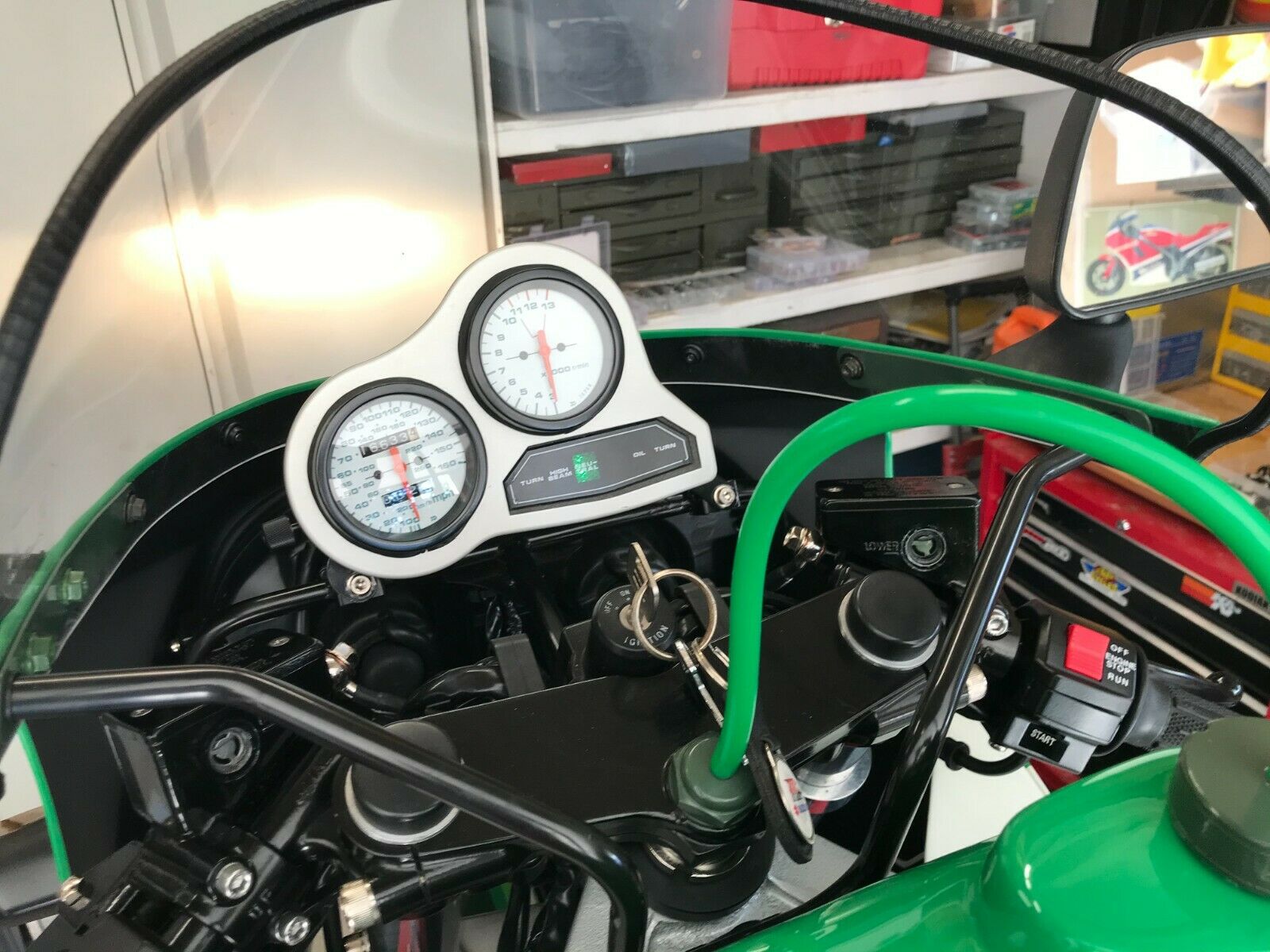 Today's seller has been as meticulous at documenting this restoration as he has been with the restoration itself. Therefore, I will turn it over to him:
From the seller:
Gorgeous showroom quality 86′ GSXR750 "Skoal Bandit" replica that has just been through a 3-year frame off, nut and bolt restoration. For those of you who don't know the folklore behind the "Skoal Bandit" GSXR750, the story goes that Suzuki GB or one of the UK main dealers had stock of 86′ GSXR's left over at the end of the sales year and as a special promotion had them painted in the "Skoal Bandit" race livery, one of the main sponsors for Suzuki racing at the time. There were supposedly 50 or so bikes painted in this scheme and at the time one of those was used in a magazine shootout article against the Ducati 750 F1. The photo shoot from that magazine article as well as several documented replicas in the UK provided the source material for my replica, which I've tried to recreate in painstaking detail, with just a couple of period correct modifications to improve handling. The base for this restoration was an early 87′ GSXR-750 with clean California title, but I converted it to an 86′ layout to be faithful to the original. The restoration is 99% OEM, with only a few fasteners that were remade due to lack of availability, and aftermarket screen/mirrors. The bike was stripped to the frame and every single component refurbished, painted or plated before reassembly. The engine only had 16K miles on it but was stripped to the cases and rebuilt with new components to ensure reliability and that new bike feel. My restorations are built to ride and this one has approximately 100 shake-down miles on it to date, the restoration was completed in June. The bike handles beautifully, and the engine pulls cleanly and strongly through the entire rev range. However, if you wish to just park it in your living room and admire it with your biking friends, I would understand.
More from the seller:
Some Restoration Details…..Chassis/Suspension: Frame fully stripped and modified with 86′ GSXR1100 steering damper, all new steering and swingarm bearings. 86′ Forks/Anti Dive fully stripped, new seals, coatings refurbished. Rear shock full rebuild using 86′ GSXR1100 shock body & remote reservoir for improved handling. Brake calipers stripped, refinished & rebuilt with new seals/pads, rotors refurbished/refinished. All brake/clutch masters/slaves rebuilt with new seals. Wheels fitted with new bearings and new rubber. All fasteners replaced with NOS or replated. Electrics: Wiring loom gone through and rewrapped, all electrical components in perfect working condition. Usual missing components such as clutch starter safety switch and side stand safety switch are fitted and operational (so pull clutch lever in to start). Fitted Japanese OEM turn signals with smoked lenses, because they look cool! Instrument cluster and switch gear refurbished. New battery.
More from the seller:
Engine: Stripped to the cases, all new mains, big end bearings, oil seals and gaskets. Cylinders honed and pistons fitted with new rings and wrist pins. Heads rebuilt with new valve oil seals and valve seats reground. New clutch. Carbs ultrasonic cleaned, rebuilt with new gaskets and fuel valves. Stage 1 jet kit fitted for smoother acceleration off idle. Hi-Flow air filter with stock airbox and stock OEM exhaust system. Fuel tank petcock rebuilt, tank in excellent condition, no liner. Fairings/Body Panels: All OEM fairings with the exception of the screen. No missing tabs, poppers or cracked mounting holes. "Skoal Bandit" base coat colors referenced from RS paints in the UK, and then matched by PPG. 6 Coats of clear, wet sanded flat and then polished to show quality. "Skoal Bandit" decals from classic reproduction decals in the UK.OEM solo seat unit, seat and butt pad recovered in matching green vinyl. Unobtanium trim panels are present, including front mid fairing inner covers, rear shock mud flap (remanufactured) and unmolested rear mudguard.
More from the seller:
I have seen some very nice GSXR1100 "Skoal Bandit's" in the US but cannot recall seeing a GSXR750 as close to the original as this for many years. I hate to let this one go, but someone else will get to enjoy it and I have other projects waiting in the wings. I will be happy to answer any questions I can, and potential bidders are welcome to view the bike in person, I am located in the San Francisco Bay Area.

Photographic documentation of the restoration can be found here.
The seller has also included a video of the bike with a walk around and proof as to how well it runs and idles. This is definitely worth a few minutes of your time:

Early GSX-R750 models are escalating in collector demand. Pristine examples of the breed are leading the charge. That's what makes this ultra-rare Skoal Bandit recreation so unique: here is an opportunity to obtain a completely refurbished example of an iconic model, but in striking (and period correct) livery. You definitely need to check out all of the details, as the workmanship is fantastic. I challenge you to find another example that is this clean. Park it in your man cave as art, or put it on the street as rolling art – either way this 1987 Suzuki GSXR-750 in Skoal Bandit colors will have everyone green with envy. Good Luck!!
MI