Update 1.7.2023: Links updated to current eBay listing. Listing adjusted to include vintage exhaust per seller. -dc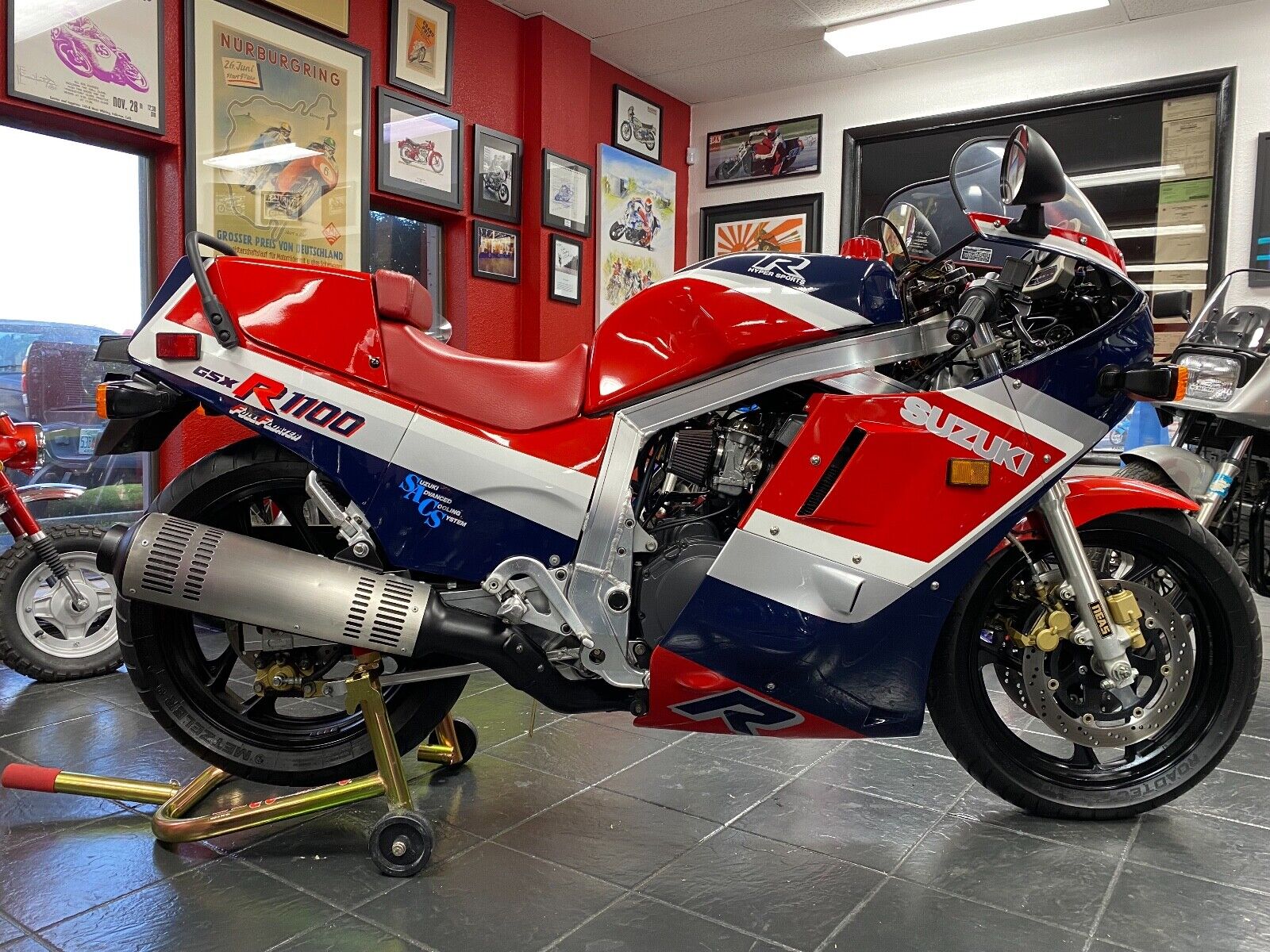 In Miami, Florida there is an astounding collection of rare GSX-R models – including today's Featured Listing 1986 GSX-R 1100 with only 590 original miles. This first year bike is so clean and original you would be hard pressed to find any of those miles evident. If you love 'em sort of slabby and are in the market for a clean example of the big beast of the 1100, you cannot go wrong with a bike that looks this perfect. Interested? Read on!
While the GSX-R750 dropped first, the 134 HP bad boy 1100 was released later in the same year. This was the bike that – at the time – married the best of big bore power with light weight (435-ish pounds, which was light for a liter bike for the day) and great handling thanks to an alloy frame with pronounced hump-back, adjustable 41 mm front suspension with adjustable anti-dive control, and a single shock rear suspension with rising rate linkage. The 1052cc inline four was fairly conventional, although the use of two oil pumps and a larger quantity of oil allowed for liquid-cooled power in an air-cooled styled package.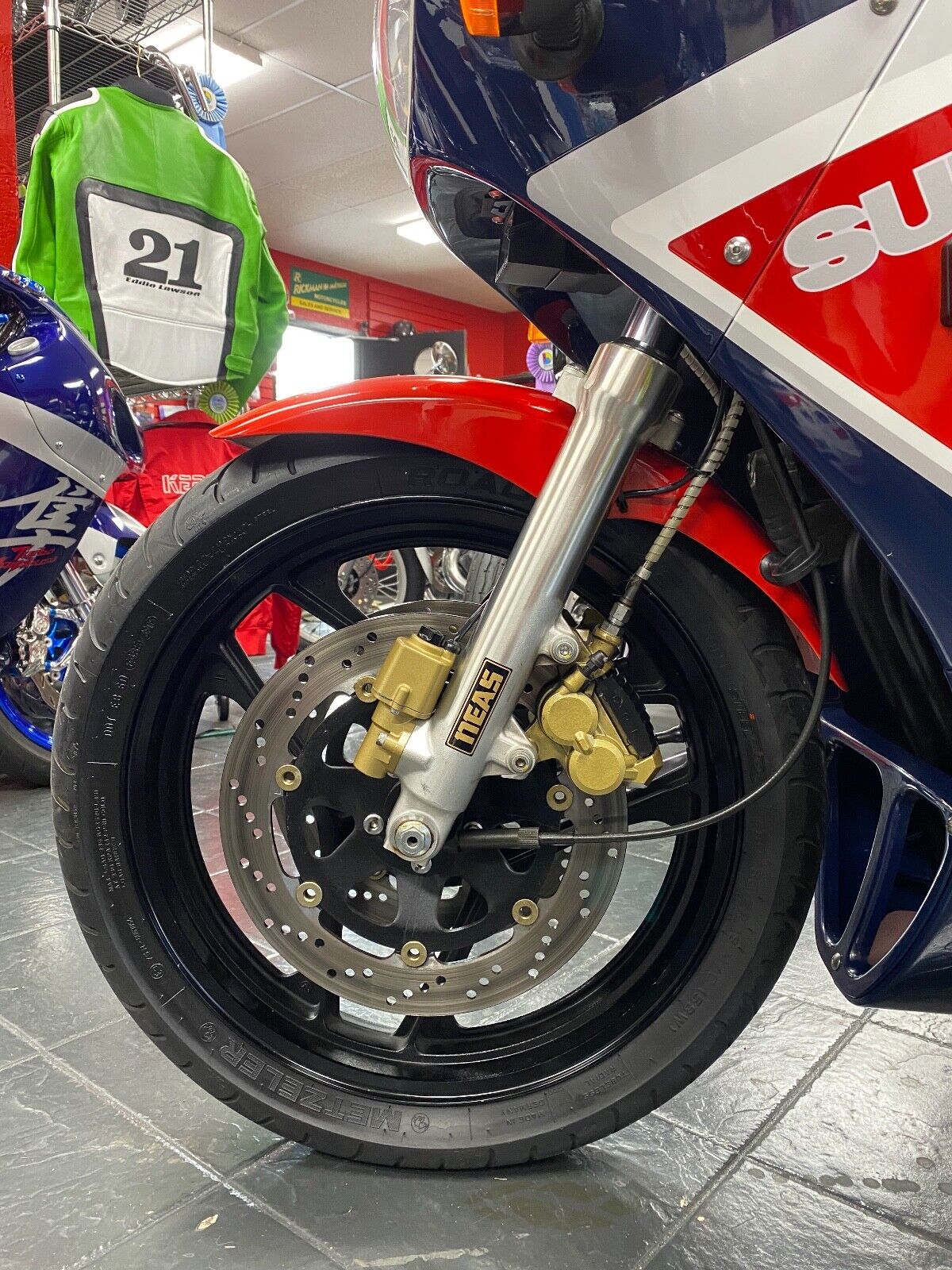 From the seller:
COMING OUT OF MY PERSONAL COLLECTION GLOBEMOTORCYCLES.COM OF OVER 150 VINTAGE MOTORCYCLES 🙂 GLOBE MOTORCYCLES

THIS IS AN AWARD WINNING, ALL ORIGINAL CONDITION ULTRA LOW MILES 1986 SUZUKI GSX-R 1100 WITH ONLY 590 ORIGINAL DOCUMENTED MILES!!

MY FLAWLESS GSX-R 1100 HAS THE ORIGINAL FACTORY ORIGINAL 4 INTO ONE EXHAUST, FACTORY ORIGINAL WINDSCREEN, FACTORY ORIGINAL FLAWLESS SOLO SEAT COVER (IMPOSSIBLE TO FIND A PERFECT ONE), AND THE FACTORY ORIGINAL CARBURETOR WITH THE ORIGINAL AIRB BOX AND INTAKE BOOTS/JETS/PARTS AND BRAKE LINES (NOT INSTALLED). EASY TO MAKE 100% PERFECT ORIGINAL IF YOU WANTED TO.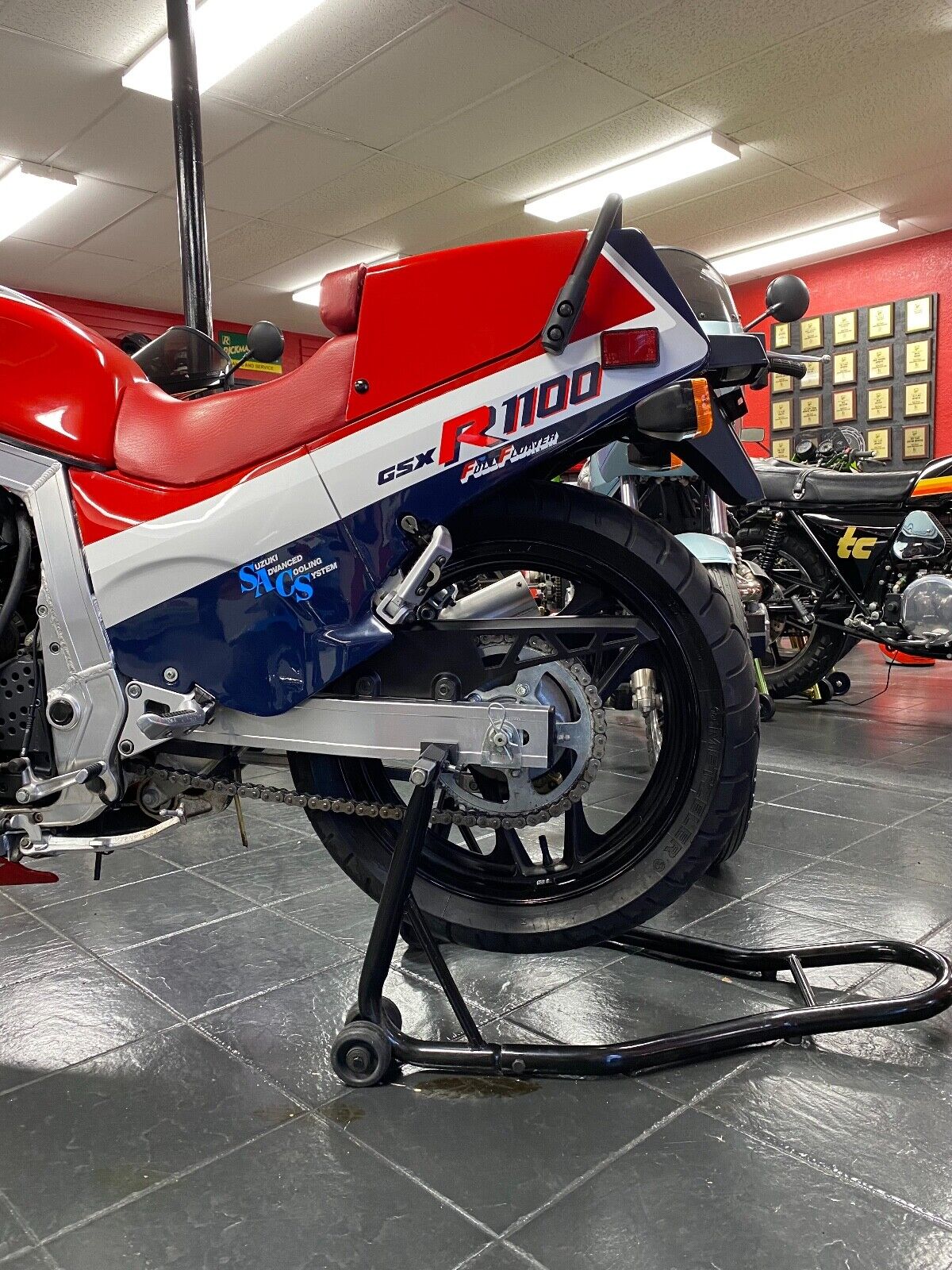 More from the seller:
THE ENGINE:
THE ENGINE IS ALL ORIGINAL AND HAS NEVER BEEN REMOVED FROM THE FRAME AND NEVER BEEN PAINTED. SHE IS THE ORIGINAL EXHAUST IN FLAWLESS CONDITION, FRESH ULTRA SONICALLY CLEANED AND OVERHAULED CARBURETORS, K&N POD FILTERS. COMES WITH THE OEM AIRB BOX AND INTAKE BOOTS.

THE FRAME:
THE FRAME HAS ALL THE ORIGINAL LABLES AND HAS NOT BEEN TAMPERED WITH AT ALL. ORIGINAL CHAIN AND SPROCKETS, CHAIN GUARD, TURN SIGNALS AND MIRRORS, GRIPS, ECT. LOCKHART BRAKE LINES ARE INSTALLED BUT SHE COMES WITH THE OEM BRAKE LINES. NEW METZLER Z6 RADIALS MOUNTED AND BALANCED

THIS BIKE HAS BEEN IN THE CLIMATE CONTROLLED CARE OF 2 COLLECTORS SINCE NEW. HERE IS YOUR CHANCE TO HAVE A HUGE PART OF MOTORCYCLING HISTORY IN THE HARD TO FIND RED WHITE AND BLUE COLORS.
RSBFS reader Bob knowns his collectible motorcycles, and his personal museum has offered up some stunning bikes to these pages. Slab-sided GSX-R models are in vogue and in demand, and rarely do we see an example so close to new as this; not rebuilt, not reconditioned, but an original example with a mere 590 miles. You can check out all of the details on eBay here. Look closely and bid quickly, as this one will go fast. Good Luck!!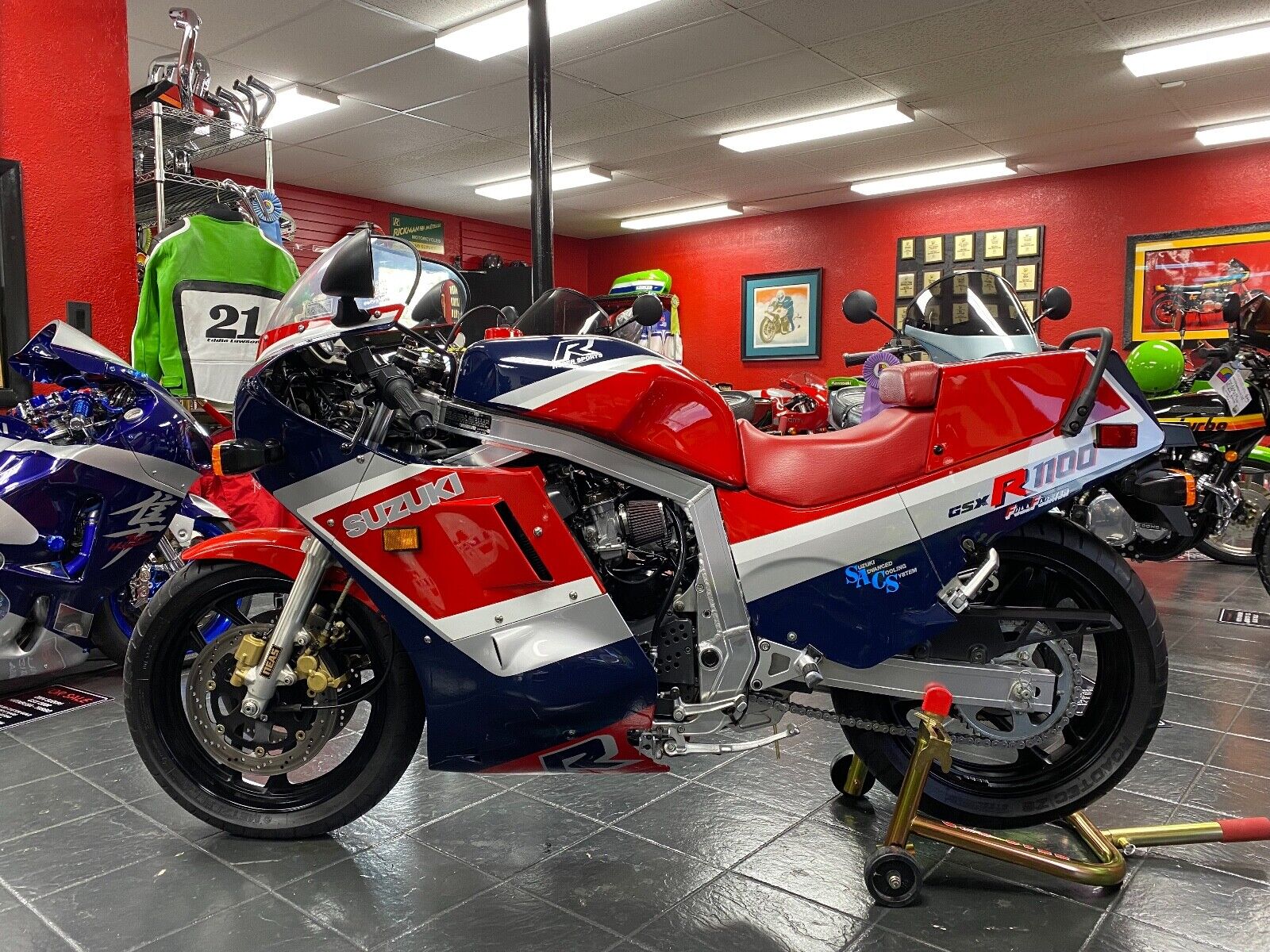 MI