From the days when men were men and AMA Superbikes had muscular steel frames, this museum-quality ELR is presented  by RSBFS fan Bob, and his Globe Motorcycles shop ( if not curatorial facility ! ).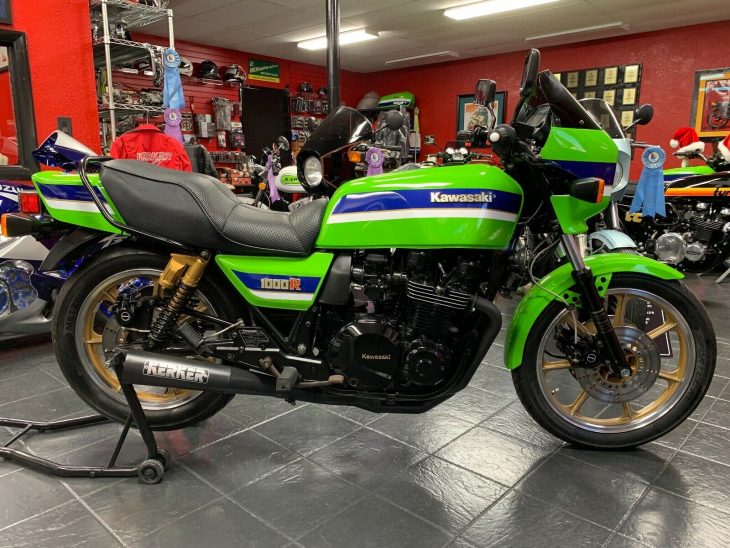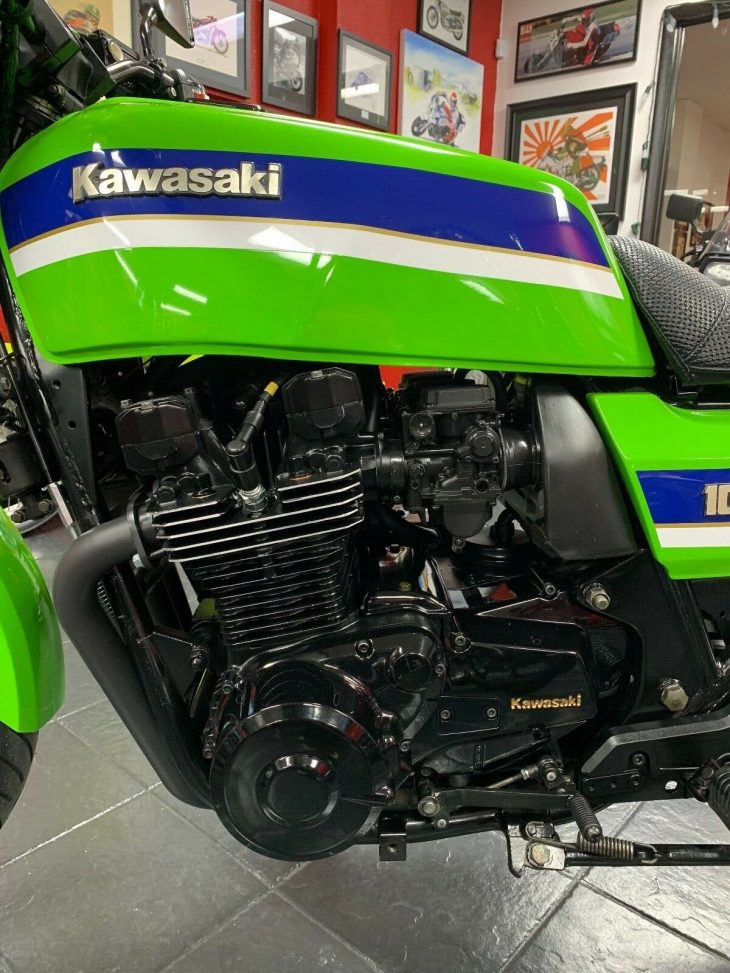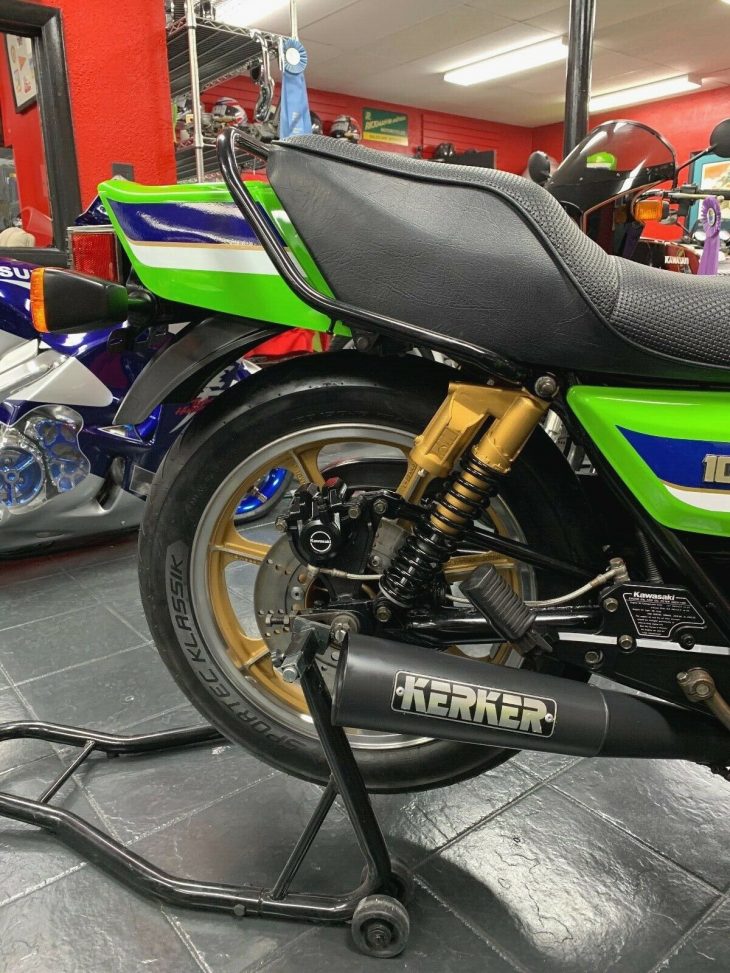 The big KZ suited "Steady" Eddie's lanky frame, and with help from updated camshafts and Kerker exhaust, its 104 hp sent the 500 lbs. replica rocketing toward 134 mph.  To augment the taut chassis, Showa built air-adjustable forks and remote-reservoir shocks as similar as could be to the racer's WP dampers.  Serious speed called for serious brakes, and Kawasaki mounted three 10-inch disks to answer the call.  The low handlebars were a Lawson bend, and the stepped seat provided solid placement for a solo rider, as well as legroom for a pillion.  The mean green livery, with black mechanicals and gold accents on the shocks and wheels, just about defines classic, maybe with a capital K.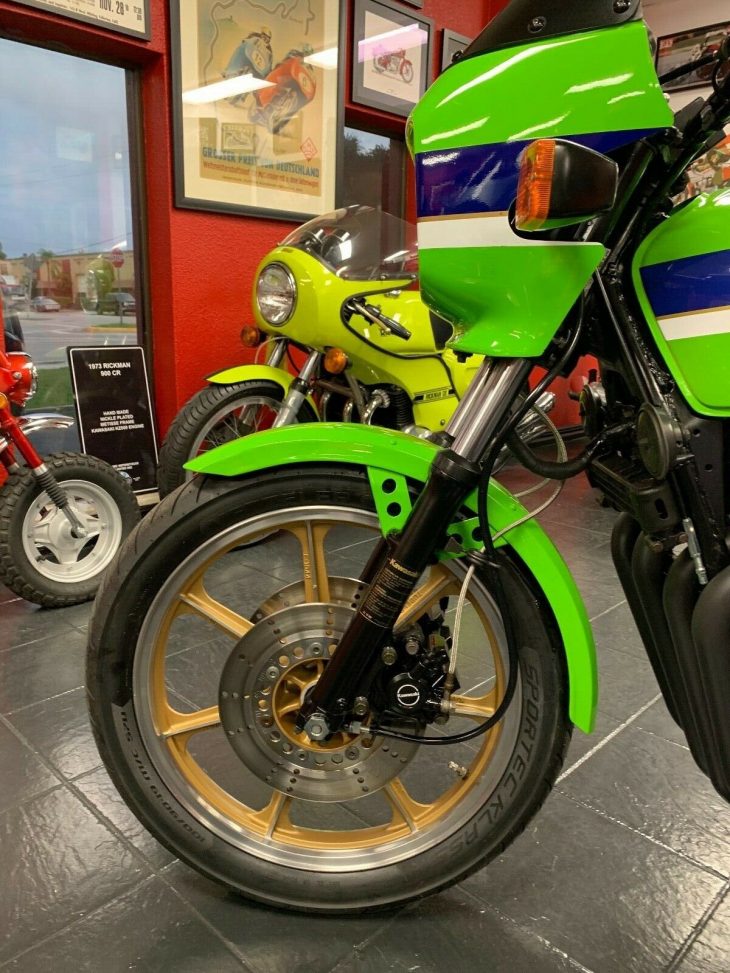 Bob has been an ELR superfan from day one, and has the knowledge not to over-restore, and replaced needed parts with NOS when possible.  Carbs have been rebuilt and new classic-pattern Metzeler's mounted, so you could ride to a vintage show, but you'll need someone to carry a trophy home.  Just a portion of Bob's comments from the eBay auction:
JUST WON 2ND PLACE BEST JAPANESE MOTORCYCLE. THE JUDGES FROM THE EVENT WERE BLOWN AWAY AT HOW PERFECT SHE IS.

THIS BIKE UNDERWENT MINOR CLEAN UP / REFRESH AT MY SHOP, GLOBE MOTORCYCLES LIMITED. THE  BODY WORK WAS RE-PAINTED IN EXACT MATCHING KAWASAKI LIME GREEN A FEW YEARS AGO BY ANOTHER ELR EXPERT IN CONNECTICUT, "NOS" HANDLE BAR GRIPS, END CAPS, AND HANDLE BAR SWITCHES WERE INSTALLED – SO VERY HARD TO FIND. I SWAPPED OUT THE ENGINE SIDE COVERS WITH "NOS" UNITS AND NEW OEM GASKETS AND SEALS. 

WITH ONLY 6,822 MILES (10,980 KM) THE ENGINE ITSELF HAS NEVER BEEN PAINTED SO NO PAINT WENT WHERE IT DOES NOT BELONG. THE ENGINE SIDE COVERS WERE REPLACED WITH "NOS" UNITS – VERY HARD TO FIND.

THE CARBURETORS WERE COMPLETELY DISASSEMBLED, ULTRASONICALLY CLEANED, AND PAINTED JUST AS THE FACTORY DID, REASSEMBLED AND SYNCHRONIZED. I RE-JETTED THEM WITH #132 MAIN JETS AND RAISED THE JET NEEDLE WITH ONE WASHER TO AID IN RUNNING BETTER WITH THE MID SIZE COMPETITION KERKER BAFFLE.
Bob has the opening bid for his ELR set at $19,500 and can be reached through the eBay auction.
Eddie Lawson had previous experience with Yamaha during his dirt track days, and saw a chance for a 1983 world championship on an RZ-500 ( with teammate Kenny Roberts, under Agostino management ! ).  Too bad the ELR couldn't be issued with the AMA champ's signature, but Lawson went on to four MotoGP titles, and the 1982-3 replicas are still a prize for any collector.  Bob's are some of the finest seen on RSBFS, in striking condition, a keen look back at Eddie Lawson's first championship.
-donn