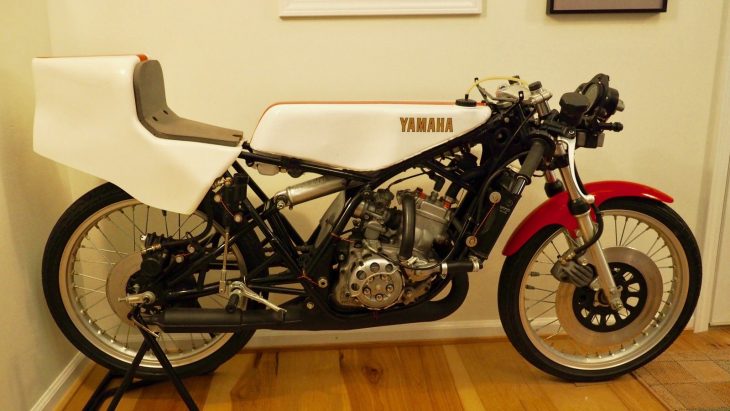 Sure, it may be decades older than yesterday's RS250, but the elemental simpicity of this 1980 Yamaha TZ125 and racing heritage visible at a glance, just as it was with that bike. The TZ125 was the successor to the earlier, air-cooled TA125 and was an over-the-counter racebike. Just add talent.
The tiny, liquid-cooled two-stroke put out 30hp, good given the displacement and even better considering the claimed 159lbs it needed to move. If I had one, I'd weigh more than the bike… With a more appropriately-sized jockey at the helm, speeds of nearly 130mph were possible. The rest of the package was pretty exotic as well, with a dry clutch, six-speed gearbox, and disc brakes both front and rear. This particular example even includes twenty-year-old safety-wiring…
From the original eBay listing: 1980 Yamaha TZ125 Road Racer for Sale
Complete with Factory Spares Kit

This pristine example has never been run or raced and is a NOS bike.  The bike has been part of a private collection and has been stored in a climate controlled environment its entire life.

The bike comes with unmounted fairing, stand and a crate of factory spares.  The factory spares kit itself is impressive.

15 – cylinder gaskets
15 – piston rings
10 – side case gaskets
2 manifolds
14 – main jets (different sizes)
105 – various o-rings, seals & gaskets
10 – clutch friction plates
3 – countershaft sprockets
25 – circlips
6 – rear wheel sprockets
seat cushion
crank assy
2 – cylinders
cylinder head
5 – pistons
Misc other brake pads, throttle cable, bearings, etc.

Everything in the crate is NOS.

This is a racing motorcycle that has been sitting many years.  It is ready for display, but if you wish to race it, the bike will require a thorough inspection of all systems and critical parts.
Bidding is up to nearly $5,000 with the Buy It Now price set at $10,500. Unlike yesterday's Honda RS250, this bike includes a comprehensive set of spares, and it sounds like you'll need it if you plan to get it back on the road.
-tad