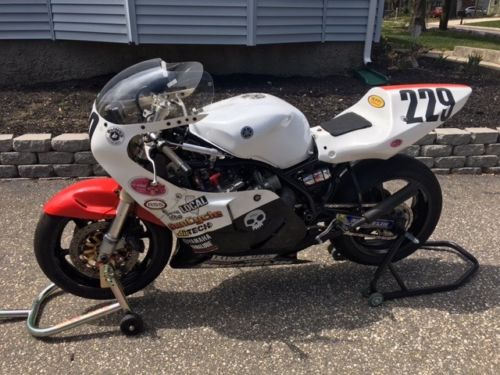 I was almost hesitant to post this monster, concerned that our passionate but sometimes purity-obsessed readers would find it less of an object of desire and more an abomination. For sure, this Nico Bakker-framed Yamaha TZ750 is a mongrel, a beast. A chimera, if you will. The engine? A ferocious liquid-cooled two-stroke four-cylinder race engine and six-speed gearbox from the TZ750, which alone should be enough to at least give this thing a second look. The Bakker frame is from 1980, although it was purpose-built for the TZ to cure the bike's notoriously sketchy handling. But then you've got mismatched 17″ wheels, modern-ish suspension and R6 bodywork. Hey, at least it's almost all Yamaha-sourced!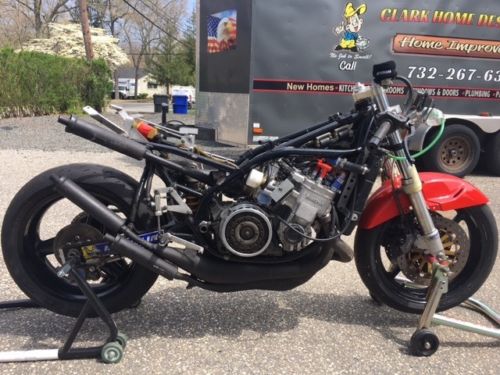 And as a racing machine, the bike's constant evolution is far more in keeping with the original intent than some perfectly preserved collectible. In a way, it's even cooler than a period-correct TZ750: each and every one of those is a piece of history and should probably be cared for as such and ridden with kid gloves. This? It will handle better than folks like Kenny Roberts, who raced the TZ750 back when it was new, could ever have imagined and mere mortals can take it to the track and ride it in anger. And possibly not die.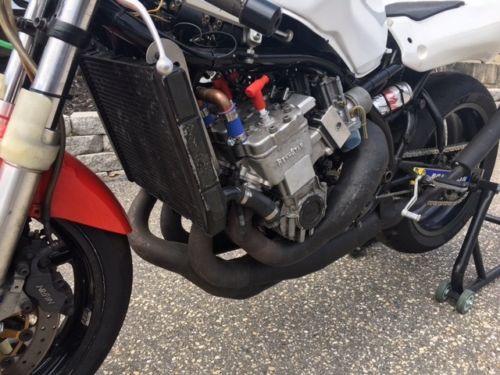 When introduced in the 1970s, the TZ700 and TZ750 that followed became the bikes to beat on racetracks in Europe and in the United States, where they dominated AMA racing for years. This was a motorcycle from the era where engines were making rapid leaps in terms of raw performance, while suspension design, tire technology, and handling advanced more slowly: even the early bikes with just 90hp were shredding rear tires and trying to eject their pilots. By the time 1980 rolled around, the TZ was making much more like 140hp in a lightweight package that was good for 185mph top speed, with solid reliability.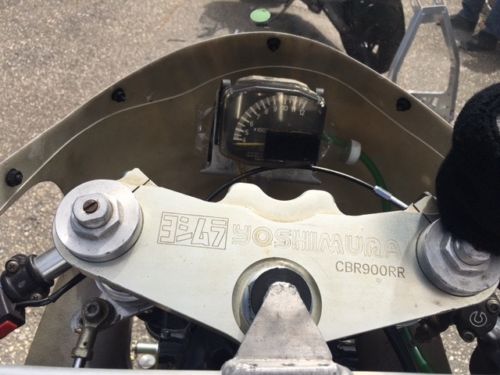 Early machines used a frame with a twin-shock rear suspension that was later updated one with thicker tubing and a monoshock in 1975. Unfortunately, handling was never much more than "adequate," with pilots hanging on for dear life as much actually riding them, which explains the Nico Bakker frame seen here, something the seller claims is just one of five made for the TZ. Nico Bakker is, of course, one of the most talented frame designers of all time, and his work has graced racebikes, low-volume specials, and even production roadbikes built by everyone from Suzuki to Laverda.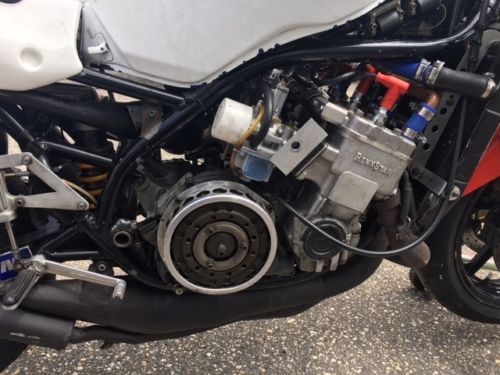 From the original eBay listing: Nico Bakker-Framed 1980 Yamaha TZ750 for Sale
This is a 1980 Nikko Baker chassis TZ750. Number 5 of 5 that were built for the Big TZ. Yamaha used these aftermarket chassis to rectify the problems with their ill handling factory chassis. These frames were far superior to the stock units and Yamaha used them until they figured out a solution for their own. This bike has been modified with the correct pieces to keep it AHRMA and WERA legal. It is a weapon in any Vintage class you care to run it in. Nikko Baker used the Full Floater style rear suspension with a link and conventional type shock. As apposed to the limited adjustability of the stock mono shock modified backbone Moto Cross unit Yamaha was using. An Ohlins remote reservoir unit replaced that. Upgraded fork tubes ( conventional style ) from a late model Honda CBR900RR with adjustable internals from KPS suspension. Set up for a 180 lbs rider. A 17″ Honda 5 spoke 3.5, aluminum wheel is used up front with 310mm HRC rotors and 4 piston Nissan calipers for stopping power. A billet Yoshimura top triple tree and aftermarket billet clip ons. As for the rear wheel it has a 3 spoke 17″ Marvic 5.5 Magnesium wheel. Taking advantage of readily available, easy and inexpensive parts instead of the custom Nikko Bakers hand formed tank and tail section. A 2001 R6 tank was used along with a 2004 R1 race tail section. Fits excellently and can be aquired all over incase anything gets damage in a crash. We use the stock style fairing still. Nothing works as well or keeps the integrity of the original TZ like the stock unit. All the original body and engine parts that came on the unit go with the bike also. Like stock Yamaha forks and triple trees, Astrolite wheels ( 18″ x 5.0 rear and 18″ x 3.0 front ) Spondon front calipers, and hand formed aluminum fuel tank ect. Tank is about $2500 to $3000 and over a year wait time to get.

Engine wise it has a complete rebuild on her and every go fast goodie made for the TZ750. New Renstar individual cylinders with reed cages, Renstar billet crank shafts, new transmission ( set up and cut by Paul Gast ) Lentz chambers with 10″ aftermarket aluminum silencers. Along with the 40mm Lectron high velocity power jet carburetors Magura 1/4 turn throttle and cables and Brembo radial master cylinder . It has all the best stuff to make an amazing Vintage liter bike slayer.  Bike comes with loads of spares too. Cylinders, heads, crankshafts, rod rebuild kits, pistons clutch parts, transmission, gearing and tons of spare Lectron tuning needles and parts. Also have the original factory round slide Mikuni carbs and cables. Plus more misc parts and gaskets.

I have only one issue. I couldn't source out a new Ignition stator and box. So after unit was completed i sent it out to be gone thru as a precaution. It will be back and installed on unit by time of delivery.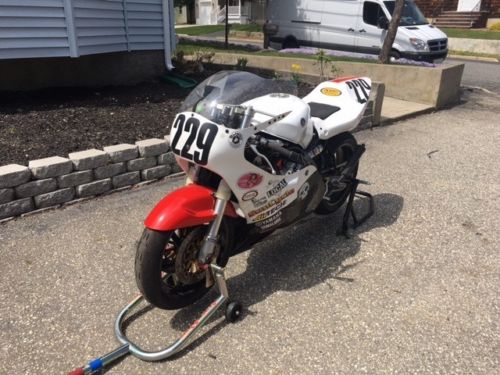 Is it a pure collectible museum-piece? Absolutely not, not even close. Is it beautiful? Well, if pure function is your idea of beauty, then maybe it is. Keep in mind that if you're a fan of originality and want something closer to the stock TZ750, the seller does mention that the original bodywork, wheels, and other parts will come with the bike, although I'd want to verify exactly what that includes before dropping money if that's the direction I wanted to go. I've got no idea how to value something like this, but the seller obviously does: the Buy It Now price is set at $45,000. The comments section is open, so let me know what you guys think about this beast! And remember: keep it civil guys.
-tad