Warning!
This post is in our archives. Links in this post have been updated to point to similar bikes available to bid on eBay.
There's nothing wrong with knowing your strengths, and Aprilia certainly knew theirs then stuck to them when they created the RS250. They crafted the gorgeous aluminum beam frame, swingarm, and the curvaceous bodywork, but left development of the engine to an outside party. That's right, this little bit of flyweight Italian exotica is powered by a Suzuki two-stroke v-twin from the RGV250Γ. Hey, outsourcing engines worked for DeTomaso, Iso, Bizzarrini, and half the British sportscar manufacturers of the 60s and 70s…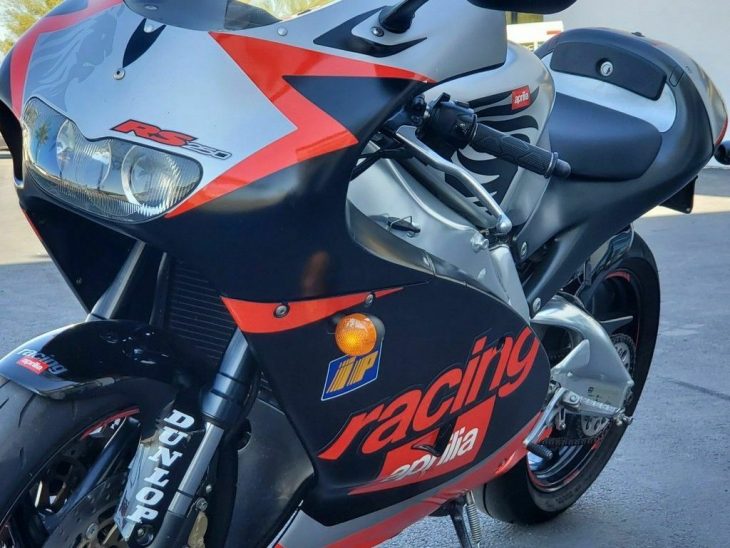 Originally introduced in 1995, this bike wears the second-generation styling introduced in 1998. One of the few quarter-liter two-strokes officially available outside Japan, the RS250 also remained in production much longer: Yamaha TZR250 production ended in 1995, Honda's NSR250R in 1996, and the Suzuki RGV250Γ held out until 1998. The bike was on par with those machines, with excellent handling and superlative brakes: the exact same triple Brembo setup was the same as the one found on the much heavier Ducati 916.
You'd be forgiven for thinking Aprilia worked some magic and breathed on the little v-twin: there is some "Aprilia" branding cast into a number of engine components, and the RS250's claimed 70hp suggests a much higher state of tune than the donor Suzuki's paltry 45hp. But there are a couple simple reasons for that: those Italian horses are probably a bit optimistic and measured at the crank, while Japanese market regulations required that bikes in the class produce a maximum of 45hp. Many probably made at least that at the wheel, and all could be tuned to make much more "for offroad use only."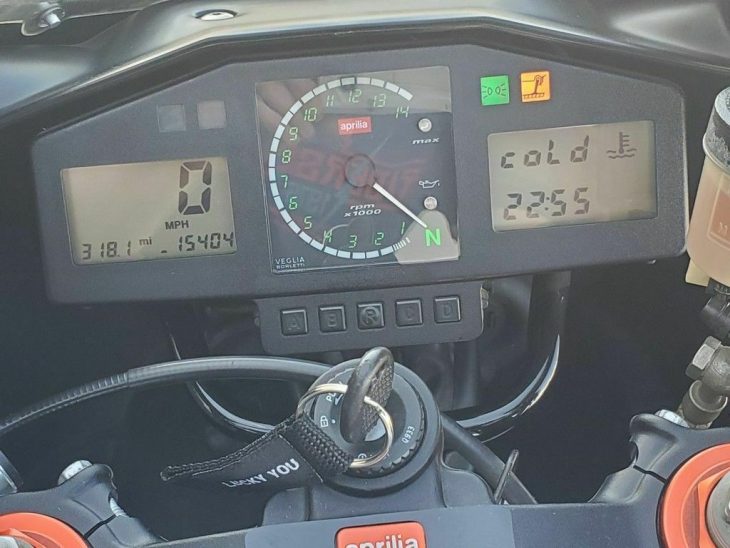 The very clean and thoroughly photographed example is being offered by a Las Vegas motorcycle dealership. So tell me: do you feel lucky? Well do ya, punk? I realize I'm mixing my Vegas references with my Harry Callahan, but you're definitely gambling a bit with this example. I understand that dealers may not know all that much about the bikes they're selling, but it'd be nice if they at least went through the motions: this listing includes nothing other than the dealership's boilerplate legalese, and can be found here: 2001 Aprilia RS250 for Sale.
This particular RS250 appears stock, except for the carbon/kevlar-weave mufflers, although I'd personally hold out for one of the earlier Loris Reggiani replicas if I were in the market for an Aprilia. So what will it take to put this 15,404 mile bike with no indicated history in your garage? Well the dealer is asking $14,995 for it. Aprilia RS250 prices have continued to climb steadily in recent years, but that seems pretty steep. Luckily, I'm sure our commenters will chime in below and let me know.
-tad