Warning!
This post is in our archives. Links in this post have been updated to point to similar bikes available to bid on eBay.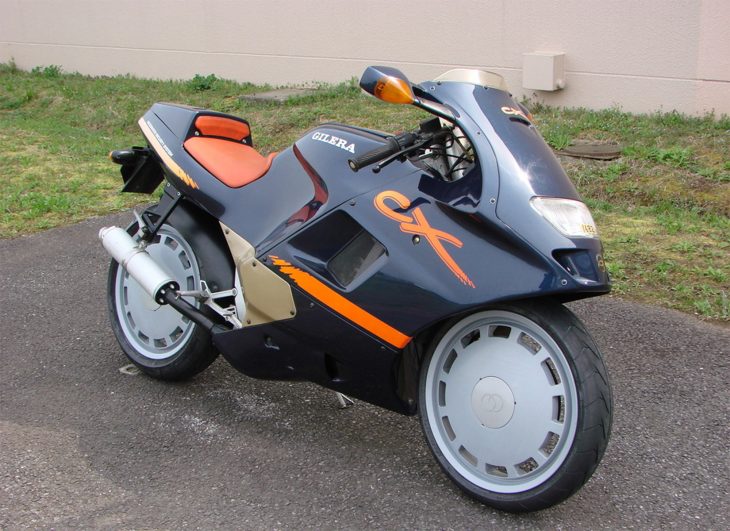 It's always fun to see older cars and bikes that were meant at the time to embody the designs of tomorrow, even if that future never actually came to pass. Somehow, even though the world this wild Gilera CX125 embodied only exists in some sort of alternate reality, at least it doesn't rely on vaporware to actually function: radical styling aside, the underpinnings were the tried-and-true two-stroke engine and six-speed transmission from their existing Crono, and that single-sided front end is really just a conventional telescopic fork with one leg…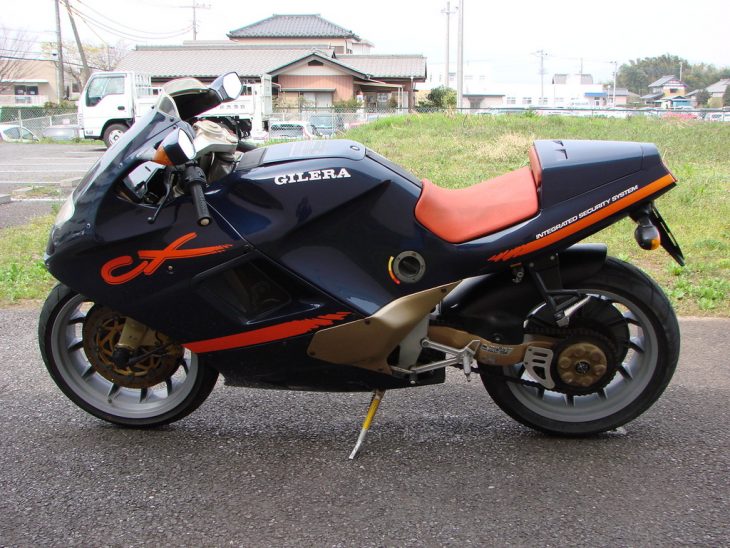 The single-sided front end matches the ELF-designed single-sided swingarm and makes it look like the bike is simply floating above its wheels when viewed from the right, like an artist's sketch made real. Developed by Paioli, it's not actually an alternative swingarm front end like Yamaha's RADD or the Bimota Tesi, but there's no downside to it in terms of function. In fact, that's really the biggest disappointment here: the radical styling that was clearly inspired by the ELF racing machines is just that, styling. There's no futuristic technology or exotic powerplant. It's just a sporty, economical two-stroke dressed up with stylish bodywork.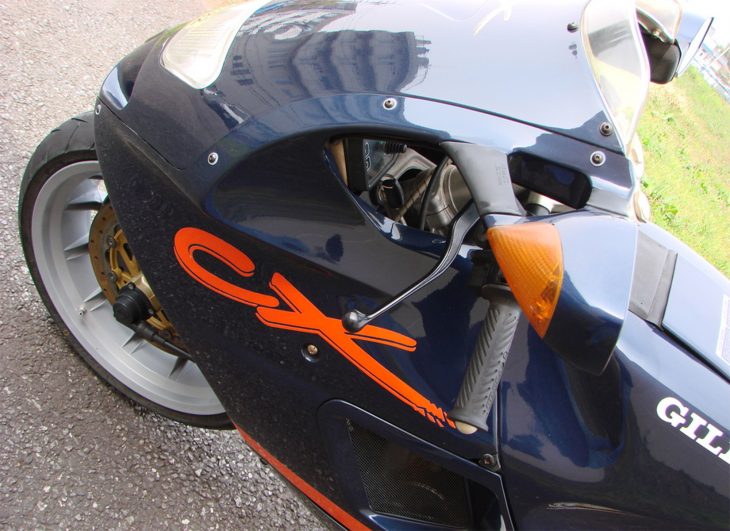 In fact, the most futuristic technology found on the CX125 was the engine counterbalancer that contributed to the bike's exceptionally smooth-running character and the electric starter. The simple bones underpinning the sleek body mean the CX125 works pretty well, taking into account the minuscule displacement of the tiny two-stroke. The 300lb wet weight meant the 125's 28 rear-wheel horses could push the little machine up to a top speed of around 100mph, but the question really is: at whom was this machine really aimed? 125 two-strokes are, even in Europe, learner bikes or commuters. And although the technology of the CX125 was decidedly modern, the futuristic styling wouldn't really have been a priority for practical types, and 16-year-olds looking for sportbikes were probably interested in something much more race-replica-y.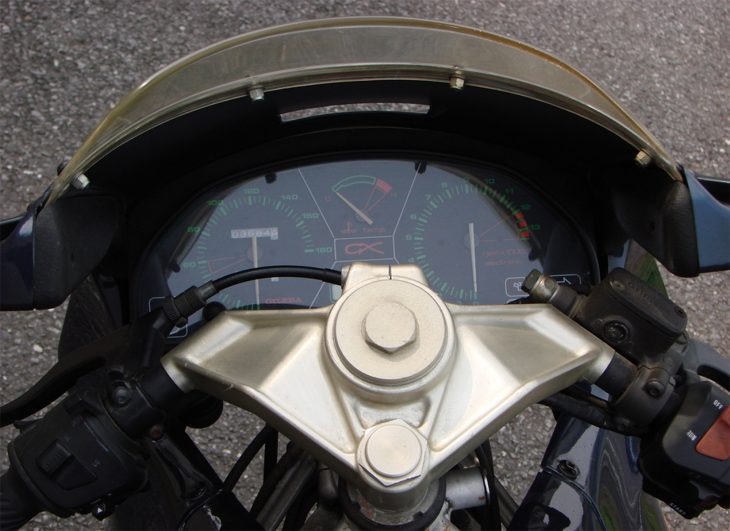 Although it wasn't priced much higher than its much more conventionally-styled stablemate, performance was slightly less and the bike didn't sell very well at the time. This particular example is complete and appears to be in decent condition, although some cracks in the bodywork are visible and there is some plastic discoloration, as well as a bit of rust and the usual cosmetic issues that arise when a bike sits for any length of time. The biggest issue is the lack of a title.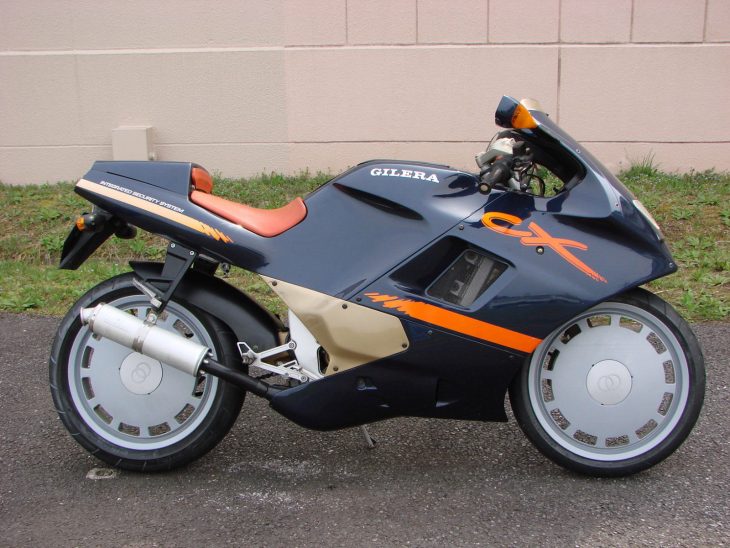 From the original eBay listing: 1991 Gilera CX125 for Sale
1991 Gilera CX125 located in Santa Ana, California. This bike is in very good condition for it's age. Gauge shows 3684 KM = 2210 miles. There are a few cracks in the plastic body parts, "see pictures". This is a very common problem with these bike. Engine runs great, no problems. The CX125 is a very rare bike here in the USA. More info is available on our website. Bike is sold with a bill of sale only. I don't have a title for the bike and can't get one here in California.
There are no takers yet at the starting bid of $7,995. These aren't exactly cheap for the performance they offer, but a CX125 would make a hilarious weekend ride in Southern California, where originality is at a premium. Honestly, I love these, so it's a shame that it wouldn't be easy to legally register one here.
-tad