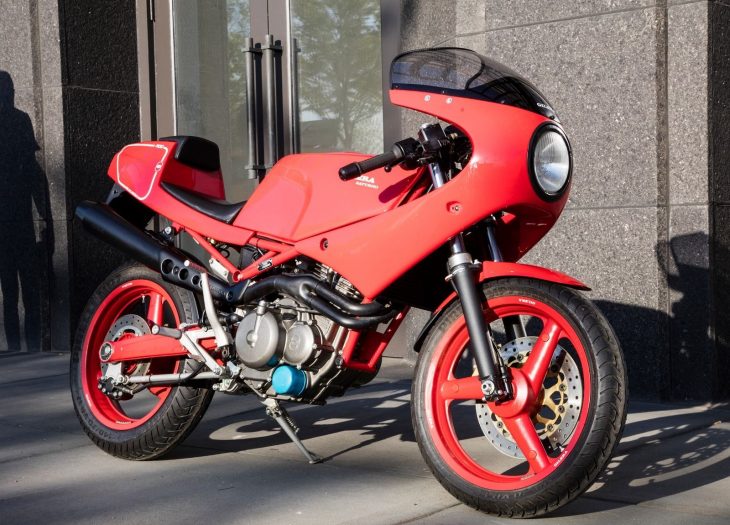 Looking very 80s, the Gilera Saturno Bialbero  could be mistaken for some sort of custom Ducati. But Gilera, of course, should be held in the highest regard by fans of this site, as they were the first company to slot an inline four into a frame transversely, solving in one fell swoop the difficult cooling issues that previously faced four-cylinder motorcycles. This bike has just one cylinder like the original Saturno and embodies the company's racing ethos, stressing light-weight and handling.
In the 80s, Gilera was mostly producing a line of offroad-biased singles with a 350cc capacity that were obviously a far cry from their road-racing bikes of the 1950s. At the urging of a Japanese marketing company, they developed a retro-styled sportbike, and that updated Saturno sparked some minor interest worldwide.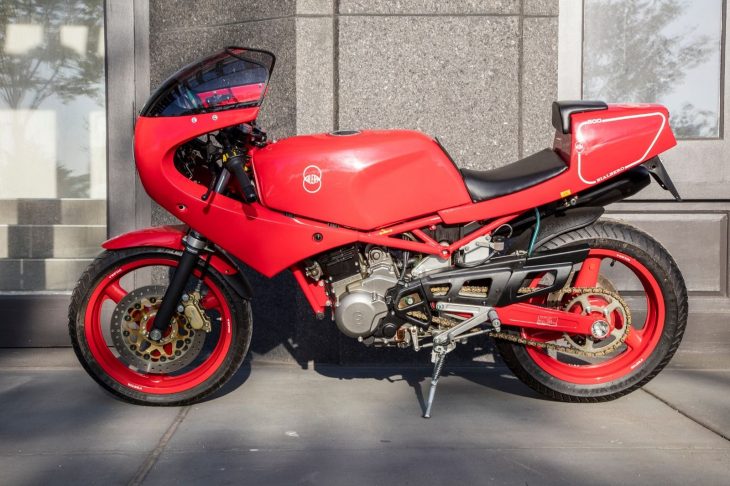 In most markets, the Nuovo Saturno was motivated by a liquid-cooled, 491cc version of the company's four-valve, dual-overhead cam single, although a smaller 350 was available in Japan. In fact, the "Bialbero" designation helps to differentiate the bike from the earlier Saturno and refers to the number of camshafts: two. That engine put out a seemingly unimpressive 44hp, but the complete trellis-framed machine weighted in at a claimed 302lbs dry. That's 250cc two-stroke territory, with the same claimed peak output and a much broader powerband. Suspension was simple but modern, with 17" Marvic wheels front and rear and a set of Brembo brakes to slow things down. The 'box has just five speeds, owing to the package's off-road roots, but the torquey engine should make any gaps easy to ride around.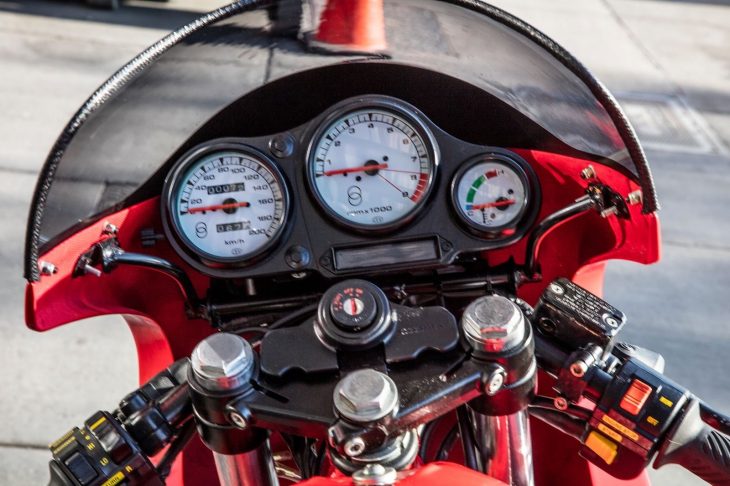 With just 72 miles on the clock, this may be the lowest-mileage Saturno on the planet, and you may be waiting a long time for an example this nice, regardless of miles: these very rarely come up for sale, as Gilera collectors aren't flavor-of-the-week types. It helps that the Nuovo Saturno was intended for collectors in Japan, and only a few made it to other countries: in 1990, just 50 were imported to the UK.  However, in spite of their rarity, they don't sell for huge money, making them a reasonable proposition for regular folks who want something out-of-the-ordinary.
From the original eBay listing: 1990 Gilera Saturno Bialbero for Sale
I kept this rare machine in Germany for years before I was able to legally import it this year. I don't know of another one ever available in the United States. And this one can be registered and ridden. It is in out of the crate perfect condition.

Imported earlier this year from Germany. Comes with original German registration and U.S. Customs and Border Protection entry form (Form 7501).

The Gilera Saturno Bialbero 500 is a motorcycle road made the motorcycle manufacturer Gilera and marketed between 1987 and 1991.
Bidding is just north of $3,659.00 with plenty of time left on the auction, if you're looking for something rare, affordable, and very fun: these are extremely nimble bikes that would make perfectly lightweight track or racing machines. If you're handy with a wrench, there's another, much less pristine 1988 Saturno for sale on eBay right now that'd make a pretty perfect foundation for racebike to compete in something like AHRMA's "Sound of Singles" class, but this one's simply way too nice to abuse.
-tad