Warning!
This post is in our archives. Links in this post have been updated to point to similar bikes available to bid on eBay.

Here is one that ticks all the collector bells for me (and I think a lot of other people), a 1992 Gilera CX125.  Located in Queensland Australia, this is only the second Gilera CX125 to be posted on RSBFS.  The first appeared last September and was quite popular which was interestingly since the little CX125 wasn't a popular bike when it was produced.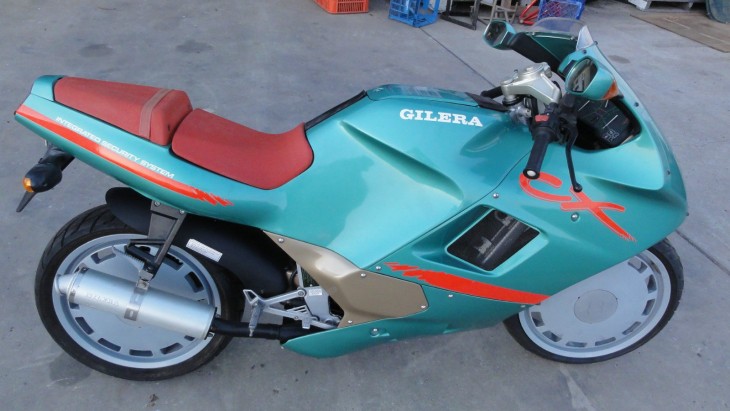 The little Gilera was part of a wave of bikes with fully enclosed bodywork such as the Honda CBR Hurricane.  However Gilera was also forced to comply with laws in Europe that limited the displacement of motorcycles that young riders/"learners" could get their hands on to no more than 15bhp.  Unlike the larger firms which could use existing designs as the basis of their learner bikes (ex:  Cagiva Mito based on the Ducati 748),  Gilera gambled on producing a totally unique 125 design.  The result was what was possibly the most outlandishly styled 125 sport bike of all time – the Gilera CX125.
Unveiled at the 1989 Milan EICMA show the CX125 concept was a tiny sport machine with fully enveloping bodywork that looked like something straight out of a design studio, in large part due its having  single sided suspension on both ends. But unlike a lot of concept bikes, the CX  hit the market in 1991 as an honest-to-God working motorcycle that featured the same space-age styling and radical suspension as its prototype.
So what happened?  Well even though the CX had a unique look the design was actually pretty conventional.  Reviewers seemed to be disappointed in the bikes' being merely competent/"ordinary" on the road.  As one reviewer wrote, "It's not that the CX was wasn't a good bike, but it felt far more conventional than the styling suggested.  It's essentially a bike that looks like something from the future but rides like something from the present."
It also probably didn't help that popular opinion of the CX varied between "incredibly cool" and "tragically ugly".  Production of the CX125 was discontinued after a year with only 1000 examples being made and parent company Piaggio discontinued Gilera's motorcycle production in 1993.  The CX is often referred to as the last gasp for Gilera as a true motorcycle producer.
Note:  The Gilera brand was continued by Piaggio but only as a scooter lineup.
Asking price is 8900 AUD/6500 USD.   Is it worth that? Honestly, I think it is.  The seller states it only has 5083 Km and condition certainly looks to be absolutely pristine.  While no service info is offered and the number of pictures is less than I would like, only 1000 were made for a single model year, the technology of both front and read single sided swingarms has yet to be reproduced except for perhaps the Bimota Tesi/Vyrus and perhaps most importantly, the CX125 pretty much marked the end of Gilera as a serious motorcycle manufacturer.
I think this one is a good pickup for a collector located in Australia.  To be honest,  if I could figure out a sure fire way to  get it into my living room I would be bidding.
-Marty