Warning!
This post is in our archives. Links in this post have been updated to point to similar bikes available to bid on eBay.
For a short time back in the 80's, bikes with fully enclosed bodywork were all the rage.  Bimota had the Tesi, Ducati had the Paso, BMW had the big K1, Honda had the CBR/Hurricane, etc.  At the same time numerous european countries passed laws restricting the displacement of motorcycles that new riders could own.  These "learner" models often had race-replica sport-bike styling to appeal to the 17 year old who had just gotten their license and wanted to look fast, even if their machine couldn't have more than 15bhp by law. Also, most of these learner specials shared styling with their larger parent bikes so you could get a mini YZF-R, CBR, or even Ducati 916 (via the Cagiva Mito).
There was, however, one notable exception, one manufacturer that went all in and gambled on producing a totally unique 125 design. Gilera produced what was possibly the weirdest 125 sport bike of all time – the short lived and radically-styled Gilera CX125, which had some of the most futuristic design to ever grace a "beginner" bike.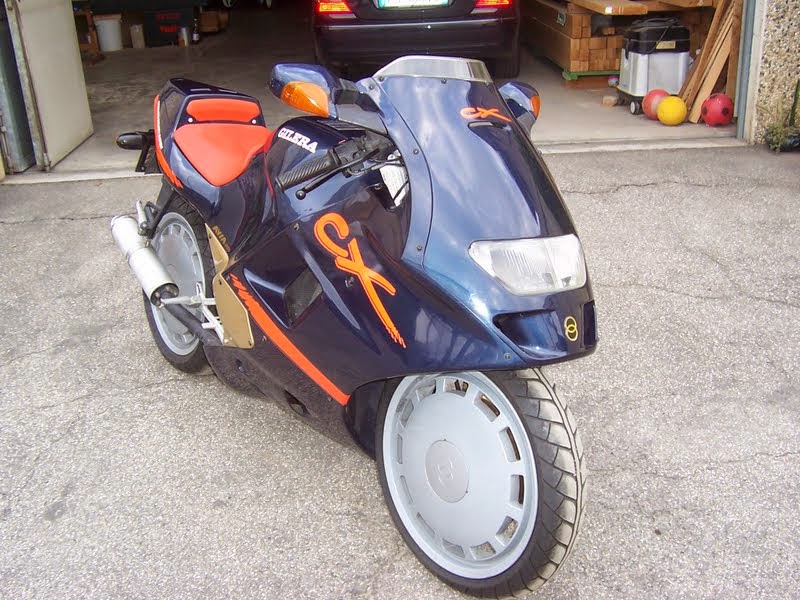 The CX concept was unveiled at the 1989 Milan EICMA show but was scarcely believable as a potential production machine. Here was a tiny sport machine with fully enveloping bodywork that looked like something straight out of a sci-fi cartoon, with a remarkable single sided suspension on both ends. But unlike a lot of concept bikes, the CX  hit the market in 1991 as an honest-to-God working motorcycle that featured the same space-age styling and bonkers suspension that the 1989 prototype had introduced.
However, even though the CX had a unique look the design is actually conventional. In the press the CX was well received but there was a strained quality to the reviews that showed the reviewer's apparent disappointment with how ordinary the CX was on the road, like they were desperately trying to find a way to make it sound as cool as it looked. It's not that the CX was wasn't a good bike, but it felt far more conventional than the styling suggested.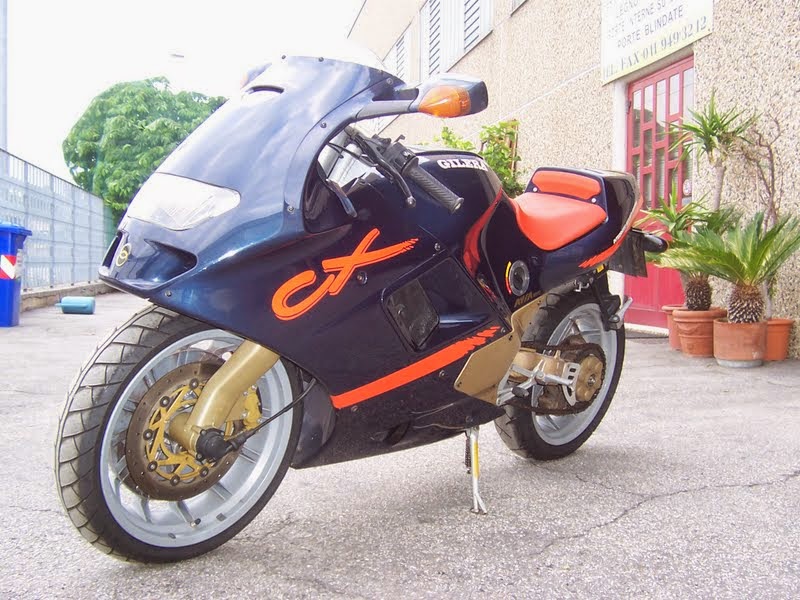 While the CX garnered attention due to its radical styling, it performed like its sister bike (the Crono model) but was slightly slower and cost more money. It probably didn't help that popular opinion of the CX varied between "incredibly cool" and "tragically ugly". Thus production of the CX125 was discontinued after less than a year with only 1000 examples being made. Parent company Piaggio discontinued Gilera's motorcycle production in 1993 so the only Gilera you can get now is a small displacement scooter.
Here is the listing translated from ebay.it via google translate.
ORIGINAL GILERA CX 125
KM 15163
THE MOTORCYCLE HAS NO PART REPLACED
MOTOR ENGINE/PERFECT, SILENT
NEED FOR CLEANING VALVE OUTLET/DISCHARGE TO BE PERFECT
TIRES AND SUSPENSION DATE AGE 'AND INACTIVE' HAVE TO BE REPLACED OR REVISE
MOTO TORINO BRANDED ORIGINAL DOCUMENTS
NOT RESTORED HAS SOME SIGN OF USE
MISSING REAR WHEEL COVERS
The bike is located in Northern Italy with about 15,000 KM . Asking price is a cool 4000 3800 euro,which is about 5000 USD.   Is it worth that? Well its a bit rough with no rear mudguard and the chain looks a bit slack. But the only other one I have ever seen is currently on display at the Barber museum in Alabama USA and only 1000 were made for a single model year. Therefore, the price may be about right.  All I know is if I could figure out a sure fire way to  get it into my living room I would be bidding.
-Marty